15th October 1989
Institute of Mining Engineers
South Yorkshire Railtour
| | |
| --- | --- |
| DMU's used | T027 (53019+54027) + T309 (51372+59490+51414) + T304 (51407+59517+51365) |
Route : 1G91 throughout
| | |
| --- | --- |
| DMU | Route |
| as listed | Sheffield - Retford - Clarborough Jn - Cottam Power Station (round loop) - Clarborough Jn - Retford - Manton Wood SB (7) |
| as listed | Manton Wood SB - Headshunt |
| as listed | Headshunt - Manton Colliery (1) |
| as listed | Manton Colliery - Headshunt |
| as listed | Headshunt - Worksop - Brancliffe East Jn - Dinnington Colliery Jn - Dinnington Main Colliery (2) |
| as listed | Dinnington Main Colliery - Dinnington Colliery Jn |
| as listed | Dinnington Colliery Jn - Thurncroft Colliery (1) |
| as listed | Thurncroft Colliery - Dinnington Colliery Jn |
| as listed | Dinnington Colliery Jn - Maltby Colliery South SB |
| as listed | Maltby Colliery South SB - Maltby Colliery (3) |
| as listed | Maltby Colliery - Firbeck West Jn - Harworth Colliery (2) |
| as listed | Harworth Colliery - Firbeck West Jn |
| as listed | Firbeck West Jn - St Catherines Jn - Decoy South Jn - Doncaster |
| as listed | Doncaster - Decoy South Jn - Flyover West Jn - Headshunt (7) |
| as listed | Headshunt - Rossington Colliery (4) |
| as listed | Rossington Colliery - Headshunt (7) |
| as listed | Headshunt - Decoy South Jn - Doncaster - Bentley Colliery Jn South - Bentley Colliery Jn - Bentley Colliery (1) |
| as listed | Bentley Colliery - Bentley Colliery Jn - Bentley Colliery Jn North - Shaftholme Jn |
| as listed | Shaftholme Jn - Doncaster |
| as listed | Doncaster - Stainforth and Hatfield - Hatfield Main (bunker) |
| as listed | Hatfield Main - Stainforth Jn - Skellow Jn - Carcroft Jn - Castle Hills North Jn - Castle Hills West Jn - Brodsworth Colliery (5) |
| as listed | Brodsworth Colliery - Castle Hills West Jn - Castle Hills South Jn - Doncaster - Conisborough - Thrybergh Jn - Silverwood Jn |
| as listed | Silverwood Jn - Silverwood Colliery |
| as listed | Silverwood Colliery - Silverwood Jn |
| as listed | Silverwood Jn - Thrybergh Jn - (6) Kilnhurst (north of station) |
| as listed | Kilnhurst - Aldwarke Jn - Rotheram Masborough - Sheffield |
Notes :
(1) To end of line.
(2) Almost to end of line.
(3) Bunker line.
(4) Short of bunker.
(5) To end of left bunker line.
(6) Train was booked to reverse at Thrybergh Jn.
(7) Reversal point given variously as: Headshunt, Loversall Carr Jn & Rossington Rounding Loop. Ian Umpleby confirms it was the Rounding Loop where the train reversed.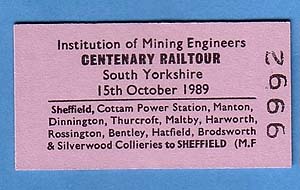 From Andrew Fairholm's ticket collection.
Sources : Paul Griffin (on the train throughout), Martin Pettit, Kevin Driscoll, Alan Osborn & Ian Umpleby



Timings (Booked & Actual)
(from Kevin Driscoll, Alan Osborn & Ian Umpleby)
M.C
Location
Booked
Actual
0.00
Sheffield
09.00d
09.00
25.04
Retford
09/33
09/42
32.52
Cottam PS
09.56 ~ 10.10
10/08
40.20
Retford
10/25
10/36
45.72
Manton Colliery Jn
10.33 ~ 10.38
10.47 ~ 10.54
46.02
Manton Colliery Headshunt
??.?? ~ ??.??
10.52½ ~ 10.54½
46.17
Manton Colliery
10.44 ~ 11.04
11.01 ~ 11.02
46.32
Manton Colliery Headshunt
??.?? ~ ??.??
11.07 ~ 11.09
?
Manton Colliery Jn
??.?? ~ ??.??
?
51.48
Brancliffe East Jn
11/13
11/18
?
Dinnington Jn
11/20
11/27
56.48
Dinnington Colliery
11.36 ~ 11.40
11.33 ~ 11.34
57.57
Dinnington Colliery SB
??.?? ~ ??.??
?
?
Dinnington Jn
?
11.39 ~ 11.40
?
Laughton East Jn
?
11/42
60.43
Thurcroft Colliery
11.48 ~ 11.55
11.50 ~ 11.51
64.41
Dinnington Colliery SB
12.03 ~ 12.07
11.59 ~ 12.02
?
Laughton East Jn
?
12/06
70.49
Maltby Colliery South Jn
??.?? ~ ??.??
12.18 ~ 12.22
71.12
Maltby Colliery
12.25a ~ 12.40
12.27 ~ 12.28
73.44
Firbeck Jn
12/50
12/35
77.70
Harworth Colliery
13.04 ~ 13.10
12.49 ~ 12.50
82.16
Firbeck Jn
13.24 ~ 13.28
13.04 ~ 13.07
86.26
St Catherine's Jn
13/38
13/15
?
Decoy South Jn
13/40
13/16
87.35
Doncaster
13.52 ~ 13.54
13.28 ~ 13.54
?
Decoy South Jn
?
13/59
?
Flyover West Jn
?
14/00
94.00
Rossington Rounding Loop
(Loversall Carr Jn)
??.?? ~ 14.04
14.04 ~ 14.11
96.29
Rossington Colliery
14.15 ~ 14.20
14.17 ~ 14.22
98.58
Rossington Rounding Loop
(Loversall Carr Jn)
??.?? ~ 14.30
14.30 ~ 14.36
?
Flyover West Jn
?
14/38
?
Decoy South Jn
?
14/39
?
Doncaster
14/46
14.44 ~ 14.45
?
Bentley Colliery South Jn
?
14.47 ~ 14.50
106.26
Bentley Colliery
14.50 ~ 14.55
14.56 ~ 14.59
?
Bentley Colliery North Jn
?
15.05 ~ 15.08
108.02
Shaftholme Jn
??.?? ~ 15.04
15.11 ~ 15.14
112.21
Doncaster
15.10 ~ 15.14
15.22 ~ 15.24
?
Stainforth Jn
15/23
15/35
119.59
Hatfield Colliery Sidings
15.25 ~ 15.30
15.41 ~ 15.51
124.02
Applehurst Jn
15/40
16/01
128.49
Castle Hills North Jn
15/54
16/17
130.13
Brodsworth Colliery
16.02 ~ 16.12
16.29 ~ 16.34
131.53
Castle Hills South Jn
16.20
16/46
?
Doncaster
16.25 ~ 16.27
16.53 ~ 16.54
?
Mexborough
16/37
17/05
143.63
Thrybergh Jn
16/42
17/10
145.56
Silverwood Jn
??.?? ~ ??.??d
17.17 ~ 17.20
146.30
Silverwood Colliery
17.00 ~ 17.05
17.26 ~ 17.29
147.04
Silverwood Jn
??.?? ~ ??.??
17.33 ~ 17.38
148.77
Thrybergh Jn
17.22 ~ 17.26
17.48 ~ 17.52
148.78
Kilnhurst (north of station)
DIV
17.56 ~ 18.00
?
Thrybergh Jn
?
18/02
?
Rotherham Masborough
?
18/09
157.77
Sheffield
17.46a
18.18