8th October 1989
Institute of Mining Engineers
The North Yorkshire Railtour
| | |
| --- | --- |
| DMU Used | 53036+54008 & 2x 3-car class 115 ets |
Route : 1G50 throughout (6)
| | |
| --- | --- |
| DMU | Route |
| as listed | Sheffield - Rotherham Masborough - Swinton - Goldthorpe - Goldthorpe Colliery Jn |
| as listed | Goldthorpe Colliery Jn - Goldthorpe Colliery |
| as listed | Goldthorpe Colliery - Goldthorpe Colliery Jn - Moorthorpe |
| as listed | Moorthorpe - Frickley Colliery (1) |
| as listed | Frickley Colliery - Moorthorpe - South Kirkby Jn - South Kirkby Colliery (2) |
| as listed | South Kirkby Colliery - South Kirkby Jn |
| as listed | South Kirkby Jn - Hare Park Jn - Oakenshaw Jn |
| as listed | Oakenshaw Jn - Royston Jn - Royston Drift Mine (3) |
| as listed | Royston Drift Mine - Royston Jn |
| as listed | Royston Jn - Cudworth - Dearne Valley north Jn - Grimethorpe Colliery (Bridge at Grimethorpe Halt) |
| as listed | Grimethorpe Colliery - Cudworth - Royston - Oakenshaw Jn - Calder Bridge Jn - Turners Lane Jn - Castleford - Castleford East Jn - Allerton Bywater (4) |
| as listed | Allerton Bywater - Castleford East Jn |
| as listed | Castleford East Jn - Burton Salmon - Milford South Jn - Gascoigne Wood Jn - via line past bunker to Hagg Lane then on to main line at Hagg Lane |
| as listed | Hagg Lane (via main line) - Gascoigne Wood Jn - Burton Salmon - Ferrybridge West - Knottingley - Sudforth Lane |
| as listed | Sudforth Lane - Kellingley Colliery (2) |
| as listed | Kellingley Colliery - Hensall - Hensall Jn - Drax Power Station (round loop) - Hensall Jn - Pontefract Monkhill - Sharlston - Sharlston Colliery |
| as listed | Sharlston Colliery - Pontefract Monkhill |
| as listed | Pontefract Monkhill - Sharlston - Oakenshaw Jn - Wakefield Kirkgate - Horbury Jn - Crigglestone West Jn - Woolley Coal Siding Loop (5) - Barnsley - Sheffield |
Notes:
(1) To points at far end of run-round loop, beyond bunker.
(2) To point well beyond bunker.
(3) To point well beyond road overbridge.
(4) To beneath road bridge just before Ledston station. Location given as Ledston in STN.
(5) Tour did Woolley Coal Siding Loop (through Reception Sidings & back onto main line) and NOT the west side and bunker as advertised.
(6) Kevin Driscoll questioned the 1R90 headcode as shown on the timing sheet & Ian Umpleby confirms the STN gave this as 1G50.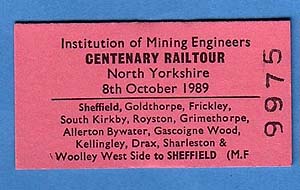 From Andrew Fairholm's ticket collection.
Sources : Paul Griffin (on the train throughout) & Kevin Driscoll



Timings (Booked & Actual)
(from Kevin Driscoll & Ian Umpleby)
| | | | |
| --- | --- | --- | --- |
| M.C | Location | Booked | Actual |
| 0.00 | Sheffield | 08.55d | 08.56 |
| ? | Wincobank Jn | 08/59 | 09/02½ |
| ? | Holmes Jn | 09/02 | 09/04½ |
| ? | Aldwarke Jn | 09/06 | 09/07½ |
| ? | Dearne Jn | 09/10 | 09/14 |
| 14.63 | Goldthorpe | 09c13 ~ 09c17 | 09.17 ~ 09.18 |
| 14.79 | Goldthorpe Colliery Jn | 09.20 ~ 09.24 | 09.20 ~ 09.25½ |
| 17.01 | Goldthorpe Colliery bunker | 09.32 ~ 09.36 | 09.35 ~ 09.39 |
| 19.03 | Goldthorpe Colliery Jn | 09/44 | 09/48 |
| 22.24 | Moorthorpe | 09.49 ~ 09.53 | 09.56½ ~ 10.01 |
| 23.24 | Frickley Colliery | 10.02 ~ 10.06 | 10.08 ~ 10.12 |
| 24.24 | Moorthorpe | 10/15 | 10/22 |
| 26.27 | South Kirkby Jn | 10/18 | 10/25 |
| 27.15 | South Kirkby Colliery | 10.27 ~ 10.31 | 10.31½ ~ 10.36 |
| ? | South Kirkby Jn | 10.40 ~ 10.44 | 10.44½ ~ 10.48½ |
| 33.08 | Hare Park Jn | 10/52 | 11/03 |
| ? | Crofton West Jn | 10/56 | 11/06½ |
| 35.11 | Oakenshaw Jn | 10.57 ~ 11.01 | 11.10½ ~ 11.17½ |
| ? | Oakenshaw South Jn | 11/03 | 11/22 |
| ? | Royston Jn | 11/19 | 11.29 ~ 11.30 |
| 40.02 | Royston Colliery | 11.27 ~ 11.31 | 11.39½ ~ 11.43½ |
| ? | Royston Jn | 11.38 ~ 11.42 | 11.50 ~ 11.53½ |
| ? | Cudworth | 11/54 | 12/02 |
| 46.05 | Dearne Valley Jn | 12/02 | 12/09 |
| 49.06 | Grimethorpe Halt (site of) | 12.14 ~ 12.18 | 12.21 ~ 12.25 |
| ? | Cudworth | 12/39 | 12/39 |
| 61.60 | Oakenshaw South Jn | 12/57 | 12/55 |
| ? | Oakenshaw Jn | 12/59 | 12/57½ |
| ? | Calder Bridge Jn | 13/00 | 12/59 |
| 62.72 | Turners Lane Jn | 13.03 ~ 13.05 | 13/04½ |
| ? | Altofts Jn | 13/09 | 13/10 |
| ? | Castleford East Jn | 13/13 | 13/19 |
| 71.06 | Allerton Bywater [Ledstone] | 13.21 ~ 13.26 | 13.30½ ~ 13.34½ |
| 72.61 | Castleford East Jn | 13.33 ~ 13.37 | 13.47 ~ 13.51 |
| 78.30 | Milford Jn | 13/45 | 14/02½ |
| 79.52 | Gascoigne Wood West Arrival | 13/47 | 14.08 ~ 14.08½ |
| 80.20 | Hagg Lane | 14.03 ~ 14.07 | 14.19 ~ 14.23 |
| ? | Gascoigne Wood | 14/09 | 14/26 |
| ? | Milford Jn | 14/11 | 14/29 |
| ? | Ferrybridge Jn | 14/17 | 14/37½ |
| 87.10 | Knottingley West Jn | 14/20 | 14/38½ |
| 89.42 | Sudforth Lane | 14.23 ~ 14.27 | 14.48½ ~ 14.52 |
| 89.52 | Kellingley Colliery | 14.33 ~ 14.37 | 14.58 ~ 15.02 |
| 89.62 | Sudforth Lane | 14/42 | 15/06½ |
| 93.14 | Hensall Jn | 14/48 | 15/20 |
| ? | Drax Branch Jn | 14/50 | 15/28½ |
| 99.43 | Drax PS | 15/05 | 15.36 ~ 15.36 |
| ? | Drax Branch Jn | 15/20 | 15/44 |
| 105.72 | Hensall Jn | 15/22 | 16/00½ |
| 111.76 | Knottingley | 15/29 | 16/11½ |
| ? | Pontefract Monkhill | 15/33 | 16/16 |
| 119.47 | Sharlston Colliery | 15.47 ~ 15.51 | 16.30½ ~ 16.34 |
| 125.38 | Pontefract Monkhill | 16.05 ~ 16.09 | 16.50½ ~ ??.?? |
| 132.46 | Crofton West Jn | 16/19 | ? |
| ? | Oakenshaw Jn | 16/23 | ? |
| 134.30 | Wakefield Kirkgate | 16/24 | ? |
| 136.54 | Horbury Jn | 16/29 | ? |
| 141.22 | Woolley West Side | 16.44 ~ 16.48 | ? |
| ? | Woolley Coal Sidings | 17/01 | ? |
| 145.48 | Barnsley | 17c12 | ? |
| ? | Ecclesfield West Jn | 17/23 | ? |
| ? | Wincobank Jn | 17/28 | ? |
| ? | Nunnery Main Line Jn | 17/31 | ? |
| 162.26 | Sheffield | 17.35a | 18.08 |