10th December 1988
Hastings Diesel Group
The Dungeness Thumper Railtour
Route : 1Z66 (S.R. headcode 66) throughout
| | |
| --- | --- |
| DEMU Used | Route |
| as listed | Hastings - Bopeep Jn - West Marina Depot |
| as listed | West Marina Depot - Bopeep Jn - Hastings |
| as listed | Hastings - Bopeep Jn - Battle - Wadhurst - Tunbridge Wells - Tonbridge |
| as listed | Tonbridge - Paddock Wood - Ashford - Folkestone - Central - Folkestone East |
| as listed | Folkestone East - Folkestone Harbour |
| as listed | Folkestone Harbour - Folkestone East |
| as listed | Folkestone East - Ashford |
| as listed | Ashford - Appledore - Dungeness |
| as listed | Dungeness - Appledore - Ashford |
| as listed | Ashford - Canterbury West - Minster - Sandwich - Buckland Jn - Dover Priory - Dover Western Docks |
| as listed | Dover Western Docks - Dover Priory - Buckland Jn - Shepherds Well - Canterbury East - Faversham - Sittingbourne - Gilingham - Rochester Bridge Jn - Strood - Hoo Jn - Gravesend |
| as listed | Gravesend - Hoo Jn - Grain (Old Station) |
| as listed | Grain - Hoo Jn - Gravesend - Dartford - Crayford - Hither Green - Parks Bridge Jn - Lewisham - New Cross - North Kent East Jn - Spa Road - London Bridge - Metropolitan Jn - Charing Cross |
| as listed | Charing Cross - Metropolitan Jn - London Bridge - Spa Road - Bricklayers Arms Jn - Norwood Fork Jn - Windmill Bridge Jn - East Croydon - South Croydon - Oxted - Hurst Green - East Grinstead |
| as listed | East Grinstead - Hurst Green - Oxted - South Croydon |
| as listed | South Croydon - Stoats Nest Jn - Redhill - Tonbridge - Tunbridge Wells - Wadhurst - Battle - Bopeep Jn - Hastings |
Notes :
(1) Route confirmation required - above is from booked timings. May have been additional reversals in West Marina Depot.
(2) John F Kappler believes this tour used DEMU 1001 but confirmation of this is required.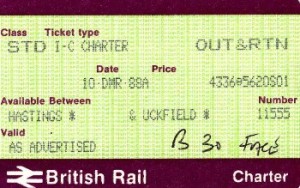 John F Kappler's ticket for the tour
Source : John F Kappler



Timings (Booked Only)
(from John F Kappler)
Note: The tour timing sheet was inconsistent in how times were presented and did not always distinguish between passing times and stops (it was using a full stop mostly, including where a reversal had to take place). In some cases an arrival and departure time were shown with 'a' and 'd' but in others where a reversal had to take place only a single time was shown, sometimes with an 'a' but in other cases just a single time was listed without indication if it was arrival or departure. As Webmaster I have tried to show the timings in the usual Website format using / for passing times and full stop where a stop seemed likely or necessary. Assumptions have had to have been made so my conversion may not be perfect!
| | |
| --- | --- |
| Location | Booked |
| Hastings | 07.30d |
| Bopeep Jn | 07/34 |
| West Marina Depot | 07.40a |
| RMEE Shed | 07.56d |
| Bopeep Jn | 07/57 |
| Hastings | 08.01a ~ 08.08d |
| Warrior Square | 08/10 |
| Bopeep Jn | 08/12 |
| Battle | 08/21 |
| Mountfield | 08/25 |
| Robertsbridge | 08/27 |
| Wadhurst | 08/42 |
| Strawberry Hill Tunnel | 08/46 |
| Tunbridge Wells [1] | 08.49a ~ ??.??d |
| Wells Tunnel Jn | 08/50 |
| Somerhill Tunnel | 08/55 |
| Tonbridge [2] | 08.57a ~ 09.04d |
| Paddock Wood | 09/12 |
| Ashford | 09/32 |
| Folkestone | 09/45 |
| Folkestone East | 09.52 |
| Folkestone Harbour | 09p57a ~ 10p10d |
| Folkestone East | 10.20 |
| Folkestone | 10/22 |
| Ashford | 10.36a ~ 10.46d |
| Appledore | 10/58 |
| Dungeness | 11p50a ~ 12p02d |
| Appledore | 12/55 |
| Ashford | 13.08 ~ ??.??d |
| Canterbury West | 13/29 |
| Minster | 13/45 |
| Sandwich | 13/51 |
| Deal | 13p56a ~ 14p06d |
| Martin Mill | 14/13 |
| Buckland Jn | 14/19 |
| Dover Priory | 14/21 |
| Dover Western Docks | 14.25a ~ 14.35d |
| Buckland Jn | 14/42 |
| Shepherds Well | 14/47 |
| Canterbury East | 14/56 |
| Faversham | 15/07 |
| Sittingbourne | 15/15 |
| Gillingham | 15/28 |
| Rochester Bridge Jn | 15/35 |
| Strood | 15/36 |
| Gravesend | 15.50 |
| Hoo Jn | 15.57 ~ ??.?? |
| Signal D12 | 16.02 ~ ??.?? |
| Grain Old Station | 16.32 |
| Signal D12 | 16.58 ~ ??.?? |
| Gravesend | 17/08 |
| Dartford | 17/16 |
| Dartford Jn | 17/17 |
| Crayford | 17/19 |
| Hither Green | 17/32 |
| Parks Bridge Jn | 17/33 |
| Lewisham | 17/35 |
| New Cross | 17/38 |
| North Kent East Jn | 17/39 |
| Spa Road | 17/43 |
| London Bridge | 17/45 |
| Metropolitan Jn | 17/47 |
| Charing Cross | 17.51a ~ 18.06d |
| Metropolitan Jn | 18/10 |
| London Bridge [5] | 18/12 |
| Spa Road | 18/15 |
| Bricklayers Arms Jn | 18/18 |
| Norwood Fork Jn | 18/35 |
| Windmill Bridge Jn | 18/37 |
| East Croydon [6] | 18/36 |
| South Croydon | 18/40 |
| Oxted | 18/52 |
| Hurst Green | 18/54 |
| East Grinstead | 19.06a ~ 19.27d |
| Hurst Green | 19/39 |
| Oxted | 19/42 |
| South Croydon [4] | 20.00 |
| Stoats Nest Jn | 20/05 |
| Redhill | 20.13 ~ ??.?? |
| Tonbridge | 20.45a ~ ??.??d |
| Somerhill Tunnel | ?20/48d? |
| Wells Tunnel Jn | 20/53 |
| Tunbridge Wells [1] | 20.56 ~ ??.?? |
| Strawberry Hill Tunnel | 20/58 |
| Wadhurst | 21/03 |
| Robertsbridge | 21/15 |
| Mountfield | 21/19 |
| Bopeep Jn | 21/32 |
| Hastings | 21.39a |