25th September 1988
British Rail (Network South East)
The Test Valley Steam Limited & The Test Valley Rambler II
| | |
| --- | --- |
| Locos Used | 20020, 20132, 73001, 73004 & steam: 80080 (4) |
Route :
Test Valley Steam Limited : Train A
| | |
| --- | --- |
| Loco(s) | Route |
| ????? | London Waterloo - Woking - Winchfield - Basingstoke - Andover |
| 80080 | Andover - Laverstock North Jn - Laverstock South Jn - Dean - Romsey |
| 80080 | Romsey - Dean - Laverstock South Jn - Laverstock North Jn - Andover (2) |
| ????? | Andover - Basingstoke - Winchfield |
Route :
Test Valley Steam Limited : Train B
| | |
| --- | --- |
| Loco(s) | Route |
| 73001 + 73004 | London Waterloo - Woking - Winchfield - Basingstoke - Andover |
| 80080 | Andover - Laverstock North Jn - Laverstock South Jn - Dean - Romsey |
| 80080 | Romsey - Dean - Laverstock South Jn - Laverstock North Jn - Andover (2) |
| ?73001 + 73004? | Andover - Basingstoke - Winchfield |
Route :
Test Valley Steam Limited : Train C
| | |
| --- | --- |
| Loco(s) | Route |
| ????? | Woking - Winchfield - Basingstoke - Andover |
| 80080 | Andover - Laverstock North Jn - Laverstock South Jn - Dean - Romsey |
| 80080 | Romsey - Dean - Laverstock South Jn - Laverstock North Jn - Andover (2) |
| ????? | Andover - Basingstoke - Winchfield |
Route :
Test Valley Rambler II :1Z36
| | |
| --- | --- |
| Loco(s) | Route |
| 20020 + 20132 | Woking - Andover |
| 80080 | Andover - Laverstock North Jn - Laverstock South Jn - Dean - Romsey |
| 20020 + 20132 | Romsey - Southampton - Eastleigh - Winchester - Basingstoke |
| 73001 + 73004 | Basingstoke - London Waterloo |
Notes :
(1) These trains ran as part of the Winchfield 150 years celebrations. D1041, E27000, 73005, 45106, 33040, 33302 were on display, parked on the up fast line at Winchfield.
(2) At Andover on the return journey of trains A, B & C the stock was booked to shunt from the platform to the sidings to perform the engine change. It then returned to the station before departing; passengers were allowed to stay on, or were able to alight before it left for the sidings and rejoin when it came back into the station.
(3) A shuttle service ran between Woking, Winchfield & Basingstoke using 4-SUB 4732 - further details required (number of runs made, times). Kevin Driscoll adds: I travelled on the 15.24 Woking to Winchfield & 17.02 back.
(4) Originally listed as 80135, Richard Morrison & Nick Lawford have both confirmed it was in fact 80080.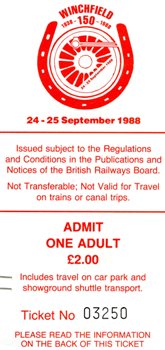 Ian McDonald's ticket for
The Winchfield site.
Sources : Robert Gooding, Kevin Gaylard, Terry Jackson, Mike Tetlow, Steve Clark, Nick Bartlett & Ian McDonald



Timings (Booked Only)
(from Terry Jackson & Ian McDonald)
Location
Booked [Train A]
Booked [Train B]
Actual [Train B]
Booked [Train C]
Waterloo
08.07d
11.02d
11.04
-
Woking
??.??a ~ 08.38d
??.??a ~ 11.39d
?
14.49d
Winchfield
??.??a ~ 08.58d
??.??a ~ 12.00d
?
??.??a ~ 15.12d
Basingstoke
09/09
12/11
?
15/26
Andover
09L28a ~ 09L43d
12L30a ~ 12L45d
?
15L45a ~ 16L02d
Romsey
10.32a ~ 10.52d
13.52a ~ 14.25d
?
16.51a ~ 17.08d

Mottisfont Dunbridge

11w00a ~ 11w13d
14w33a ~ 14w43d
?
17w16a ~ 17w23d
Andover
12L01a ~ 12L29d
15L31a ~ 15L49d
?
18L14a ~ 18L36d
Basingstoke
12/47
16/07
?
18/54
Winchfield
13.02a ~ ??.??d
16.17a ~ ??.??d
?
19.04a ~ ??.??d
train continued...
to Woking
to Woking
to Woking/Waterloo
| | |
| --- | --- |
| Location | Booked [1Z36] |
| Woking | 18.00d |
| Waterloo | ??.??a |