10th - 12th June 1988
Pathfinder Tours
The Caledonian
Locos Used
37035, 37059, 37245, 37261, 47284, 47466, 47497, 85010 & 85020
Stock Used
WR NSE all-compartment mark 1 set + InterCity RBR catering vehicle
including 13443
Route : (combined train)
| | | |
| --- | --- | --- |
| Date | Loco(s) | Route |
| 10/06 | 47497 | Reading - Didcot Parkway - Swindon - Chippenham - Bath Spa - Bristol Temple Meads |
| 10/06 | 47497 | Bristol Temple Meads - Bristol Parkway - Gloucester |
| 10/06 | 47497 | Gloucester - Cheltenham Spa - Worcester Shrub Hill - Bromsgrove - ??? - Birmingham New Street |
| 10/06-11/06 | 85010 | Birmingham New Street - Crewe - (via WCML) - Mossend Yard |
| 11/06 | 37035 + 37245 | Mossend Yard - Stirling - Perth - Inverness |
Route : (portion 1)
| | | |
| --- | --- | --- |
| Date | Loco | Route |
| 11/06 | 37416 | Inverness - Dingwall - Brora - Wick |
| 11/06 | 37416 | Wick - Brora - Dingwall - Interness |
Route : (portion 2)
| | | |
| --- | --- | --- |
| Date | Locos | Route |
| 11/06 | 37261 | Inverness - Elgin - Keith Jn |
| 11/06 | 37261 | Keith Jn - Dufftown |
| 11/06 | 37261 | Dufftown - Keith Jn |
| 11/06 | 37261 | Keith Jn - Inverness |
Route : (combined train)
| | | |
| --- | --- | --- |
| Date | Loco(s) | Route |
| 11/06-12/06 | 37245 + 37035 | Inverness - Perth - Ladybank - Edinburgh Waverley |
| 12/06 | 37035 + 37245 | Edinburgh Waverley - Shotts - Uddingston - Polmadie |
| 12/06 | 37059 | Polmadie - Larkfield Jn - Muirhouse South Jn - Barrhead - Kilmarnock - Carlisle |
| 12/06 | 47284 | Carlisle - (via S&C) - Leeds |
| 12/06 | 47284 | Leeds - Carnforth |
| 12/06 | 85020 | Carnforth - Birmingham New Street |
| 12/06 | 47466 | Birmingham New Street - ??? - Bromsgrove - (reverse of outward route) - Gloucester |
| 12/06 | 47466 | Gloucester - (reverse of outward route) - Bristol Temple Meads |
| 12/06 | 47466 | Bristol Temple Meads - (reverse of outward route) - Reading |
Sources : Ian Hudson & Andrew Crampton



Tour Review
(from Ian Hudson, including all photos)
It's not often memories are prompted by a bit of cardboard, but the discovery of a Travellers Fare Gricers Grill menu card in a drawer recently did just that.
A pleasant summer evening after work found a very unpleasant 47656 on the evening train from Oxford down to New St where our pre arranged little group met up. from here it was a quick toddle round the corner to a small basement bar where some liquid was consumed while being entertained by some combined DJ come plate spinner. One of our number informed us that this was another of these cutting edge, new wave type music things and, suitably un-impressed it was a relief when it came time to head back to New St.
At around Midnight Pathfinders Caledonian arrived behind another forgettable (and forgotten) EH 47 and we headed to the back where we were informed seats were available. pleased to find a comfortable NSE Mk1 compartment coach as last vehicle, compartments were prepared (bags stowed, lights off etc) before stepping out to observe a pair of marker lights bobbing out of the dark closely pursued by their owner 85010. quickly tied on and piped up, departure soon came closely followed by the desire to inspect one eyelids at close quarters.
A leisurely timed run up the WCML followed and the personal lights came back on briefly at Mossend in time to observe 37035 and 245 backing on. Day break had long passed (and indeed a photo stop) before personal power was restored. A trip was made to the Buffet in search of food but as the recently found menu attests, other things had to suffice. Arrival at Inverness was somewhere around time and gave participants the opportunity to observe 245 displaying yet another new 37 livery. This one consisted of dirt brown in the middle and sparkling new Yellow and blue at each end, the result apparently of a hefty double thwack and some life prolonging surgery at Crewe works.
Having determined that portion 1 of the train was not the thing that railtours were made of (a 37/4 to Wick, wow that can't have happened for at least....well two hours!) 37416 was photted departing before attention was turned to portion 2.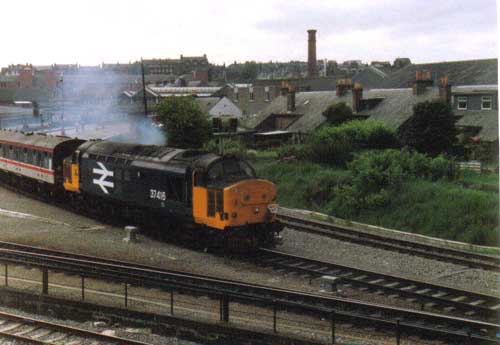 37416 at Inverness - but flagged by Ian Hudson in favour of 37261.
This was in charge of a much more wholesome 37261 and with the prospect of a trip down the Dufftown branch (without a Duff) and a trip round the Glenfiddich distillery was clearly the better option.
A good blast up to Kieth was followed by an amble down the branch and a hard right squeal into Dufftown yard and the remains of the station. The distillery tour started with a rather confusing audio/visual presentation (for which no doubt some arty got an award) before settling into a pleasant wander around all manner of strange boiling devices and peculiarly shaped copper vessels (very Jules Vern) before being greeted at the end by a complimentary glass or two of the end product. Most acceptable!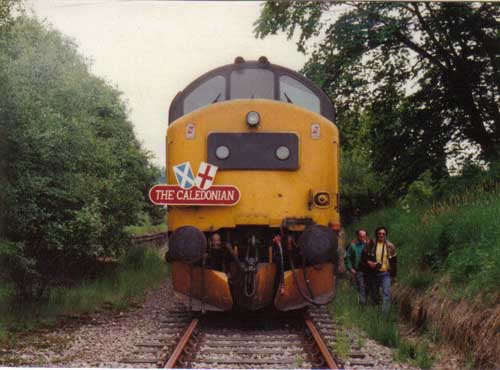 37261 on the Dufftown branch.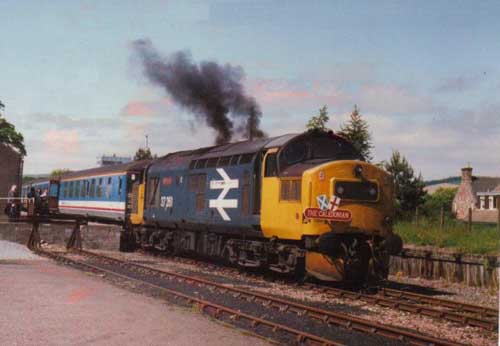 37261 at Dufftown.
Yet more surprises were in store after 261 zipped us back to Inverness. The tour included an evening bus trip to the Loch Ness Museum at Drumnadrochit and Urqhart Castle for a boat trip back up the Loch. There outside the station stood two buses one (I think) an Atlantian, the other ex LT RM VLT191. The story told was some of the organisers had seen it going about it's business in Inverness and had found from the driver that it was from the company they had arranged transport with. Enquiring if it could be used for the Loch Ness trip they were told to ask the manager as he was dispensing the tickets on the back! (perhaps some one would like to confirm if that's true, it certainly sounds very 1980s railtour).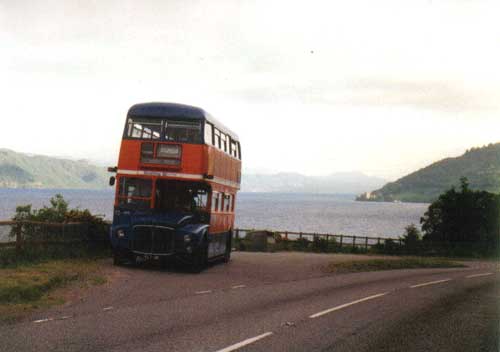 The RM at Loch Ness.
Needless to say, the majority of travellers chose 191 then made for the boat. One had decided that an ECS bus move back to Inverness was preferable to bobbing about monster spotting so I decided to join him. The trip back provided the entertaining sight of a Route Master overtaking a Nissan Micra along the Loch side (not that much of an achievement as Bert and Ada in the Micra were about 80 in the shade and doing that OAP 10 mile an hour thing) before the driver obligingly pulled up for a photo stop of an RM alongside Loch Ness. this was a double bonus as it provided an opportunity for a repeat Mica overtake before arriving at Inverness bus station.
Here the driver made off for some snap and in possession of chips we sneaked onto the stock in the middle road to eat in comfort. Our consternation to suddenly find we were moving (courtesy of 08717 AGAIN!) was nothing to that of the cleaner when we backed into the adjacent platform who attempted to board the supposedly empty stock to be greeted by two people getting off.
A brief run out and back with the RM to the Caledonian Canal to pick up the boat passengers brought everyone back for a late evening departure with 245 and 035 which produced and extremely loud and lively run into the night for an arrival next morning in Edinburgh.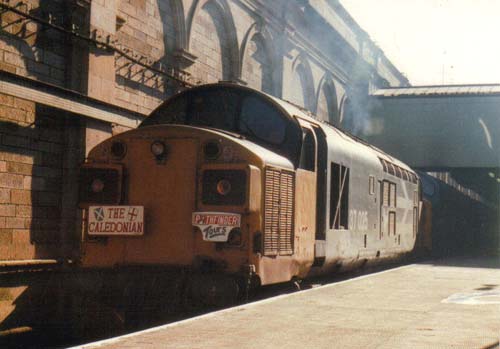 37035 leads 37245 at Edinburgh Waverley.
A brief break and other formalities and it was off again with the same pair for a run across via Shotts to Polmadie where they finally left the tour.
At this point Plomadie provided new power in the shape of a rather dishevelled looking 37059 which was actually a very deceptive piece of kit. Having negotiated the bottom end of Glasgow, 059 and it's driver put in a excellent demonstration of how you batter a large number of coaches over the G&SW with just one type 3!
Sadly all good things come to an end and this proved to be the case at Carlisle. The decision over whether to stay with the tour for a slow plod home over the S&C or not was decided for us. 47284 backed on at Carlisle and the choice was made to go home quick and avoid the duff. The fact that we didn't notice that the centre road at Carlisle was packed with electrics and 47s 'cos the power was off. I'll put down to fatigue!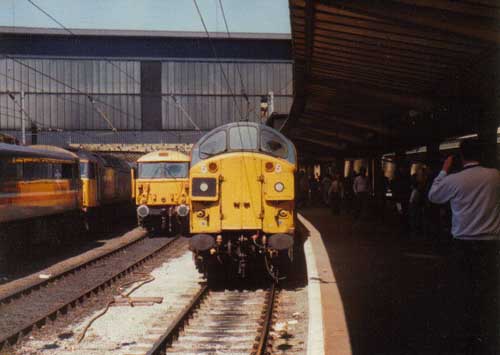 37059 on arrival into Carlisle.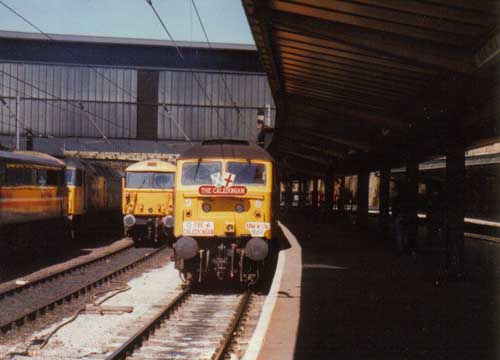 47284 on, Ian Hudson off...
47665 to Preston certainly took the sparkle out of things! All the same, if the chap with the Tardis drops by, I think I'll wander back to New St on 11/06/88, it's just this time I think I'll go to the Fox and avoid the DJ plate spinner!