21st May 1988
Flying Scotsman Services Ltd
The South Yorkshireman
| | |
| --- | --- |
| Locos Used | steam: 5305 & 34092 'City of Wells' |
| Stock Used | 11 coaches (support coach, Pullman Car No 335 and 9 Mk1s in maroon livery) |
Route : 1Z43 throughout
| | |
| --- | --- |
| Loco | Route |
| 5305 | London Marylebone – Northolt Jn – West Ruislip – High Wycombe - Princes Risborough – Aynho Jn – Banbury – Leamington Spa – Hatton – Dorridge – Tylesley – Bordesley Jn – Landor Street Jn – Water Orton – Kingsbury Jn – Burton-on-Trent – Stenson Jn – Derby – Ambergate Jn – Clay Cross South Jn – Chesterfield – Tapton Jn – Beighton Jn – Woodhouse Jn – Woodburn Jn – Sheffield |
| 34092 | Sheffield – Dronfield – Tapton Jn – (reverse of outward route) – London Marylebone |
Notes :
(1) Gordon Jakes comments: Upon arrival at Dorridge in platform 3 (heading southbound), 34092 had to set forward so as to position its tender beneath the overbridge south of the station, from which it was watered. Upon completion of watering the engine and train set back behind the platform 3 starting signal ready to depart southwards again.
Sources : Les Drury & David Morgan



Photo Review
(all photos: Gordon Jakes)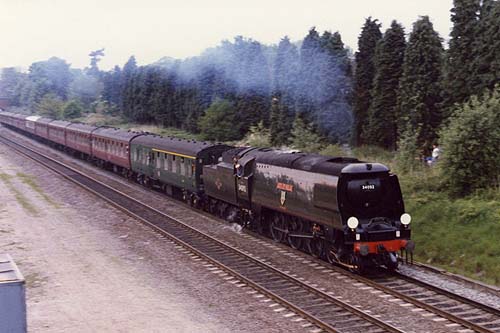 34092 passes Bentley Heath LC heading southwards.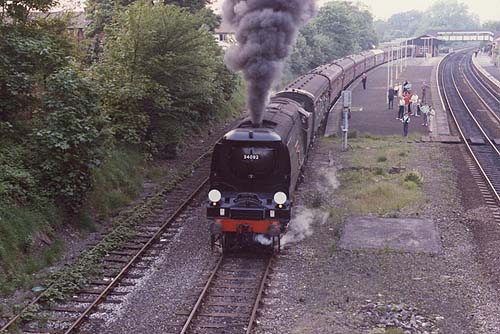 34092 departs Dorridge for London...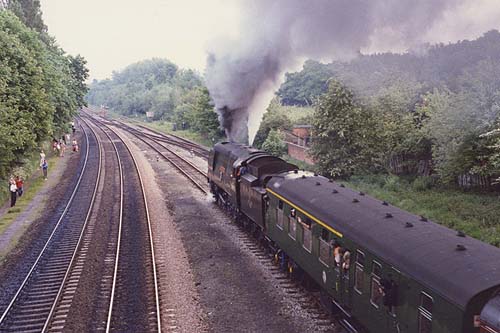 ...with steam to spare by the looks...


Timings (Booked & Actual)
(from David Morgan)
M.C
Location
Booked
Actual
Booked
Actual
M.C
0.00
Marylebone
07.55d
08.25
22.18a
22.49
379.39
5.11
Neasden South Jn
08/05
08/36½
22/08
22/41
374.28
11.42
Northolt Jn
08/15
08/47
21/57
22/30
367.77
13.30
West Ruislip
08/19
08/51
21/54
22/26½
366.09
16.12
Denham
08.25a ~ 08.28d
08.56½ ~ 08.59
21.45a ~ 21.47d
22.29½ ~ 22.22
363.27
27.71
High Wycombe
08/49
09/20
21/27
22/01½
351.48
36.12
Princes Risborough
09w04 ~ 09w20
09.31 ~ 09.47
20w47 ~ 21w12
21/53
343.23
54.58
Bicester North
09/44
10/07
20/18
21/35
324.61
63.60
Aynho Jn
09/55
10/20½
20/06
21/22½
315.59
68.64
Banbury
10w02 ~ 10w20
10.29 ~ 10.51
19c49 ~ 19c55
20w28 ~ 21w08
310.55
88.73
Leamington Spa
10/49
11/19
19/21
20/01
290.46
94.62
Hatton
10/56
11/27
19/10
19/48½
284.57
101.43
Dorridge
11w03 ~ 11w33
11.38 ~ 12.13
18w30 ~ 19w00
19.02 ~ 19.36
277.66
108.53
Tyseley
11/46
12/25
18/19
18.43½ ~ 18.44
270.66
110.59
Bordesley Jn
11/50
12/29½
18/15
18/39½
268.60
111.05
St Andrews Jn
11/52
12/31½
18/14
18/38
268.34
111.43
Landor Street Jn
11c53 ~ 11c55
12.33 ~ 12.44
18c10 ~ 18c12
18.30 ~ 18.35
267.76
117.49
Water Orton
12/02
12/52
18/02
18/16½
261.70
121.44
Kingsbury Jn
12/06
12/56
17/58
18/12½
257.75
127.25
Tamworth HL
12/12
13/01
17/52
18/01
252.14
134.53
Wichnor Jn
12/20
?
17/45
?
244.66
140.16
Burton-on-Trent
12/25
13/21 [GL]
17/39
17/48
239.23
146.33
Stenson Jn
12/32
13/32½
17/33
17/42
233.06
151.17
Derby
12w40 ~ 13w50
13.39½ ~ 14.19
16w35 ~ 17w25
16.39 ~ 17.34
228.22
?
Broadholme Loop
14*05 ~ 14*20
14.38 ~ 14.45
?
Ambergate Jn
?
?
16/20
16/26
218.29
171.18
Clay Cross South Jn
14/32
14/59
16/05
16/16
208.21
175.28
Chesterfield
14/37
15/04
15/58
16/12
204.11
184.56
Beighton Jn
14/50
15/17
186.10
Woodhouse Jn
14/54
15/19½
190.37
Woodburn Jn
15/03
15/27
191.34
Nunnery Main Line Jn
15/08
15/31
-
Dronfield
15/52
16/06½
198.67
-
Dore Station Jn
15/47
16/01½
195.61
191.71
Sheffield
15L11a
15.28½
15L35d
15.51
191.71