16th April 1988
InterCity VIP Charters
(in conjunction with Hertfordshire Railtours)
The Class 40 Farewell
| | |
| --- | --- |
| Locos Used | 40122 (running as D200) & 47522 |
| Stock Used | Set BN92 formed; 3133+3120+1667+3119+3118+3115+1663+3111+3107+17093 |
Route : 1G20 throughout
| | |
| --- | --- |
| Loco | Route |
| 40122 | London Liverpool St - (via GEML) - Norwich |
| 40122 | Norwich - Thetford - Ely North Jn - Ely West Jn - March - Peterborough - (via ECML) - York |
| 47522 | York - (via ECML) - London Kings Cross |
Notes :
(1) The tour itinerary referred to this tour as 'D200 The Final Journey', D200 passing into preservation at the National Railway Museum.
(2) Return route confirmation required (i.e. York to London with 47522) - above is from booked timings.
Sources : Richard Spedding, Harry Harper, Ian McDonald & John Broderick



Photo Review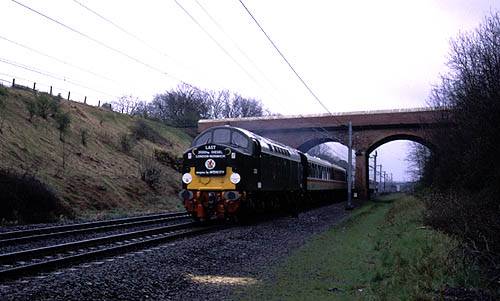 D200 passing through Tuxford (photo: Kevin Law)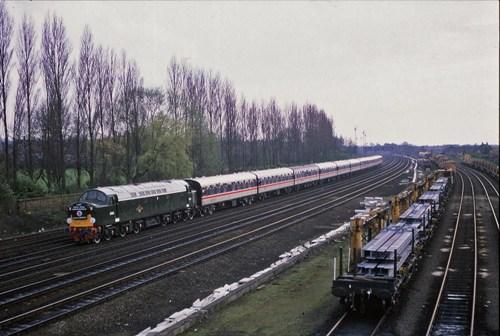 D200 passes Holgate Sidings approaching York (photo: Paul Braybrook)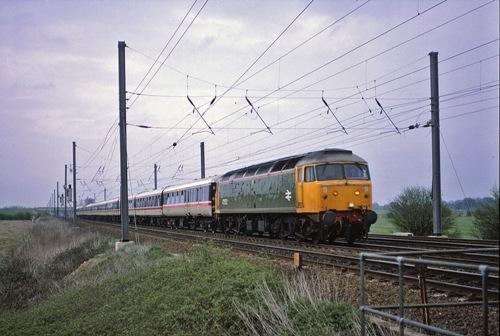 47522 approaches Copmanthorpe on the return (photo: Paul Braybrook)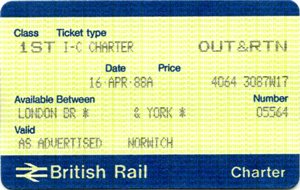 Ian McDonald's ticket.


Timings (Booked Only)
(from Steve Clark)
| | | |
| --- | --- | --- |
| M.C | Location | Booked |
| 0.00 | Liverpool Street | 09.58d |
| 1.10 | Bethnal Green | 10/01 |
| 4.03 | Stratford | 10/05 |
| 13.41 | Gidea Park | 10/14 |
| 20.16 | Shenfield | 10/21½ |
| 29.65 | Chelmsford | 10/30 |
| 38.48 | Witham | 10/38½ |
| 46.49 | Marks Tey | 10/45 |
| 51.52 | Colchester | 10/50 |
| 59.35 | Manningtree | 10/56½ |
| 68.59 | Ipswich | 11c07 ~ 11c09 |
| 82.79 | Haughley Jn | 11/24 |
| 95.04 | Diss | 11/38 |
| 113.68 | Trowse Lower Jn | 11/55 |
| 114.31 | Swingbridge Jn | 11/55½ |
| 114.77 | Norwich | 11.58a ~ 12.25d |
| 115.43 | Swingbridge Jn | 12/27 |
| 116.06 | Trowse Lower Jn | 12/27½ |
| 125.14 | Wymondham | 12/40 |
| 145.36 | Thetford | 13/00 |
| 152.54 | Brandon | 13/08½ |
| 167.14 | Ely North Jn | 13/28 |
| 168.19 | Ely West Jn | 13/29 |
| 181.56 | March | 13c47 ~ 13c49 |
| 190.41 | Whittlesea | 14/00 |
| 196.50 | Peterborough | 14c10 ~ 14c12 |
| 205.05 | Tallington | 14/24 |
| 220.02 | Stoke Summit | 14/46 |
| 225.59 | Grantham | 15/54 |
| 239.77 | Barkston South Jn | 14/58 |
| 240.29 | Newark North Gate | 15*07 ~ 15*11 |
| 258.70 | Retford | 15/30 |
| 276.18 | Doncaster | 15c50 ~ 15c52 |
| 280.37 | Shaftholme Jn | 15/58 |
| 289.37 | Temple Hirst Jn | 16/05 |
| 295.16 | Hambleton North Jn | 16/10 |
| 303.20 | Colton Jn | 16/23 |
| 308.61 | York | 16L30a ~ 17L48d |
| 314.22 | Colton Jn | 17/55 |
| 322.26 | Hambleton North Jn | 18/01 |
| 328.05 | Temple Hirst Jn | 18/05 |
| 337.05 | Shaftholme Jn | 18/13 |
| 341.24 | Doncaster | 18c18 ~ 18c20 |
| 358.52 | Retford | 18/38 |
| 377.13 | Newark North Gate | 18/51 |
| 387.45 | Barkston South Jn | 18/58 |
| 391.63 | Grantham | 19/02 |
| 397.40 | Stoke Summit | 19/15 |
| 412.37 | Tallington | 19/29 |
| 420.72 | Peterborough | 19/37 |
| 428.31 | Huntingdon | 19/52 |
| 453.11 | Sandy | 20/02 |
| 465.27 | Hitchin | 20/15 |
| 469.56 | Stevenage | 20*20 ~ 20*21 |
| 473.28 | Woolmer Green | 20/26 |
| 484.44 | Potters Bar | 20/34 |
| 492.23 | Alexandra Palace | 20/42 |
| 494.60 | Finsbury Park | 20/44 |
| 497.21 | Kings Cross | 20.48a |