14th November 1987
Pathfinder Tours
The Skipton Skipper
| | |
| --- | --- |
| Locos Used | 31463 & 50020 'Revenge' |
| Stock Used | 5457+5354+5444+17118+13502+5494+5276+5386+5360 |
Route : 1Z25 throughout
| | |
| --- | --- |
| Loco | Route |
| 50020 | Bristol Temple Meads - Cheltenham Spa - Birmingham New Street - Tamworth - Burton-on-Trent - Stenson Jn - Sheet Stores Jn - Toton - Sheffield - Barnsley - Penistone - Huddersfield - Mirfield - Wakefield Kirkgate - Normanton - Woodlesford - Engine Shed Jn - Whitehall Jn - Apperley Jn - Esholt Jn - Ilkley |
| 31463 | 14.00d Ilkley - Esholt Jn - Shipley East Jn - Bradford Forster Square |
| 50020 | Bradford Forster Square - Keighley - Skipton |
| 50020 | Skipton - Keighley - Shipley - Leeds |
| 50020 | Leeds - Sheffield - Derby - Burton-on-Trent - Tamworth - Birmingham New Street - Cheltenham Spa - Bristol Temple Meads |
Brief review :
(1) Route confirmation required.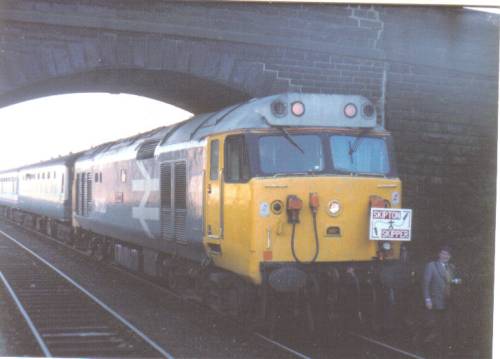 50020 caught during a photo-stop at Shipley (photo: Ian Hudson)
Sources : Melvin Teale (joined/left the train at Cheltenham Spa) & David Ingham



Tour Review
(by Melvin Teale)
This was simply a "must do" tour for me as it was to cover the area in which I grew up and would pass through one of my local stations (Guiseley) where loco hauled trains were extremely rare by this time. In addition to get a 50 (one of my favourite classes following holidays by the WCML near Carnforth in the early 70s) was very, very rare. I believe this was the one and only visit of a 50 to the Ilkley branch to date!
So it was with great excitement that one of the notorious 50 bashers from the south west and I set off for Cheltenham for the 07.47 tour departure on Saturday 14th November 1987. On time, 50 020 arrived. I was amazed to see that the coaches carried "Ilkley" destination stickers as well as "West Country Holiday Train" stickers!
The route was to Birmingham via Worcester, then Tamworth, Burton, turn right at Stenson Jct across to Sheet Stores Jct, up through Toton to Sheffield. We must have arrived early as although only 2 mins were allowed at Sheffield for a pick up many piled off the train for a phot. We then set off via Barnsley to take the Penistone line to Huddersfield. We were booked a photo stop at Shepley, but I'm sure for some reason that this was actually taken at Penistone!
After Huddersfield we were routed via Healey Mills, Wakefield Kirkgate and Altofts to Holbeck Engine Shed Jct. We turned left here avoiding Leeds Station to join the Airedale line. Now the excitement really began! In 1987 the Airedale & Wharfedale lines were still signalled by local boxes, in most cases semaphore although the Ilkley branch was colour light by this time worked by 2 boxes at Guiseley & Ilkley. This was brill, sweeping down the Aire valley past Kirkstall box behind a hoover! At Apperley Jct. we slowed at the rare semaphore splitting distants for the right turn up the Ilkley branch. A wave to the signalman at Apperley Jct. and Revenge was opened up for the thrash up the bank to Guiseley. All too soon we were passing the site of Esholt Jct. box (closed 1983) and a bit further on Rawdon Jct. where the branch from Yeadon (freight only except for excursions, closed 1965) came in. At the end of this branch was where I saw my first ever train, aged about 3, on the coal trip to the local cotton mill (& it was steam!). I digress, we then roared through Guiseley station much to the amazement of the locals awaiting the next pacer to Leeds. An on time arrival at Ilkely saw all the participants disembark for the 28 minute break! All the local chippys & bakers shops were immediately wedged, and as for the 2 pubs outside the station- bashers were having to drink in the street!
Top & tail locos were not the vogue in those days & given that the 50 could not run round at Ilkely 31 463 soon appeared & was attached to the train for the run to Bradford. We were away spot on time & rumour has it that a few passengers were left behind! Anyway, between Guiseley station & Esholt Jct (before the junction was re-sited back to Esholt Jct proper at electrification) we crossed over to the right hand single track for the run through Baildon to Shipley, joining the Leeds to Carlisle line for a few chains before veering left through Shipley station for the short run into Bradford Forster Square. Revenge followed us down light engine (wish I'd got a photo of that!) At Bradford I met up with my brother for a couple of pints. I let the tour go on ahead with the 50 back at the helm to Skipton, following on later on a pacer. (Looking back should probably have done the 50 move & dragged my brother along!).
The return from Skipton was totally in the dark & direct to Leeds (run round) to Sheffield , Derby, BNS, to Cheltenham as per the normal passenger route. As I recall we were more or less on time back at Cheltenham.
Verdict- Quite simply my favourite tour to date. Revenge performed faultlessly, the company with the 50 guys was great, the route was excellent. Ok, not much variety of locos or rare track, but these things are down to personal choice. Would be interested to here other correspondents' all time favourite tours.