17th October 1987
? N.S.E. ?
(Ripple Lane Depot Open Day Shuttles)
| | |
| --- | --- |
| DMU's Used | 51361+59513+51399 & 53218+53230 |
Route :
| | |
| --- | --- |
| DMU's | Route |
| (1) | Barking - Ripple Lane Depot |
| (1) | Ripple Lane Depot - Barking |
Notes:
(1) Nick Lawford comments: This was the first weekend right after the hurricane which hit the south east about 2 days before. Most train services were still in chaos at the weekend, but the Open Day went ahead. The shuttle service from Barking into Ripple Lane depot was provided by two car diesel parcels unit 53230+53218, the only thing which could be spared. No seats, but acceptable for shuttles like this. "Ad hoc" running on the day (i.e. no formal timetable). Multiple runs made. Chris Harley however adds: in the latest Traction Magazine (late 2007) the photo shows the unit in use as Reading based Class 117 W51361/59513/51399. Confirmation is therefore required if there was a swap of DMU's at some stage in the day. Robin Webster also adds to the debate: The Barking shuttle was 5 cars comprising both units mentioned coupled together, at least when I was there (see photo below).
(2) Also shuttling within the length of the yard with two coaches was steam 80080 carrying headboard "Blue Peter return to Steam 1987". The advertised return trip from Ripple Lane to Thames Haven was cancelled as the line was blocked by the storm.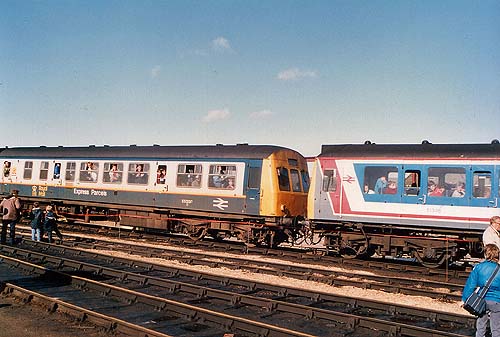 Robin Webster's photo shows both units in use during part of the day.
Sources : Nick Lawford, Chris Harley & Robin Webster



Back to "The Railtour Files"