27th September 1987
Network South East
Ludgershall Limited(s)
| | |
| --- | --- |
| Locos Used | 37116, 40122 & steam: 53809 |
| Stock Used | 99123, 99124, 99125, 99126, 99127, 99128 & 99129 (4) |
Route: (headcodes as listed below)
Headcode
Loco
Route
2Z12
37116
Basingstoke - Andover
53809
Andover - Ludgershall
2Z13
53809
Ludgershall - Andover
37116
Andover - Basingstoke
2Z14
40122
Basingstoke - Andover
53809
Andover - Ludgershall
2Z15
53809
Ludgershall - Andover
40122
Andover - Basingstoke
2Z16
37116
Basingstoke - Andover
53809
Andover - Ludgershall
2Z17
53809
Ludgershall - Andover
37116
Andover - Basingstoke
2Z18
40122
Basingstoke - Andover [P2] - "Andover Yard"
40122 (2)
"Andover Yard" - Andover ['up' back platform]
53809
Andover ['up' back platform] - Ludgershall
2Z19
53809
Ludgershall - "Andover Yard"
40122
"Andover Yard" - Andover [P1] - Basingstoke
2Z20
37116
Basingstoke - Andover
53809
Andover - Ludgershall
2Z21
53809
Ludgershall - Andover
37116
Andover - Basingstoke
Notes :
(1) Marketed/sold as separately ticketed runs.
(2) Propelling move.
(3) Details offered for 2Z18 show a reversal in "Andover Yard" (believed reversal point was on the Ludgershall branch track?) and at the station (dead-end platform on up side) - did all other trains do likewise?
(4) Stock listed in numerical order - formation confirmation is required.
(5) Kevin Stroud comments: I am quite certain that 33111 was involved somehow (maybe to allow release of locos at Ludgershall?), and I also seem to recall being hauled round the site by top'n'tail MoD shunters?
Sources : Terry Jackson, Gordon Lacy, Kevin Stroud & Harry Harper



Photo Review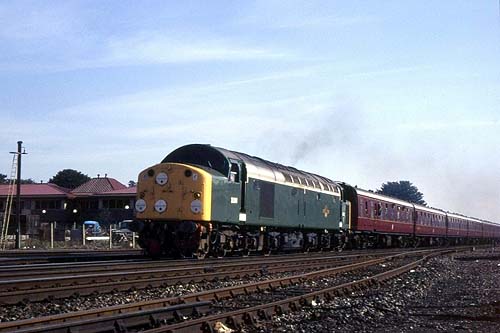 40122 passes Basingstoke yard with the 11.15 departure from Basingstoke
(photo: Gordon Lacy)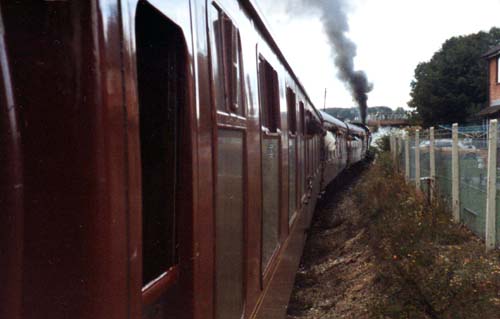 53809 leaves Andover for Ludgershall (photo: Kevin Stroud)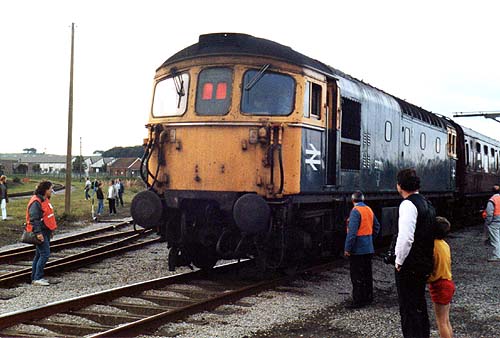 33111 on the rear of the train at Ludgershall - where/how did this loco feature
in the day? (photo: Kevin Stroud)


Timings (Advertised only)
(from Terry Jackson)
Headcode
2Z12/2Z13
2Z14/2Z15
2Z16/2Z17
2Z18/2Z19
2Z20/2Z21
Location
Advertised
Advertised
Advertised
Advertised
Advertised
Basingstoke
09.45d
11.15

d

12.45d
14.30d
15.56d
Andover
10L11a ~ 10L25d
11L45a ~ 11L57d
13L11a ~ 13L23d
15L01a ~ 15L13d
16L24a ~ 16L36d
Ludgershall
10.45a ~ 11.02d
12.17a ~ 12.30d
13.42a ~ 13.56d
15.33a ~ 15.47d
16.46a ~ 17.16d
Andover
change engine
change engine
change engine
change engine
change engine
Basingstoke
11.54a
13.27a
14.48a
16.41a
18.10a
Timings (Booked & Actual) - 2Z18/2Z19
(from Gordon Lacy)
n.b. Booked times below are taken from STN which did not match advertised times!
Location
Booked
Actual
Booked
Actual
Basingstoke
14.35d
14.35
16.42a
16.51
Worting Jn
14/39˝
14/39
16/39
16/48˝
Andover [station]
14c55 ~ 14c56 [P2]
14/53
16c20 ~ 16c21 [P1]
16.29˝ ~ 16.32˝
Andover Yard
(Ludgershall branch)
14.58 ~ 15.00
14.54 ~ 15.04
16L?? ~ 16L18
??.?? ~ 16.28˝
Andover
15L02 ~ ??L?? ["P3"]
15.05 ~ ??.?? ["P3"]
Ludgershall
??.??a
?
15.48d
?