18th - 20th September 1987
Pathfinder Tours
The Son of Skirl
| | |
| --- | --- |
| Locos Used | 20052, 20104, 20154, 20197, 37043, 37092, 40122, 47377, 50005, 81009 & steam: LNER K1 no. 2005 & 4472 'Flying Scotsman' |
| Stock Used | 13 mark 1's (2x 6 coach NSE Twyford sets plus a catering car) |
Route :
1Z27 : Bristol Temple Meads to Fort William
1Z55 : Fort William to Mallaig
1Z56 : Mallaig to Fort William
1Z27 : Fort William to Manchester Victoria
[1L00 : Manchester Victoria to Southport]
1Z27 : Southport to Bristol Temple Meads
| | | |
| --- | --- | --- |
| Date | Loco(s) | Route |
| 18/09 | 50005 | Bristol Temple Meads - ??? - Gloucester |
| 18/09 | 50005 | Gloucester - ??? - Birmingham New Street |
| 19/09 | 81009 | Birmingham New Street - Tipton - Wolverhampton - Stafford - (via WCML) - Carlisle |
| 19/09 | 40122 (1) | Carlisle - (via WCML) - Motherwell - Mossend Yard |
| 19/09 | 37092 + 37043 | Mossend Yard - Sunnyside Jn - Glasgow Queen Street LL - Westerton - Dalmuir - Craigendoran Jn - Crianlarich - Fort William |
| 19/09 | 2005 | (2) Fort William - Mallaig |
| 19/09 | 2005 | Mallaig - Fort William (2) |
| 19/09 | 37043 + 37092 | Fort William - Crianlarich - Craigendoran Jn - Dalmuir - Yoker - Glasgow Queen Street LL - Sunnyside Jn - Mossend Yard - Motherwell - Hamilton Central - Polmadie - Glasgow Central |
| 20/09 | 81006 (3) | Glasgow Central - Polmadie |
| 20/09 | 40122 | Polmadie - Rutherglen East Jn - Carmyle Jn - Mossend - Motherwell - (via WCML) - Preston - Chorley - Bolton - Manchester Victoria |
| 20/09 | 4472 | (4) Manchester Victoria - Bolton - Southport (4) |
| 20/09 | 20052 + 20104 | Southport - Wigan Wallgate - Warrington Bank Quay - Chester - Chester North Jn |
| 20/09 | 20052 + 20104 (5) | Chester North Jn - Chester South Jn |
| 20/09 | 20052 + 20104 | Chester South Jn - Chester - Crewe - Stafford - Penkridge (7) |
| 20/09 | 20052 (6) | Penkridge - Wolverhampton - Bescot Down Yard |
| 20/09 | 20154 + 20197 | Bescot Down Yard - Aston - Proof House Jn - Birmingham New Street - ??? - Gloucester |
| 20/09 | 47377 | Gloucester - ??? - Bristol Temple Meads |
Notes :
(1) Plus 97251 ETHEL2 in tow to provide ETS.
(2) The run behind 2005 was a private charter available only to passengers on this tour.
(3) Mike Dalgleish comments that had been a rumour that 40122 might have worked out of Glasgow Central, but in the event it didn't happen.
(4) Passengers travelled between Manchester Victoria & Southport on another railtour, hauled by 4472 'Flying Scotsman'. It is understood that the tour stock was worked ECS from Manchester Victoria to Southport.
(5) Propelling move.
(6) Originally uploaded as reversing at Saltney Jn and being propelled by the 20s to Chester North Jn.
(7) 20104 failed at Penkridge. 20052 dragged the train to Bescot where the replacement 20's took over.
Sources : Andrew Crampton, Kevin Gaylard & Nigel Curtis
(all on the train throughout), Harry Harper (joined/left the train at Birmingham New Street),
Andrew Fairholm & Ian Jordan



Photo Review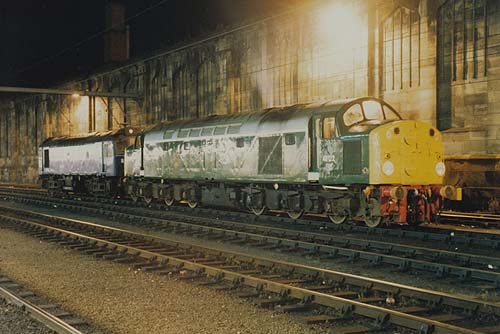 40122/D200 & 97251 at Carlisle (photo: Mike Dalgleish)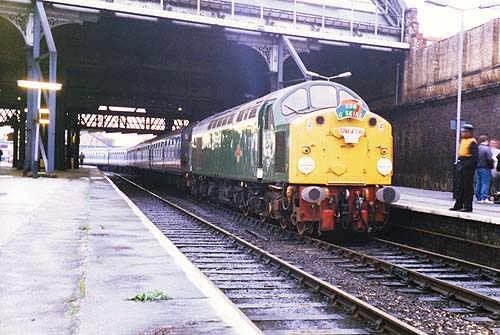 D200/40122 on arrival back at Manchester Victoria (photo: Mike Dalgleish)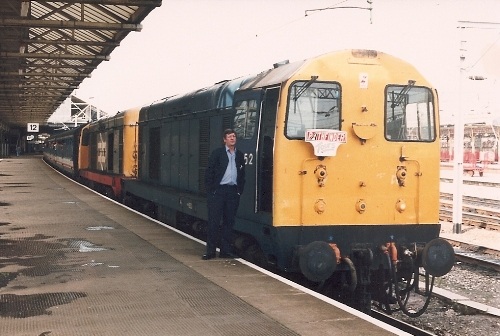 20052 & 20104 wait to leave Crewe (photo: Ian Jordan)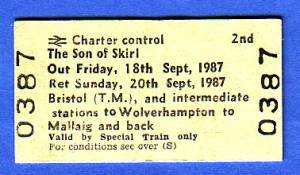 From Andrew Fairholms ticket collection.