9th August 1987
Pathfinder Tours
The Rheidol Rambler
| | |
| --- | --- |
| Locos Used | 20034, 20133, 47453 & 47587 |
Route : 1Z26 throughout
| | |
| --- | --- |
| Loco(s) | Route |
| 47587 | Bristol Temple Meads - Stapleton Road - Filton Jn - Bristol Parkway - Westerleigh Jn - Charfield - Standish Jn - Gloucester |
| 47587 | Gloucester - Cheltenham Spa - Abbotswood Jn - Norton Jn - Worcester Shrub Hill - Droitwich Spa - Stoke Works Jn - Bromsgrove - Kings Norton - Camp Hill - St Andrews Jn - Proof House Jn - Birmingham New Street - Soho South Jn - Galton Jn - Dudley Port - Wolverhampton |
| 20133 + 20034 | Wolverhampton - Wellington - Abbey Foregate Jn - Sutton Bridge Jn - Welshpool - Machynlleth - Aberystwyth |
| 20034 + 20133 | Aberystwyth - (reverse of outward route) - Wolverhampton |
| 47453 (2) | Wolverhampton - (reverse of outward route) - Gloucester |
| 47453 (2) | Gloucester - (reverse of outward route) - Bristol Temple Meads |
Notes :
(1) There was an option/opportunity to leave the train at Machynlleth and travel to Pwlhelli behind 7819 'Hinton Manor' - further details of this option is required.
(2) Originally reported as 47587 but Mike Barnsley recorded 47453 & Andrew Crampton confirms this too.
Sources :
Steve Clark (joined Birmingham New Street, left Wolverhampton and did the steam trip to Pwlhelli)
David Champion (on the tour to Aberystwyth), Mike Barnsley & Andrew Crampton



Photo Review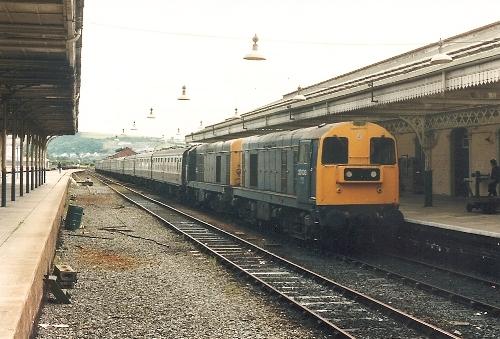 20133 & 20034 on arrival at Aberystwyth (photo: Ian Jordan)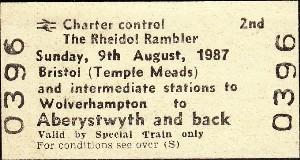 From Bob Mitchell's ticket collection.


Timings (Booked Only)
(from John Chalcroft)
M.C
Location
Booked (out)
Booked (rtn)
M.C
0.00
Bristol Temple Meads
06.40d
00.04a
108.14
4.50
Filton Jn
06/47
23/57
103.44
5.69
Bristol Parkway
06.49a ~ 06.51d
23.53a ~ 23.55d
102.25
10.39
Westerleigh Jn
06/57
23/45
97.55
18.52
Charfield
07/04
23/32
89.42
31.77
Standish Jn
07/13
23/22
76.17
38.07
Gloucester Yard Jn
07/18
23/16
70.07
39.08
Gloucester
07.20a ~ 07.35d
23.01a ~ 23.14d
69.06
45.48
Cheltenham Spa
07.43a ~ 07.45d
22.48a ~ 22.50d
62.46
52.59
Ashchurch
07/53
22/42
55.35
63.46
Abbotswood Jn
08/01
22/33
44.48
67.40
Worcester Shrub Hill
08.07a ~ 08.09d
22.25a ~ 22.27d
40.54
73.19
Droitwich Spa
08/16
22/18
34.75
77.34
Stoke Works Jn
08/22
22/05
30.60
79.47
Bromsgrove
08/25
22/03
28.47
82.20
Blackwell
08/31
22/01
25.74
83.10
Barnt Green
08/32
22/00
25.04
88.00
Kings Norton Jn
08/41
21/54
20.14
92.77
Camp Hill
08/46
21/49
15.17
93.59
St Andrews Jn
08/48
21/46
14.35
94.56
Proof House Jn
08/51
21/43
13.38
95.30
Birmingham New Street
08.54a ~ 08.57d
21.37a ~ 21.41d
12.64
97.31
Soho South Jn
09/02
21/30
10.63
99.09
Galton Jn
09/04
21/28
9.05
102.54
Dudley Port
09/08
21/24
5.40
108.14
0.00
Wolverhampton
09L15a ~ 09L27d
21L06a ~ 21L18d
0.00
110.66
8.75
Cosford
09/38
20/52
101.71
19.27
Wellington
09/52
20/41
91.39
29.19
Abbey Foregate
10c15 ~ 10c17
20c25 ~ 20c28
81.47
30.03
Sutton Bridge Jn
10/22
20/21
80.63
40.31
Westbury
10/36
20/09
70.35
48.76
Welshpool
10p46a ~ 10p57d
19/58
61.70
62.64
Newtown
11/13
19/43
48.02
76.32
Talerddig
11/33
19/25
34.34
90.10
Machynlleth
11.52a ~ 11.55d
19.00a ~ 19.02d
20.56
94.09
Dovey Junction
12x02 ~ 12x04
18/54
16.57
110.66
Aberystwyth
12.47a
18.30d
0.00