28th June 1987
Hertfordshire Rail Tours
The Bakers Dozen
| | |
| --- | --- |
| Locos Used | 31305, 45062 & 45128 |
Route : 1Z36 throughout
| | |
| --- | --- |
| Loco(s) | Route |
| 45062 | London Euston - South Kenton approx Mile Post 10 (1) |
| 31305 (2) | South Kenton approx Mile Post 10 - Watford Junction |
| 31305 + 45062 | Watford Junction - Tring - Bletchley - Milton Keynes Central - Hanslope Jn approx Mile Post 57 |
| 31305 (2) | Hanslope Jn approx Mile Post 57 - via Weedon or Northampton? (4) - Rugby - Coventry - Stechford - Proof House Jn - Birmingham New Street |
| 45128 | Birmingham New Street - Soho South Jn - Galton Jn - Stourbridge Junction - Kidderminster - Hartlebury - Droitwich Spa - Worcester Foregate Street - Malvern Wells - Ledbury - Shelwick Jn - Hereford - Abergavenny - Maindee North Jn - Maindee East Jn - Severn Tunnel Junction - Patchway - Filton - Dr Day's Jn - North Somerset Jn - Bath Spa - Bathampton Jn - Trowbridge - Westbury - Warminster - Salisbury - Andover - Worting Jn - Basingstoke - Farnborough (Main) - Woking - Surbiton - Wimbledon - Clapham Junction - London Waterloo |
Notes :
(1) 45062 failed. This was the locos last working, withdrawal following almost straight away.
(2) plus 45062 dead-in-tow.
(3) Guy Vincent comments: 45062 left Euston 7 minutes late at 11.01hrs. It failed approaching South Kenton station and the train stopped just short of the south end of the platform at 11.12. 31305 was sent from, I believe Watford Junction and it attached to the front of the Peak and the train got underway at 11.55. A short stop was made at Watford Junction and the class 45 was then able to provide limited power, but eventually failed completely near Hanslope (close to MP57) at 13.14hrs where a further delay was incurred. 31305 then worked forward to Birmingham New Street where both locos were replaced by 45128.
(4) Confirmation required - did the tour run via Weedon or Northampton?
Sources : Guy Vincent & Kevin Gaylard (both on the train throughout)



Photo Review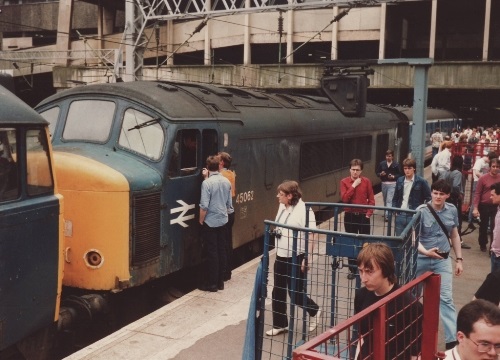 Failed 45062 (with 31305) at Birmingham New Street (photo: Guy Vincent)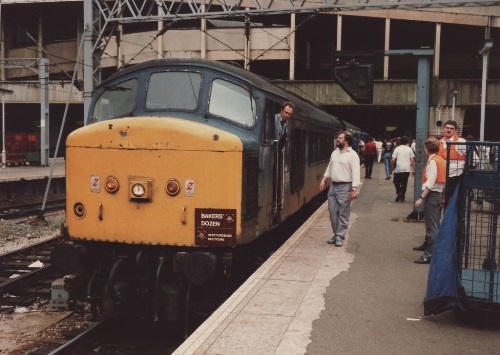 45128 at Birmingham New Street (photo: Guy Vincent)


Timings (Booked & Actual)
(from Guy Vincent)
| | | | |
| --- | --- | --- | --- |
| M.C | Location | Booked | Actual |
| 0.00 | London Euston | 10.54d | 11.01 |
| 5.65 | Willesden Junction | 11/02 | 11/07 |
| ? | South Kenton | ? | 11.12 ~ 11.55 |
| 17.35 | Watford Junction | 11.12a ~ 11.13d | 12.08 ~ 12.11 |
| 31.53 | Tring | 11/27 | 12/31 |
| 46.46 | Bletchley | 11/45 | 12/43 |
| 49.65 | Milton Keynes Central | 11.50a ~ 11.51d | 12.50 ~ 12.51 |
| 56.47 | Hanslope Jn | 12/14 | 13.14 ~ ? |
| 69.56 | Weedon | 12/24 | DIV? |
| - | Northampton | DIV? | ? |
| 82.40 | Rugby | 12.47a ~ 13.03d | 13.47 ~ 13.52 |
| 93.79 | Coventry | 13/13 | 14/06 |
| 109.08 | Stechford | 13/27 | 14/21 |
| 112.19 | Proof House Jn | 13/36 | ? |
| 112.73 | Birmingham New Street | 13c39 ~ 13c41 | 14L30 ~ 14L57 |
| 114.74 | Soho South Jn | 13/46 | 15/08 |
| 116.52 | Galton Jn | 13/48 | 15/11 |
| 124.76 | Stourbridge Junction | 14/06 | ? |
| 131.55 | Kidderminster | 14/13 | ? |
| 135.29 | Hartlebury | 14/16 | ? |
| 141.11 | Droitwich Spa | 14/22 | ? |
| 146.23 | Tunnel Jn | 14/28 | 15/46 |
| 147.01 | Worcester Foregate Street | 14p30 ~ 14p50 | 15.48 ~ 16.05 |
| 147.54 | Henwick | 14/52 | 16/07 |
| 156.02 | Malvern Wells | 15*01 ~ 15*08 | 16/17 |
| 161.75 | Ledbury | 15/18 | 16/26 |
| 174.00 | Shelwick Jn | 15/32 | 16/32 |
| 175.57 | Hereford | 15p38 ~ 16p00 | 16.46 ~ 16.56 |
| 187.77 | Pontrilas | 16/13 | 17/10 |
| 199.68 | Abergavenny | 16/24 | 17/20 |
| 209.12 | Pontypool | 16/32 | 17/28 |
| 218.26 | Maindee North Jn | 16/46 | 17/41 |
| 218.58 | Maindee East Jn | 16/48 | 17/42 |
| 227.71 | Severn Tunnel Junction | 16/59 | 17/53 |
| 234.67 | Pilning | 17/05 | 18/03 |
| 238.33 | Patchway | 17/11 | ? |
| 239.46 | Filton | 17*13 ~ 17*18 | ? |
| 242.60 | Stapleton Road | 17/25 | 18/16 |
| 243.26 | Lawrence Hill | 17c27 ~ 17c29 | 18.18 ~ 18.20 |
| 243.57 | Dr Day's Jn | 17/30 | 18/21 |
| 244.00 | North Somerset Jn | 17/32 | 18/22 |
| 254.59 | Bath Spa | 17/42 | 18/34 |
| 256.75 | Bathampton Jn | 17/49 | 18/37 |
| 266.17 | Bradford South Jn | 17/59 | 18/47 |
| 270.76 | Hawkeridge Jn | 18/05 | 18/54 |
| 271.41 | Westbury | 18p06 ~ 18p20 | 18.55 ~ 19.05 |
| 276.14 | Warminster | 18/31 | 19/14 |
| 294.10 | Wilton Jn | 18/48 | 19/31 |
| 296.04 | Salisbury | 18c51 ~ 18c53 | 19.34 ~ 19.37 |
| 297.11 | Tunnel Jn | 18/56 | 19/39 |
| 313.28 | Andover | 19/11 | 19/53 |
| 329.26 | Worting Jn | 19/25 | 20/07 |
| 331.66 | Basingstoke | 19/28 | 20/09 |
| 346.30 | Farnborough (Main) | 19/42 | 20/19 |
| 355.20 | Woking | 19/56 | 20/26 |
| 367.44 | Surbiton | 20/08 | 20/37 |
| 375.53 | Clapham Junction | 20/20 | 20/44 |
| 379.47 | London Waterloo | 20.27a | 20.50 |