20th June 1987
British Rail
Blackmore Vale Express (3 trains)
Locos Used
at least steam: 4472 'Flying Scotsman' & 35028 'Clan Line'
Stock Used
[1] : 6 coaches including 4901
[2] : 6 coaches (a different rake from [1])
Route : (three runs made)
| | | |
| --- | --- | --- |
| Loco(s) | Rake | Route |
| 4472 | [1] | [11.00d] Salisbury - Andover |
| 4472 | [1] | Andover - Salisbury |
| 4472 | [1] | [14.40d] Salisbury - Andover |
| 4472 | [1] | 15.30d Andover - Salisbury |
| 35028 | [2] | 16.55d Salisbury - Andover |
| 35028 | [2] | 18.24d Andover - Salisbury |
Notes :
(1) Brian Halford travelled from Salisbury at around 11am and thinks there was an afternoon round trip also. David Morgan confirms there were actually two, but is unsure of the time departing Salisbury of the second (he has it as 14.40 but acknowledges this would have meant a really fast turnaround between the morning and afternoon runs. Each loco carroed a headboard worded 'Blackmore |Vale Express' and each loco had its own rake of 6 coaches.
Sources : Brian Halford & David Morgan



Photo Review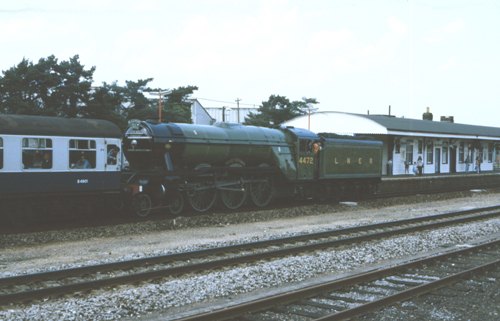 4472 arriving into Andover (photo: David Morgan)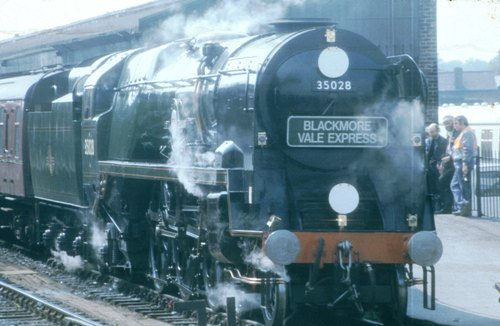 35028 waiting to leave Salisbury (photo: David Morgan)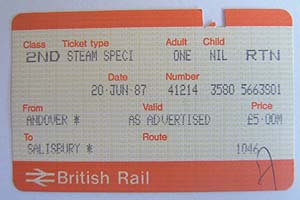 Brian Halford's ticket.