28th February 1987
Hertfordshire Rail Tours
The Valleybasher II
| | |
| --- | --- |
| Locos Used | 33025, 33062 & 37905 |
| Stock Used | 12 coaches |
Route : 1Z38 throughout
| | |
| --- | --- |
| Loco(s) | Route |
| 33062 + 33025 | Finsbury Park - Gospel Oak - Willesden Junction HL - Clapham Junction - Hounslow - Staines - Reading - Didcot Parkway - Swindon - Chippenham - Melksham - Bath Spa - North Somerset Jn - Dr Days Jn - Pilning - Severn Tunnel Junction - Newport - Cardiff Central - Radyr |
| 33025 + 33062 (1) | Radyr - Walnut Tree Jn - Nantgarw |
| 37905 (2) | Nantgarw - Walnut Tree Jn - Radyr - Cardiff Queen Street - Cardiff Bute Road |
| 33025 + 33062 (1) | Cardiff Bute Road - Cardiff Queen Street |
| 33025 + 33062 | Cardiff Queen Street - Caerphilly - Cwm Bargoed |
| 33025 + 33062 | Cwm Bargoed - Heath Jn - Cardiff Queen Street - Cardiff Central |
| 33025 + 33062 | Cardiff Central - Newport - Llanwern Works - (via Bishton flyover) - Severn Tunnel Junction - Pilning - Dr Days Jn - North Somerset Jn - Bath Spa - Chippenham - Swindon - Didcot Parkway - Reading - Staines - Richmond - Clapham Junction - Willesden Junction HL - Alexandra Palace - Bowes Park |
Notes :
(1) 37905 on rear.
(2) 33025 + 33062 on rear.
Sources : Nick Ross (left train at Willesden Junction), Keith Jarrett
& W.R. Lynch (joined/left the train at Clapham Junction)



Photo Review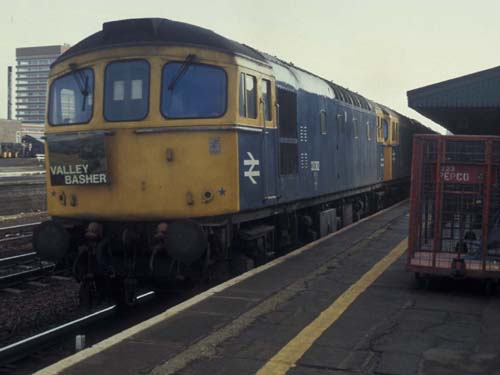 33062 & 33025 pause at Reading in the morning (photo: Gary Thornton)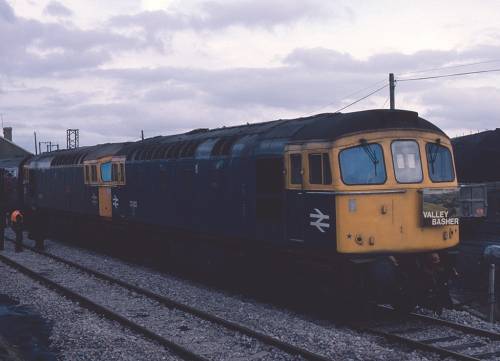 33062 leads 33025 at Cwm Bargoed (photo : Martin Pettit)


Tour Review
(by Nick Ross)
Finsbury Park island platform at the early hour of 0740 was the unlikely starting point for 800 plus Crompton miles behind standards 025 and 062. A Staines stagger then A GW mainline thrash to Bath, Cardiff and onwards to Radyr. Here the rumoured very average, dud 37/4 allocated to the tour was stabled but newly railfreight large logo liveried 37905 Vulcan Enterprise was attached to the rear. At least this was required for new number.
The Crompton's thrashed on through Pontypridd and then onto the 2 mile Nantgarw colliery branch. Here we all bailed onto the coal ballast to phot the power and to enjoy chips from a local mobile chip van. 37905 was the first of the sub-class for many of us but on the descending gradient little thrash could be heard. "Sounds like a fridge" was a quote from one Crompton fan. At Cardiff Bute Road we reversed, where we viewed a few very demic looking preserved kettles. The "fridge" was detached at Queen St for much Crompton thrash on the seven mile assault up the Taff Bargoed valley.
We all escaped at Cwm Bargoed to stretch our legs, phot the Cromptons and the bemused train crew of 37800 here with MGR's. A long, subdued 6 hour return journey took us to the unusual loco hauled bailing point of Willesden Jn H/L, then the equally massive Alexandra Palace and Bowes Park.
Nick Ross



Timings (Booked & Actual)
(from Howard Harrison & W.R. Lynch)
| | | | |
| --- | --- | --- | --- |
| M.C | Location | Booked | Actual |
| 0.00 | Finsbury Park | 07.40d | ? |
| 1.57 | Freight Terminal Jn | 07/44 | ? |
| 2.11 | Camden Road East Jn | 07/53 | ? |
| 3.47 | Gospel Oak | 07/56 | ? |
| 7.76 | Willesden Junction HL | 08.09a ~ 08.10d | ? |
| 8.48 | Mitre Bridge Jn | 08/12 | ? |
| 10.73 | Kensington Olympia | 08/17 | ? |
| 13.56 | Latchmere Jn | 08/22 | ? |
| 14.10 | Clapham Junction | 08.27a ~ 08.28d | ??.?? ~ 08.34 [P6] |
| 17.23 | Barnes | 08/33 | ? |
| 23.56 | Hounslow | 08/41 | ? |
| 24.54 | Feltham Jn | 08/43 | ? |
| 30.21 | Staines | 08.52a ~ 08.53d | ? |
| 34.34 | Virginia Water | 09/01 | ? |
| 40.18 | Ascot | 09/10 | ? |
| 47.70 | Wokingham | 09/18 | ? |
| 51.63 | Earley | 09/23 | ? |
| 53.58 | Reading Spur Jn | 09/27 | ? |
| 54.55 | Reading | 09.33a ~ 09.35d | ? |
| 71.67 | Didcot Parkway | 09.53a ~ 09.54d | ? |
| 96.00 | Swindon | ??.??a ~ 10.23d | ??.?? ~ 10.30 |
| 101.64 | Wootton Bassett Jn | 10/31 | ? |
| 112.53 | Chippenham | 10t40 | ? |
| 114.67 | Thingley Jn | 10/45 | ? |
| 122.68 | Bradford North Jn | 10t56 | ? |
| 132.07 | Bathampton Jn | 11/09 | ? |
| 134.23 | Bath Spa | 11.13a ~ 11.15d | 11.21 ~ 11.24 |
| 145.02 | North Somerset Jn | 11/29 | ? |
| 145.25 | Dr Days Jn | 11/31 | ? |
| 145.56 | Lawrence Hill | 11c33 ~ 11c35 | 11.38 ~ 11.38 |
| 149.36 | Filton | 11/41 | ? |
| 150.49 | Patchway | 11/42 | ? |
| 154.15 | Pilning | 11/45 | ? |
| 161.11 | Severn Tunnel Junction | 11/51 | ? |
| 171.00 | Newport | 12/04 | ? |
| 182.60 | Cardiff Central | 12.21a ~ 12.25d [P7] | 12.18 ~ 12.28 |
| 183.43 | Penarth Curve North Jn | 12/30 | ? |
| 187.37 | Radyr Jn | 12L40 ~ 12L54 | 12.40 ~ 12.54 |
| 189.34 | Walnut Tree Jn | 13t00 | ? |
| 191.67 | Nantgarw | 13.12a ~ 13.25d | 13.11 ~ 13.40 |
| 194.20 | Walnut Tree Jn | 13t42 | ? |
| 196.08 | Radyr | 13/47 | 13/57 |
| 197.13 | Llandaf | 13/49 | ? |
| 200.32 | Cardiff Queen Street | 13/57 | 14/08 |
| 201.38 | Bute Road | 14.01a ~ 14.11d | 14.12 ~ 14.20 |
| 202.44 | Cardiff Queen Street | 14L15 ~ 14L18 | 14.12 ~ 14.26 |
| 204.63 | Heath Jn | 14/22 | ? |
| 209.52 | Caerphilly | 14/31 | |
| 214.72 | Ystrad Mynach South Jn | 14t44 | 14/44 |
| 216.46 | Nelson East GF | 14t52 ~ 15t02 | ? |
| 224.31 | Cwm Bargoed SB | 15.22a ~ 15.40d | 15.21 ~ 15.42 |
| 232.16 | Nelson East GF | 16t00 ~ 16t10 | ? |
| 233.70 | Ystrad Mynach South Jn | 16t19 | 16/12 |
| 239.10 | Caerphilly | 16/33 | ? |
| 243.79 | Heath Jn | 16/40 | ? |
| 246.18 | Cardiff Queen Street | 16/50 | ? |
| 246.74 | Cardiff Central | 16.54a ~ 17.02d [P7] | 16.55 ~ 17.04 |
| 258.54 | Newport | 17/18 | ? |
| 268.43 | Severn Tunnel Junction | 17/50 | 18/07 |
| 275.39 | Pilning | 17/56 | ? |
| 279.05 | Patchway | 18/00 | ? |
| 280.18 | Filton | 18/01 | ? |
| 283.78 | Lawrence Hill | 18c13 ~ 18c15 | 18.32 ~ 18.34 |
| 284.29 | Dr Days Jn | 18/16 | ? |
| 284.52 | North Somerset Jn | 18/18 | ? |
| 295.31 | Bath Spa | 18.33a ~ 18.35d | 18.48 ~ 18.51 |
| 297.47 | Bathampton Jn | 18/39 | ? |
| 308.26 | Chippenham | 18/50 | ? |
| 324.78 | Swindon | 19.10a ~ 19.12d | 19.18 ~ ??.?? |
| 349.11 | Didcot Parkway | 19.33a ~ 19.34d | ? |
| 366.23 | Reading | 19.50a ~ 19.52d | ? |
| 367.20 | Reading Spur Jn | 19/56 | ? |
| 369.15 | Earley | 20/00 | ? |
| 373.08 | Wokingham | 20/05 | ? |
| 380.60 | Ascot | 20/14 | ? |
| 386.44 | Virginia Water | 20/22 | ? |
| 390.57 | Staines | 20.29a ~ 20.31d | ? |
| 396.24 | Feltham Jn | 20/40 | ? |
| 398.37 | Twickenham | 20/43 | ? |
| 402.53 | Barnes | 20/51 | ? |
| 405.66 | Clapham Junction | 20.55a ~ 20.57d | ? |
| 406.20 | Latchmere Jn | 20/59 | ? |
| 409.03 | Kensington Olympia | 21/04 | ? |
| 411.28 | Mitre Bridge Jn | 21/09 | ? |
| 412.00 | Willesden Junction HL | 21.11a ~ 21.12d | ? |
| 412.22 | Kensal Green Jn | 21/14 | ? |
| 416.27 | Gospel Oak | 21/24 | ? |
| 417.40 | Upper Holloway | 21/28 | ? |
| 418.55 | harringay Park Jn | 21/31 | ? |
| 420.46 | Alexandra Palace | 21.55a ~ 21.57d | ? |
| 421.23 | Bowes Park | 22.03a | ? |