12th - 14th September 1986
F + W Tours & Hertfordshire Rail Tours
The Eireann Explorer
Locos Used
47524, 47551, 47606 & 47611
I.E. G611, 012, 122, 124, 160 & 186
Stock Used
[1] : 4883+4856+4848+5010+7176+35333+4949+4876+1704+5004+5034
[2] : 1402+2420+1406+1541+1554+1513+1511+1510+3174
Route : 1Z16 throughout (whilst in the UK)
Date
Loco(s)
Stock
Route
12/09
47611
[1]
Derby – Burton-on-Trent – Wichnor Jn - Tamworth – Water Orton – Landor Street Jn - Proof House Jn - Birmingham New Street – Galton Jn – Stourbridge Junction – Kidderminster - Droitwich Spa – Worcester Shrub Hill – Abbotswood Jn - Ashchurch - Cheltenham Spa – Gloucester
12/09
47611
[1]
Gloucester – Standish Jn - Yate - Westerleigh Jn - Bristol Parkway – Stapleton Road - Bristol Temple Meads
12/09-13/09
47606
[1]
Bristol Temple Meads - Stapleton Road - Filton Jn - Patchway - Severn Tunnel Junction - Newport - Cardiff - Pontyclun - Bridgend - Port Talbot - Neath - Landore Jn - Swansea Loop West Jn - Llanelli - Carmarthen Jn - Carmarthen Bridge Jn - Whitland - Clarbeston Road - Haverford West (1)
13/09
MV St Brendan
-
Fishguard - Rosslare
13/09
012
[2]
Rosslare Harbour Pier - Rosslare Strand - Wellington Bridge - Campile - Waterford - Carrick-on-Suir - Tipperary - Keane's Points
13/09
012
[2]
Keans Points - Limerick Junction
13/09
012
[2]
Limerick Junction - Keane's Points - Killonan Jn - Limerick Check - Limerick
13/09
G611
[2]
shunt at Limerick
13/09
122 + 124
[2]
Limerick - Limerick Check - Ennis - Athenry - Ballinasloe - Athlone - Moate - Mullingar - Maynooth - Liffey Jn - North Strand Jn - Dublin Connolly
13/09
160 + 186
[2]
Dublin Connolly - Bray - Arklow - Rosslare Strand - Rosslare Harbour Mainland
14/09
MV St Inasfallen
-
Rosslare - Fishguard
14/09
47551
[1]
Fishguard Harbour - Clarbeston Road - (reverse of outward route) - Port Talbot - Margam Yard Jn - Margam Abbey Works East Jn - Newlands Jn - Tondu
14/09
47551
[1]
Tondu - Bridgend -

(reverse of outward route)

- Bristol Temple Meads
14/09
47524
[1]

Bristol Temple Meads – (reverse of outward route) – Gloucester

14/09
47524
[1]
Gloucester – (reverse of outward route) - Droitwich Spa - Stoke Works Jn - Bromsgrove - Kings Norton – St Andrews Jn

– Birmingham New Street
14/09
47524
[1]
Birmingham New Street – Proof House Jn - Aston – Four Oaks – Lichfield City – Wichnor Jn - Burton-on-Trent – Derby
Notes :
(1) Passengers were taken by bus from Haverford West to Fishguard Harbour.
(2) Jeremy Hartill comments: The CIE tour was a riot we were booked for an 071 but it had failed so we got 012 instead which was great for me. The set was a coach short so one was nicked off the Dublin train. The breakfast served by CIE was very good. At Limerick G611 was giving rides up and down the bay for all who could get on, that included hanging on the outside. 012 took 29½ min from Limerick Jn to Limerick with a max of 67mph. The little CIE Bo-Bo's were only 950 hp so with two locos, 9 coaches and about 1400hp at the rail it was not going to be a fast trip but the 35 miles from Athenry to Athlone Midland took 43.5 min with 72mph max after Woodlawn. We then ran on the freight only route, now closed line to Mullingar at around 50mph. The 28 miles took 38 min and the final 51 miles to Connolley 70½ min but there were a lot of checks near Dublin. Back on BR the E.C.S. did not get into Fishguard until 04.31 and then we had to wait until 05.18 for a guard. 47551 ran well from Fishguard when it got away. There were good climbs of the steep banks in West Wales. Later in the day 47524 made a good attempt to regain time with 95mph at Berkley Rd and 91 at Eckington. Rejoining the mainline at Stoke Works Jn from Worcester we stopped to set down at Bromsgrove. From a standing start it took 6m 50sec to Blackwell and reached 23½ mph on the Lickey bank, a proper thrash, sounded great at low speed and full throttle.
(3) UK outward leg originally shown as hauled by 47606 throughout but then corrected by Jeremy Hartill.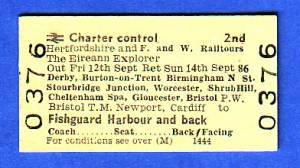 From Andrew Fairholms ticket collection.
Sources : Richard Szwejkowski (joined/left the train at Bristol Temple Meads)
Ian Monkton (joined/left the train at Bristol Parkway) & Paul Green



Timings (Booked & Actual)
(from Jeremy Hartill)
Location
Booked
Actual
Booked
Actual
Derby
18.15d
?
12.43a
?
Burton-on-Trent
18.28a ~ 18.30d
?
12.24a ~ 12.26d
?
Wichnor Jn
?
?
12/08
?
Lichfield City
11/59
?
Aston
11/41
?
Tamworth
??.??a ~ 18.43d
?
Water Orton
??.??a ~ 18.51d
?
Birmingham New Street
19.05a ~ 19.09
??.?? ~ 19.20
11.22a ~ 11.36
?
Galton Jn
19/17
19/29
Stourbridge Junction
19.37a ~ 19.40
19.46 ~ 19.47
Kidderminster
19/52
19/55
Camp Hill
11/14
?
Kings Norton
11/09
?
Bromsgrove
10.49a ~ 10.59d
?
Stoke Works Jn
10/45
?
Droitwich Spa
20/06
20/05
10/39
?
Worcester Shrub Hill
20.15a ~ 20.17d
20.12 ~ 20.17
10.30a ~ 10.32d
?
Abbotswood Jn
20/22
20/27
10/24
?
Ashchurch
20/31
20/35
?
?
Cheltenham Spa
20.39a ~ 2.41d
20.42 ~ 20.43
10.06a ~ 10.08d
?
Gloucester
20.52a ~ 21.05d
20.52 ~ 21.07
09.45a ~ 09.58d
10.35 ~ ??.??
Standish Jn
21/13
21/16
09/30
?
Westerleigh Jn
21/30
21/32
09/14
?
Bristol Parkway
21.34a ~ 21.38d
21.37 ~ 21.39
09.06a ~ 09.08d
?
Bristol Temple Meads
21.50a ~ 22.02d
21.49 ~ 22.08
08.44a ~ 08.56d
09.28 ~ 09.38
Filton Jn
22/10
22/17
?
?
Severn Tunnel Junction
22/20
22/28
?
?
Newport
22.29a ~ 22.31d
22.37 ~ 22.38
08.10a ~ 08.12d
?
Cardiff Central
22.48a ~ 22.51d
22.52 ~ 22.54
07.54a ~ 07.57d
?
Bridgend
23/14
23/14
07.22 ~ 07.24
?
Tondu
06.59a ~ 07.14d
?
Margam Abbey East
06/34
?
Port Talbot
?
?
06.24 ~ 16.26
?
Neath
23/32
?
?
?
Landore
23/44
?
?
?
Llanelli
23/59
?
?
?
Carmarthen Jn
00.20 ~ 00.22
?
?
?
Whitland
00/38
?
?
?
Clarbeston Road
00/49
?
?
?
Haverford West
00.55a
00.44
Fishguard Harbour
04.30d
05.18
| | | | | | |
| --- | --- | --- | --- | --- | --- |
| Location | Booked | Actual | | Booked | Actual |
| Fishguard | 03.15d | 03.13 | | ??.??a | 03.40 |
| Rosslare | ??.??a | 06.42 | | 00.00d | 00.00 |
| | | |
| --- | --- | --- |
| Location | Booked | Actual |
| Rosslare Harobour | 07.33d | 07.48 |
| Rosslare Mainland | 07.36a ~ 07.38d | 07.51 ~ 07.56 |
| Rosslare Strand | 07.44a ~ 07.46d | 08.17 ~ 08.19 |
| Bridgetown | 07.58a ~ 08.06d | 08.17 ~ 08.19 |
| Wellington Bridge | 08/20 | 08/32 |
| Ballycullane | 08/27 | 08/39 |
| Campile | 08/35 | 08/45 |
| Waterford | 08.48a ~ 08.50d | 09.00 ~ 09.09 |
| Carrick-on-Suir | 09/11 | 09/29 |
| Clonmel | 09/30 | 09/47 |
| Cahir | 09/47 | ? |
| Tipperary | 10/07 | 10/19 |
| Limerick Junction | 10.13a ~ 10.16d | 10.31 ~ 10.39 |
| Dromkeen | 10/30 | 10/53 |
| Killonan Jn | 10/39 | 11/01 |
| Limerick | 10.45a ~ 11.45d | 11.08 ~ 12.08 |
| Ennis | 12p35a ~ 12p51d | 12.33 ~ 13.11 |
| Gort | 13p26a ~ 13p36d | 13.41 ~ 13.59 |
| Athenry | 14/12 | 14.31 ~ 14.36 |
| Woodlawn | 14/29 | 14/53 |
| Ballinasloe | 14/42 | 15/03 |
| Athlone Midland | 15p00a ~ 15p10d | 15.20 ~ 15.30 |
| Moate | 15p26a ~ 15p36d | 15/45 |
| Mullingar | 16p04a ~ 16p30d | 16.10 ~ 16.40 |
| Killucan | 16/41 | 16/50 |
| Enfield | 17/00 | 17/07 |
| Maynooth | 17/16 | 17/19 |
| Clonsilla | 17/28 | 17/30 |
| Liffey Jn | 17/35 | 17/39 |
| Dublin Connolly | 17.43a ~ 17.52d | 17.51 ~ 18.04 |
| Dubline Pearse | 17/55 | ? |
| Dun Laoghaire | 18/03 | ? |
| Bray | 18.25a ~ 18.25d | 18.35 ~ 18.36 |
| Greystones | 18/35 | 18/46 |
| Wicklow | 18/50 | 18/59 |
| Rathdrum | 19/02 | 19/11 |
| Arklow | 19.18a ~ 19.26d | 19.29 ~ 19.41 |
| Gorey | 19/39 | ? |
| Enniscourt | 19/59 | ? |
| Wexford | 20.20a ~ 22.26d | ? |
| Rosslare Strand | 22/17 | ? |
| Rosslare Harbour | 22.24a ~ 22.26d | ? |
| Rosslare Pier | 22.30a | ? |