23rd & 24th August 1986
British Rail
(London & Greenwich Railway 150 Exhibition)
| | |
| --- | --- |
| EMU's Used | 2090, 4732 & Class 455 ???? (2) |
Route : (multiple runs)
| | |
| --- | --- |
| EMU (2) | Route |
| 455 ???? | London Charing Cross - Waterloo East - London Cannon Street [P2] |
| 455 ???? | London Cannon Street [P2] - Waterloo East - London Charing Cross |
Route : (multiple runs)
| | |
| --- | --- |
| EMU | Route |
| 2090 + 4732 | London Bridge - London Cannon Street [P1] |
| 2090 + 4732 | London Cannon Street [P1] - London Bridge |
Notes :
(1) Held on August Bank Holiday Sunday and Monday when Cannon Street station is normally closed. Various items of stock on display in the platforms and the station crammed full of stands, etc. Two Special train services ran: one service formed of ?class 455? stock between Charing Cross & Cannon Street calling at Waterloo East using the rare spur from Metropolitan Jn. The other service (every 15mins) ran between London Bridge & Cannon Street using the preserved 2-BIL no. 2090 and 4-SUB (4732). Both shuttle services began around 10am and the last runs were between 5pm & 6pm approximately.
(2) Believed to have been class 455 stock - confirmation required.
Source : Brian Halford



Photo Review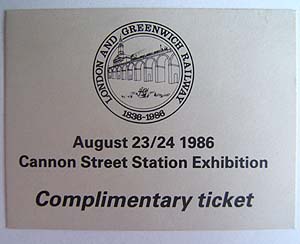 From Brian Halford's Ticket collection.