27th July 1986
F & W Railtours
Coastway Crusader
| | |
| --- | --- |
| Locos Used | 25181, 25191, 33011, 37046, 37117, 45128, 50050 & 73114 |
| Stock Used | load 10 |
Route : 1Z36 throughout
Loco(s)
Route
50050
06.12d Wolverhampton – Bescot – Aston – Birmingham New Street
45128
Birmingham New Street – St Andrews Jn -

King's Norton – Droitwich Spa – Worcester Shrub Hill – Cheltenham Spa – Gloucester
45128
Gloucester – Bristol Parkway – Bristol Temple Meads
25181 + 25191
Bristol Temple Meads – Bath Spa – Trowbridge – Westbury – Warminster – Salisbury – Andover
25181 + 25191
Andover – Ludgershall
25181 + 25191
Ludgershall - (1) - Andover
25191 + 33011
Andover – Basingstoke – Woking – Wimbledon – East Putney – Point Pleasant Jn – Clapham Junction – Longhedge Jn – Factory Jn – Brixton – Herne Hill – Tulse Hill – Streatham South Jn – Wimbledon – Raynes Park – Epsom – Dorking – Horsham – Ford – Barnham – Bognor Regis
73114
Bognor Regis -

Barnham – Ford –

Littlehampton
25191 + 33011
Littlehampton -

Littlehampton – Ford – Barnham – Chichester – Havant – Cosham – Fareham – Eastleigh – Romsey –

Salisbury
25191 + 37046 + 37117
Salisbury

– Warminster – Westbury – Trowbridge – Bath Spa – Bristol Temple Meads
45128
Bristol Temple Meads – Bristol Parkway – Gloucester
45128
Gloucester – Cheltenham Spa – Worcester Shrub Hill – Droitwich Spa – Stourbridge Junction – Galton Jn – Birmingham New Street – Aston – Bescot – Wolverhampton
Notes :
(1) Nick Lawford comments: Between Andover and Ludgershall 25181 suffered some kind of braking trouble and was a complete immobile failure by the time it got back (25181 was withdrawn as a result - this is how it came to languish at Eastleigh : it was unmoveable). 33011 was despatched to assist and worked in multiple with 25191. At Salisbury on the return the 37s replaced the 33 : 37s were not booked, it should have been 2x25 all the way back to Bristol. LASERman adds: The brake fault on 25181 was that the handbrake had been left on, possibly from Bristol and resulted in extremely bad flats on the wheels. The replacement 33 (from Salisbury?) was deliberately marshalled inside the 25 at Andover causing a little bit of extra delay, but I seem to remember the train was about either 2 or 3 hours late by then, so that the 25 was on the end of the train for the benefit of photographers who would undoubtedly want a 25 rather than a 33 to be visible round the Southern. The 33 was removed at Salisbury so that the Western didn't pinch it. A crew previously sent to Westbury to collect some interesting locomotives to work forward from Salisbury and returned with 2 x 37.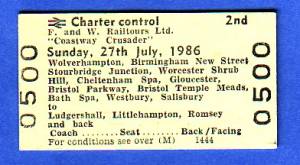 From Andrew Fairholms ticket collection.
Sources : Nick Lawford & Rail Enthusiast mag (issue no.56),
Ian Monkton (joined/left the train at Bristol Parkway) & Mike Tetlow



Back to "The Railtour Files"