26th May 1986
Venture Rail
The Wirksworth Phoenix
Route : (booked for six round trips)
| | |
| --- | --- |
| DMU | Route |
| 151001 | Derby - Duffield - Wirksworth |
| 151001 | Wirksworth - Duffield - Derby |
Notes :
(1) A special service run in conjunction with the Well Dressing Ceremonies held at Wirksworth over this weekend. Confirmation is required if the same DMU worked all services (undated photos exist of 151002 carrying the headboard so it is known to have also worked on either 24th, 25th or 26th May at some stage). Six round trips were booked to be made. Connecting coach excursions were also available to the Cromford & High Peak Railway sites also.
Sources : Gary Thornton (travelled on one train throughout) & Paul Chancellor



Photo Review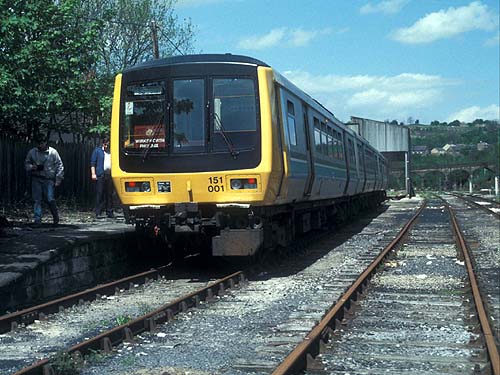 151001 at Wirksworth station (photo: Gary Thornton)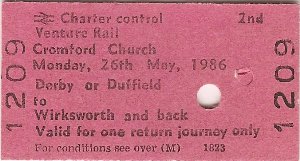 Gary Thornton's ticket.


Timings (Booked Only)
(from Ian Umpleby)
| | | | | | | |
| --- | --- | --- | --- | --- | --- | --- |
| Location | Booked | Booked | Booked | Booked | Booked | Booked |
| Derby | 08.50d | 10.40d | 12.15d | 13.50d | 15.30d | 17.17d |
| Duffield | 08.59a/d | 10.49a/d | 12.24a/d | 13.59a/d | 15.39a/d | 17.26a/d |
| Wirksworth | 09.30a ~ 09.45d | 11.20a ~ 11.32d | 12.55a ~ 13.03d | 14.30a ~ 14.40d | 16.10a ~ 16.16d | 17.57a ~ 18.15d |
| Duffield | 10.16a/d | 12.03a/d | 13.34a/d | 15.11a/d | 16.47a/d | 18.46a/d |
| Derby | 10.23a | 12.10a | 13.41a | 15.18a | 16.54a | 17.53a |