10th May 1986
Locomotive Club of Great Britain / Southern Electric Group
William the Conquerer
Route : 1Z26 throughout
SR headcodes :
4: Brighton - Victoria
66: Victoria - Sanderstead - Clapham Junction
79: Clapham Junction - Wimbledon
?: Wimbledon - Richmond - Stratford - Watford Junction - Croxley Green - Watford Junction - Kensal Green Jn - Richmond - Hayes
48: Hayes - Holborn Viaduct
83: Holborn Viaduct - Hastings
18: Hastings - Brighton
| | |
| --- | --- |
| EMU's | Route |
| 2090 + 4732 | Brighton - Earlswood - Quarry line - Stoats Nest Jn - Selhurst - London Victoria |
| 4732 + 2090 | London Victoria - Balham - Selhurst – Sanderstead (signal T1356) |
| 2090 + 4732 | Sanderstead (signal T1356) - Selhurst - Clapham Junction (signal VC147) |
| 4732 + 2090 | Clapham Junction (signal VC147) – Streatham North Jn – Wimbledon – Weybridge – Staines – Richmond (signal F398) |
| 2090 + 4732 | Richmond (signal F398) – Richmond platform 3 |
| 4732 + 2090 | Richmond platform 3 – Willesden Junction HL – Camden Road – Stratford |
| 2090 + 4732 | Stratford – Camden Road (2) – Kensal Green Jn – (2) Willesden Junction LL – Watford Junction |
| 4732 + 2090 | Watford Junction – Croxley Green |
| 2090 + 4732 | Croxley Green - Watford Junction |
| 4732 + 2090 | Watford Junction – Kensal Green Jn |
| 2090 + 4732 | Kensal Green Jn – Willesden Junction HL - Richmond |
| 4732 + 2090 | Richmond – Clapham Junction – Factory Jn – Loughborough Junction – London Holborn Viaduct |
| 2090 + 4732 | London Holborn Viaduct – Nunhead – Lewisham - Hayes |
| 4732 + 2090 | Hayes – (3) Lewisham - Nunhead |
| 2090 + 4732 | (3) Nunhead – Shortlands Jn – Swanley – Sevenoaks – Tonbridge – Hastings – Ore |
| 4732 + 2090 | Ore – Eastbourne |
| 2090 + 4732 | Eastbourne - Brighton |
Notes :
(1) Route confirmation required Brighton – London Victoria. Alan Holmewood has photos of the tour at Crowhurst and Ore. Return to London from Brighton was on a service train.
(2) Booked via Primrose Hill. Presumed diversion caused by some form of major disruption as then severely delayed between Brondesbury Park and Kensal Rise.
(3) Booked via Parks Bridge Jn, London Bridge, Holborn Viaduct (reverse) but diverted direct to Nunhead to reverse to regain booked pathway.
(4) Passengers were allocated to travel one third of the tour in the 2-Bil unit; the changeover points being booked at Watford Junction (12.48 ~ 12.52) and Holborn Viaduct (16.18 ~ 16.30). The latter probably took place at Nunhead.
Sources : LASERman & Alan Holmewood



Photo Review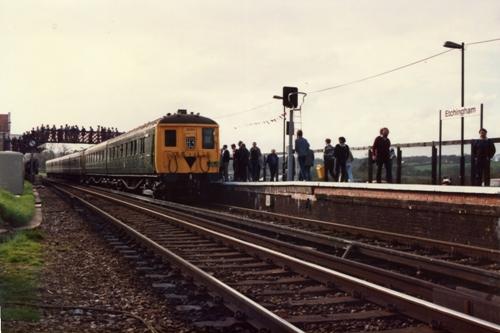 2090 + 4732 pause at Etchingham (photo: LASERman)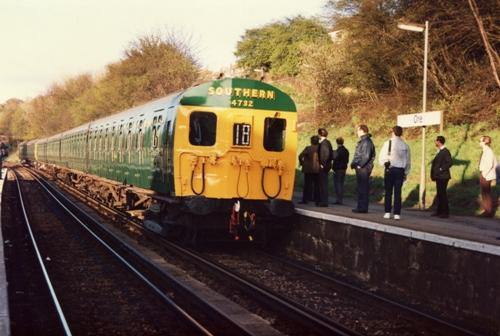 4732 + 2090 at Ore (photo: LASERman)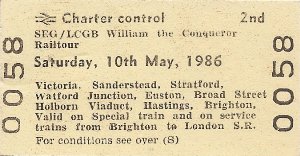 John Broderick's main tour ticket.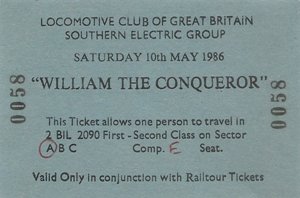 Front & rear of John Broderick's 2-BIL ticket.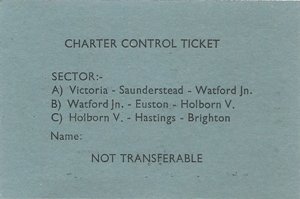 Timings (Booked & Actual)
(from LASERman & John Broderick)
| | | | |
| --- | --- | --- | --- |
| M.C | Location | Booked | Actual |
| 0.00 | Brighton | 07.15d | ??.?? |
| 9.61 | Keymer Jn | 07/26 | ? |
| 12.71 | Haywards Heath | 07.30a ~ 07.31d | ??.?? ~ ??.?? |
| 16.66 | Balcombe Tunnel Jn | 07/39 [FL] | ? |
| 21.29 | Three Bridges | 07.42a ~ 07.43d [P4] | ??.?? ~ ??.?? |
| 24.04 | Gatwick Airport | 07/47 | ? |
| 29.01 | Earlswood | 07/52 [QL] | ? |
| ? | Stoats Nest Jn | 07/59½ [FL] | ? |
| 40.29 | East Croydon | 08/03½ [P1] | ? |
| 40.69 | Windmill Bridge Jn | 08/04½ [FL] | ? |
| 46.04 | Balham Jn | 08/10 | ? |
| ? | Battersea Park | 08/15 [SL] | ? |
| 50.72 | London Victoria | 08.18a ~ 08.26 [SL] | 08.20 ~ 08.27 [P11] |
| ? | Battersea Park | 08/28½ [FL] | ? |
| 55.60 | Balham Jn | 08/34½ | 08/35½ |
| ? | Selhurst | 08/40 [SL] | 08/42 |
| 60.75 | Windmill Bridge Jn | 08/42 | ? |
| 61.35 | East Croydon | 08c 43 ~ 08c45 [P6] | 08.44 ~ 08.45 |
| 62.27 | South Croydon | 08/47 | 08/47½ |
| 63.29 | Sanderstead | 08.50 ~ (09.00) | 08.50½ ~ 08.55 |
| ? | Signal T1356 | ??.?? ~ ??.?? | 08.56 ~ 08.58½ |
| ? | Sanderstead | (08.50) ~ 09.00 | 08.59½ ~ 09.01½ |
| 64.31 | South Croydon | 09/02 [SL] | 09/03½ |
| 65.23 | East Croydon | 09/05 | 09/05½ |
| 65.63 | Windmill Bridge Jn | 09/06 [SL] | 09/07 |
| 70.78 | Balham Jn | 09/15 | 09/15½ |
| 73.11 | Clapham Junction | 09c21 ~ 09c25 [P16] | 09.21 ~ 09.25 |
| ? | Signal VC147 | 09.26 ~ 09.27 | 09.26 ~ 09.27 |
| ? | Clapham Junction | 09.28 ~ 09.29 [P17] [SL] | 09.28½ ~ 09.31 |
| 75.07 | Balham Jn | 09/33 | 09/35½ |
| ? | Streatham North Jn | 09/36 | ? |
| 76.76 | Streatham South Jn | 09/37 | 09/41 |
| 79.79 | Wimbledon | 09.43 ~ 09.44 [P9] | 09.47½ ~ 09.49 |
| ? | Wimbledon West Jn | 09/46 [FL] | 09/50½ |
| 84.64 | Surbiton | 09/53 | 09/56½ |
| 91.71 | Weybridge | 10/02 | 10/04½ |
| 93.53 | Addlestone Jn | 10/05 | 10/06½ |
| 97.47 | Virginia Water | 10/13 | 10/14 |
| 101.61 | Staines | 10/23 | 10/22½ |
| 107.30 | Feltham Jn | 10/29 | 10/29½ |
| 109.43 | Twickenham | 10/32 [FL] | 10/32 |
| 111.08 | Richmond | 10.35 ~ 10.39 [P2] | 10.40.43 |
| ? | Signal F398 | ??.?? ~ ??.?? | 10.41½ ~ 10.42 |
| ? | Richmond | 10.42 ~ 10.47 [P3] | 10.43 ~ 10.48½ |
| ? | South Acton | ? | ? |
| ? | Acton Wells Jn | ? | 11/02½ |
| 116.63 | Willesden Junction High Level | ? | 11/05 |
| ? | Gospel Oak | ? | ? |
| ? | Camden Road | ? | ? |
| 125.18 | Dalston Western Jn | 11/26 | 11/28½ |
| ? | Hackney Wick | 11p33a ~ 11p43d | 11/35½ |
| ? | Channelsea Jn | ? | 11/37½ |
| 128.40 | Stratford | 11.46a ~ 11.54d | 11.39 ~ 11.54 |
| ? | Channelsea Jn | ? | 11/56½ |
| ? | Hackney Wick | ? | 11p58 ~ 12p02½ |
| 131.62 | Dalston Western Jn | 12/05 | 12/09½ |
| ? | Camden Road Jn | ? | 12/14½ |
| ? | Camden Jn | ? | DIV |
| ? | Queens Park | ? | DIV |
| ? | Gospel Oak | DIV | 12/18 |
| ? | Signal HL1105 | DIV | 12.26 ~ 13.10½ |
| ? | Kensal Green Jn | DIV | 13/13 |
| ? | Willesden Junction Low Level | ? | 13/16½ |
| ? | Wembley Central | ? | 13/21½ |
| ? | Harrow & Wealdstone | ? | 13/26½ |
| 151.43 | Watford Junction | 12.48a ~ 12.52d | 13.42½ ~ 13.48 [P3] |
| 154.22 | Croxley Green | 12.59a ~ 13.06d | 13.56 ~ 14.00½ |
| 157.01 | Watford Junction | 13.14a ~ 13.18d | 14.07½ ~ 14.12½ [P3] |
| 162.11 | Headstone Lane | 13p28a ~ 13p35d | 14.24 ~ 14.29 |
| ? | Harrow & Wealdstone | ? | 14/31½ |
| ? | Wembley Central | ? | 14/36 |
| ? | Willesden Junction Low Level | ? | 14/41 |
| 169.46 | Kensal Green Jn | 13.49 ~ 13.53 | 14.43½ ~ 14.48 |
| ? | Willesden Junction High Level | ??.?? ~ ??.?? | 14.50 ~ 14.50½ |
| ? | Acton Wells Jn | ? | 14/53½ |
| ? | South Acton | ? | 14/57 |
| 175.44 | Richmond | 14.08 ~ 14.15 [P3] | 15.05 ~ 15.08½ |
| 178.15 | Barnes | 14/20 [SL] | 15/13 [SL] |
| 181.28 | Clapham Junction | 14c25 ~ 14c26 | 15.17 ~ 15.22 |
| 182.34 | Longhedge Jn | 14/29 | 15/26 |
| 182.79 | Factory Jn | 14/31 | 15/27 |
| ? | Brixton | 14/33 | 15/30 |
| 184.77 | Loughborough Junction | 14/36 | 15/32 |
| 188.06 | London Blackfriars | 14/43 | 15/36½ |
| 188.36 | London Holborn Viaduct | 14.45a ~ 14.50d | 15.37½ ~ 15.43½ |
| 188.66 | London Blackfriars | 14/52 | 15/45 |
| 192.19 | Cambria Jn | 14/59 | 15/50½ |
| 194.25 | Nunhead | 15/02 | 15/54 |
| 196.10 | Lewisham | 15/06 | 15/59½ |
| 199.51 | New Beckenham | 15/12 | 16/04½ |
| 201.13 | Elmers End | 15/14½ | 16/06½ |
| 204.39 | Hayes | 15.21a ~ 15.45d | 16.14 ~ 16.21½ [P1] |
| 207.65 | Elmers End | 15/52 | 16/27½ |
| 209.27 | New Beckenham | 15/55 | 16/29½ |
| 211.29 | Catford Bridge | 15/59 | 16/32 |
| 212.46 | Parks Bridge Jn | 16/02 [FL] | DIV |
| 213.71 | New Cross | 16/04½ | DIV |
| 214.35 | North Kent East Jn | 16/05 [Up Loop] | DIV |
| ? | Spa Road Jn | 16/07 [Up Loop] | DIV |
| 216.70 | London Bridge | 16/09 | DIV |
| 217.28 | Metropolitan Jn | 16/11 | DIV |
| 218.12 | London Blackfriars | 16/15½ | DIV |
| 218.42 | London Holborn Viaduct | 16.18a ~ 16.30d | DIV |
| 218.72 | London Blackfriars | 16/32 | DIV |
| 222.25 | Cambria Jn | 16/39 | DIV |
| ? | Lewisham | DIV | 16/34½ |
| 224.31 | Nunhead | 16/42 | 16.38 ~ 16.43 |
| 229.43 | Shortlands Jn | 16/49 [SL] | 16/50½ |
| 232.03 | Bickley Jn | 16/52 [FL] | 16/54½ |
| 236.76 | Swanley | 16/57 | 17/00½ |
| 242.17 | Shoreham | 17p04a ~ 17p18d | 17.07½ ~ 17.18½ |
| 244.18 | Otford Jn | 17/22 | 17/22 |
| 246.33 | Sevenoaks | 17c25 ~ 17c26 | 17.25½ ~ 17.31 |
| 253.33 | Tonbridge | 17/35 | 17/42½ |
| ? | Wells Tunnel Jn | 17/43½ | 17/54 |
| 258.70 | Tunbridge Wells | 17/46 | 17/55½ |
| 263.48 | Wadhurst | 17/55 | 18/02 |
| 271.61 | Etchingham | 18p05a ~ 18p15d | 18.14 ~ 18.23 |
| 273.73 | Robertsbridge | 18/18 | 18p27 ~ 18p33½ |
| 279.73 | Battle | 18/26 | 18.48 ~ 18.48½ |
| 281.77 | Crowhurst | 18p29a ~ 18p40d | 18.52½ ~ 18.58 |
| ? | Bopeep Jn | 18/46 | 19/03½ |
| 286.61 | Hastings | 18/50 | 19/07 |
| 287.54 | Ore | 18.53a ~ 19.01d | [DL] 19.09 ~ 19.17 [UL] |
| 288.47 | Hastings | 19.03a ~ 19.04d | 19.19½ ~ 19.22 |
| ? | Bopeep Jn | 19/08 | 19/24½ |
| 293.18 | Bexhill | 19/12 | 19/28½ |
| 300.02 | Pevensey & Westham | 19/19 | 19/35 |
| 303.08 | Hampden Park | 19/24 | 19/39 |
| 305.07 | Eastbourne | 19.28a ~ 19.38d | 19.42 ~ 19.46 |
| 309.24 | Polegate | 19/44 | ? |
| ? | Southerham Jn | 19/56 | 20/05 |
| 320.77 | Lewes | 19/59 | 20/06 |
| 328.78 | Brighton | 20.10 | 20.20 [P3] |