23rd March 1986
British Rail
The Sunday Steam Specials
| | |
| --- | --- |
| Loco Used | steam: 4930 'Hagley Hall' |
Route : (6 round trips)
| | |
| --- | --- |
| Loco | Route |
| 4930 | Andover - Ludgershall |
| 4930 | Ludgershall - Andover |
| | |
| --- | --- |
| Loco | Route |
| 4930 | Andover - Grateley - Salisbury |
Notes :
(1) The sixth round trip (17.50 from Andover, 18.35 from Ludgershall) was not originally advertised.
(2) At Ludgershall Army 263SA was shunting about on one coach. Locos / units on display at Andover included: 33060, 47079, 50007, Army 265SA and the green 4SUB 4732.
(3) Originally uploaded with the name 'Tiddly Dyke Tour(s)' as per the previous day's runs - from the ticket at least it appears however this name was just used on the Saturday specials?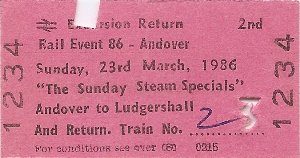 John Broderick's ticket.
Sources : Nick Bartlett & Dick Franklin



Timings (Booked & Actual)
(from Dick Franklin)
| | | | | | | | | |
| --- | --- | --- | --- | --- | --- | --- | --- | --- |
| Location | Booked (out) | Booked (rtn) | | Booked (out) | Booked (rtn) | | Booked (out) | Booked (rtn) |
| Andover | 10.40d | ??.??a | | 12.00d | ??.??a | | 13.30d | ??.??a |
| Ludgershall | ??.??a | ??.??d | | ??.??a | ??.??d | | ??.??a | ??.??d |
| | | | | | | | | | | | |
| --- | --- | --- | --- | --- | --- | --- | --- | --- | --- | --- | --- |
| Location | Booked (out) | Booked (rtn) | | Booked (out) | Booked (rtn) | | Booked | Actual | | Booked | Actual |
| Andover | 15.00d | ??.??a | | 16.30d | ??.??a | | 17.50d | 17.52½ | | ??.??a | 19.19 |
| Ludgershall | ??.??a | ??.??d | | ??.??a | ??.??d | | ??.??a | 18.05½ | | 18.35d | 19.02½ |
| | | |
| --- | --- | --- |
| Location | Booked (out) | Actual (rtn) |
| Andover | 19.4?d | 19.50 |
| Grateley | ? | 20/00 |
| Tunnel Jn | ? | 20/13 |
| Salisbury | ??.??a | 20.16½ |