22nd March 1986
Branch Line Society
The Don & Tees
| | |
| --- | --- |
| DMU Used | 2 x 3-car (class 101/108) |
Route : 1G20 throughout
| | |
| --- | --- |
| DMU | Route |
| as listed | Sheffield - Worksop - Retford (High Level) |
| as listed | Retford (High Level) - Loversall Carr Jn - Flyover West Jn - Bridge Jn - Hexthorpe Jn - Mexborough - Kilnhurst Central |
| as listed | Kilnhurst Central - Hexthorpe Jn - Bentley Jn - Stainforth |
| as listed | Stainforth - Applehurst Jn - Joan Croft Jn - Selby Canal Jn - Selby West Jn - Hambleton East Jn - Hambleton North Jn - Colton Jn - York - Northallerton - Darlington |
| as listed | Darlington - Middlesborough - Redcar Central - Crag Hall - Boulby |
| as listed | Boulby - Crag Hall - Middlesborough - Eaglescliffe - Yarm - Northallerton East Jn (2) - Northallerton - (2) Longlands Jn - Thirsk - York - Church Fenton - Sherburn South Jn - Gascoigne Wood Jn - Hambleton West Jn - Hambleton South Jn - Temple Hirst Jn - Doncaster - Mexborough - Rotheram Masborough - Sheffield |
Notes :
(1) Ian Umpleby comments: The tour was retimed at short notice to leave Boulby at 16.11 to allow passengers to detrain and inspect the site.
(2) Jeremy Sleightholm comments : Though the itinerary and timing sheet indicated we would be using the Longlands loop this did not happen on the day, the train being routed from Northallerton East Jn through Northallerton station to Longlands Jn. This was because on the previous afternoon the Civil Engineer had refused its use.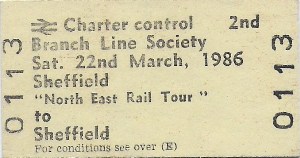 From Bob Mitchell's ticket collection.
Sources : Paul Griffin (on the train throughout)
& Jeremy Sleightholm (joined Sheffield / left Doncaster)



Timings (Booked & Actual)
(from Richard Hughes, Howard Harrison, Ian Umpleby & Dick Franklin)
| | | |
| --- | --- | --- |
| Location | Booked | Actual |
| Sheffield | 09.30d | 09.30 |
| Nunnery Main Line Jn | 09/32 | ? |
| Woodburn Jn | 09/35 | 09/34½ |
| Woodhouse Jn | 09/41 | 09/40½ |
| Worksop | 09/55 | 09/52½ |
| Retford | 10.04a ~ 10.12d | 10.03 ~ 10.11 |
| Loversall Carr Jn | 10/26 | 10/25 |
| Bridge Jn | 10/35 | 10/29½ |
| St James Jn | 10/44 | ? |
| Hexthorpe Jn | 10/48 | 10/33½ |
| Mexborough | 10/55 | 10/41 |
| Kilnhurst Central | 11.09a ~ 11.09d | 10.46 ~ 10.49 |
| Mexborough | 11/14 | 10/55 |
| Hexthorpe Jn | 11/22 | 11/07½ |
| Bentley Jn | 11/34 | 11/18½ |
| Stainforth | 11.41a ~ 11.59d | 11.39 ~ 11.57 |
| Applehurst Jn | 12/08 | 12/07 |
| Joan Croft Jn | 12/10 | 12/13 |
| Temple Hirst Jn | 12/19 | 12/24 |
| Selby Canal | 12/24 | 12/29½ |
| Selby West | 12/26 | 12/31½ |
| Hambleton East Jn | 12/30 | 12/36 |
| Hambleton North Jn | 12/31 | ? |
| Colton Jn | 12/41 | 12/47½ |
| York | 12.48a ~ 12.50d | 12.51 ~ 12.54 |
| Skelton Jn | 12/55 | 12/58 |
| Thirsk | 13/20 | 13/20½ |
| Northallerton | 13/30 | 13/30 |
| Darlington | 13.44a ~ 14.30d | 13.44 ~ 14.32 |
| Eaglescliffe | 14/45 | 14/44 |
| Bowesfield | 14/48 | 14/47½ |
| Thornaby | 14/50 | 14/49 |
| Middlesborough | 14/55 | 14/53½ |
| Grangetown | 15/01 | 14/59 |
| Redcar Central | 15/07 | 15/03 |
| Saltburn West Jn | 15/18 | 15/11 |
| Crag Hall | 15t34 | 15.27½ ~ 15.28 |
| Boulby | 15.45a ~ 15.51d | 15.45 ~ 16.03 |
| Crag Hall | 16t02 | 16.16 ~ 16.16½ |
| Saltburn West Jn | 16/17 | 16/31 |
| Redcar Central | 16/27 | 16/39 |
| Grangetown | 16/36 | 16/44½ |
| Middlesborough | 16/48 | 16.58a ~ 17.00d |
| Thornaby | 16/54 | 17/08½ |
| Bowesfield Jn | 16/56 | 17/10 |
| Eaglescliffe | 17/00 | 17/13 |
| Boroughbridge Road LC | 17/21 | DIV |
| Longlands Jn | 17/23 | DIV |
| Northallerton | DIV | 17/32 |
| Thirsk | 17/31 | 17/40 |
| Skelton Jn | 17/53 | 17/59 |
| York | 17.58a ~ 18.00d | 18.03 ~ 18.05 |
| Church Fenton | 18/13 | 18/19 |
| Sherburn South Jn | 18/17 | 18/22½ |
| Gascoigne Wood | 18/20 | 18/25 |
| Hambleton West Jn | 18/23 | 18/28 |
| Hambleton South Jn | 18/27 | 18/30 |
| Temple Hirst Jn | 18/34 | 18/35½ |
| Shaftholme Jn | 18/41 | 18/43½ |
| Doncaster | 18.47a ~ 18.48d | 18.49 ~ 18.53 |
| Hexthorpe Jn | 18/53 | ? |
| Mexborough | 18/59 | ? |
| Aldwarke Jn | 19/05 | ? |
| Rotherham | 19/09 | ? |
| Wincobank Station Jn | 19/12 | ? |
| Sheffield | 19.18a | 19.23 |