14th December 1985
Southern Electric Group
The Ewell Log
| | |
| --- | --- |
| Locos Used | 33016, 50037, 73001 & Steam 47493 & 92203 |
| Stock Used | 3096+3033+1671+17022+3140+3101+3099+3021+3095+3098+17025 |
Route : 1Z73 throughout
SR Headcodes: '73' to Lavant
'48' to Westbury
| | |
| --- | --- |
| Traction | Route |
| 73001 | London Victoria - Brixton - Herne Hill - Tulse Hill - Streatham - Mitcham Jn - Ewell East - Dorking - Littlehampton |
| 33016 (1) | Littlehampton - Chichester - Lavant |
| 73001 (2) | Lavant - Chichester Yard |
| 33016 | Chichester Yard - Havant - Cosham - St Denys - Southampton - Redbridge - Romsey - Salisbury - Westbury |
| 50037 | Westbury - Witham - Cranmore |
| 92203 (3) | Cranmore (4) - Mendip Vale |
| 47493 (6) | Mendip Vale - Cranmore (5) |
| 50037 | Cranmore - Witham - Westbury |
| 50037 | Westbury - Castle Cary - Yeovil Pen Mill - Dorchester West - Weymouth |
| 50037 | Weymouth - Dorchester South - Poole - Bournemouth - Redbridge - Southampton - Eastleigh - Romsey - Dean- Laverstock South Jn - Laverstock North Jn - Andover - Basingstoke - Surbiton - Wimbledon (6) |
| 50037 | Wimbledon (7) - Wimbledon West Jn |
| 50037 | Wimbledon West Jn - Streatham South Jn - (via reversible fast spur) - Streatham North Jn - Clapham Junction - London Victoria |
Notes:
(1) 73001 on rear.
(2) 33016 on rear.
(3) 47493 on rear.
(4) The additional pick up at Cranmore West platform on the outward leg was for participants who opted to visit the ESR Loco shed etc. and did not wish to walk back to Cranmore station.
(5) Alan Osborn had queried whether the train stopped at Cranmore station on the return from Mendip Vale or continued beyond to the BR boundary point for the loco change - Andy Pullar confirms the loco change took place at Cranmore station (in both directions).
(6) 92203 on rear.
(7) Andy Pullar comments : The train was signalled for the up main at Wimbledon. The train stopped in the up main platform, set back to West Jn and regained its booked route to Victoria via Streatham. I remember this part of the tour very well as a colleague of mine had recently been transferred to Wimbledon and was on duty on the platform at the time.
Sources : Robin Addison, Alan Osborn & LASERman (all on the train throughout), Nick Lawford & Andy Pullar



Photo Review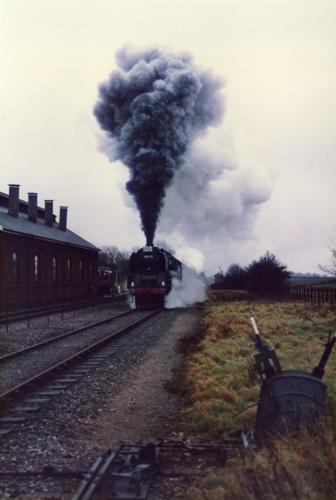 92203 storming from Cranmore to Cranmore West
(photo: LASERman)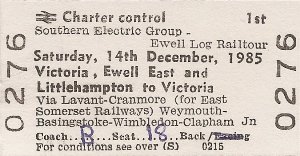 John Broderick's ticket.


Timings (Booked & Actual)
(from Robin Addison, Alan Osborn & LASERman)
Location
Booked
Actual
Booked
Actual
Victoria
08.25d [FL]
08.30 [P2]
22.19a
22.32 [P8]
Stewarts Lane Jn
08/31
DIV [ML]
22/14
22/26½
Factory Jn
08/33
08/34
Brixton
08/35
08/36
Longhenge Jn
22/12
22/25½
Pouparts Jn
22/10
22/24½
Clapham Junction
22.07a ~ 22.08d
22.19 ~ 22.22
Balham Jn
22/03
22/16
Herne Hill
08/37
08.38 ~ 08.39
Tulse Hill
08/40
08/42½
Streatham
08/42
08/45
Streatham North Jn
22/00 [FL]
22/14
Streatham South Jn
08/43
08/46
21/57
22/13
Mitcham Junction
08/46
08/50
Sutton
08/52
08/55
Ewell East
08p56a ~ 09p06d
08.59 ~ 09.08
Epsom
09/10
09/12
Leatherhead
09/15
09/16
Dorking
09.21a ~ 09.22d
09.21 ~ 09.22
Horsham
09/38
09/39
Pulborough
09/50
10/00
Arundel Jn
09/59
10/11
Littlehampton
10L03 ~ 10L18
10.16 ~ 10.34
Ford
10/21
10/38
Barnham
10/25
10/42
Chichester
10/33
10/51
Lavant
10.45 ~10.55
11.02 ~ 11.08
Chichester Yard
11L05 ~ 11L18
11.27 ~ 11.41
Fishbourne Crossing
11/20
?
Havant
11c30 ~ 11c31
11.58 ~ 12.00
Farlington Jn
11/36
12/05
Cosham
11/39
12/07
Fareham
11/47
12/14
Netley
11/57
?
St Denys
12/05 [SL]
12/33
Wimbledon
21c50 ~ 21c51
22.05 ~ 22.07 [P9]
Wimbledon West Jn
21/48
22/03
Wimbledon West Jn (signal WH108 DSL)
DIV

22.02½ ~ 22.02½

Wimbledon
DIV

? [DSL/P8]

Wimbledon (signal WH46 UFL)
DIV

21.55½ ~ 21.56½

Wimbledon
DIV

21/53½ [UFL/P6]

Wimbledon West Jn (signal WH112 UFL)
DIV

21.47~ 21.51

Surbiton
21/41
21/42
Woking Jn
21/30
21.30 ~ 21.31
Basingstoke
21.09 ~ 21.10 [SD]
21.07 ~ 21.09
Worting Jn
21/05 [FL]
?
Andover
20/50
20/48
Laverstock North Jn
20/34
20/32
Laverstock South Jn
20*29 ~ 20*32
21.07 ~ 21.09
Dean
20/21
?
Romsey
20/11
20/12
Eastleigh
19.57a ~ 19.57d
19.58 ~ 19.59
Northam Jn
12/08
12/36
19/47
19/50
Southampton
12/11 [SL]
12.38 ~ 12.39
19/44
19/48
Redbridge
12/15
12/45
19/40
19/45
Brockenhurst
19/30
19/35
Bournemouth
19c14 ~ 19c15
19.19 ~ 19.20
Branksome
19/08
19/14

½

Poole
19/02
19/08
Wareham
18/53
18/59
Moreton
18/44
18/49
Dorchester South
18/37
18/40
Dorchester Jn
18/36
18/39
Weymouth
17.34a ~ 18.25d
17.43 ~ 18.27
Dorchester Jn
17/23
17/32
Dorchester West
17/20
17/31
Maiden Newton
17t09 ~ 17t10
17/22
Yeovil Pen Mill
16t51 ~ 16t52
17/04
Castle Cary
16/37
16/51
Blatchbridge Jn
16/25
16/39
Clink Road Jn
16/23
?
Fairwood Jn
16/19
16/32
Romsey
12/23
12/52
Dean
12/31
13/00

½

Tunnel Jn
12/40
13/09

½

Salisbury
12c43 ~ 12c44 [ML]
13.12 ~ 13.13
Wilton Jn
12/48
13/17
Warminster
13/07
13/36
Westbury
13L13 ~ 13L28
13.42 ~ 13.57
16.07a ~ 16.17d
16.18 ~ 16.30
Fairwood Jn
13/31
14/00
16/04
16/15
Clink Road Jn
13/35
14/04
16/01
16/11
Blatchbridge Jn
13/37
14/06
15/59
16/09
East Somerset Jn
13/43
14/11
15/53
16/04
Merehead Quarry Jn
13/52
14/21
15/38
?
Cranmore East GF
14.02 ~ 14.12
14.27 ~ 14.29

½

15.18 ~ 15.28
?
Cranmore
14L14a ~ 14L40d
14.31 ~ 14.59
??L?? ~ 15L16
15.22 ~ 15.49
Cranmore West
?
15.02a ~ 15.04d
?
?
Mendip Vale
??.??a
15.10
??.??d
15.15