13th October 1985
Hertfordshire Rail Tours
Geordie-go-Round
| | |
| --- | --- |
| Traction Used | Newcastle Metro units 4013 & 4021 |
Route : Reporting Number 185 throughout
| | |
| --- | --- |
| Traction | Route |
| 4021 + 4013 | Newcastle Central - Pelaw - South Shields Sidings |
| 4013 + 4021 | South Shields Sidings - Pelaw Refuge Line - South Gosforth - Bank Foot Siding |
| 4021 + 4013 | Bank Foot Siding - South Gosforth - New Bridge Street Depot (1) |
| 4021 + 4013 | Manors - Stoddart Street Sidings No 2 |
| 4013 + 4021 | Stoddart Street Sidings No 2 - St James |
| 4021 + 4013 | St James - Wallsend - Whitley Bay - Tynemouth - Monkseaton Loop - Benton - South Gosforth depot (2) - Regent Centre Reversing Siding |
| 4013 + 4021 | Regent Centre Reversing Siding - Depot Avoiding Line - Benton Sidings No2 |
| 4021 + 4013 | Benton Sidings No2 - South Gosforth - Newcastle Central |
Notes :
(1) Passengers detrained at New Bridge Street depot and walked the short distance to Manors station to rejoin as loaded Metro-cars were not permitted around the curve in between these two locations.
(2) Passengers alighted for depot visit.
(3) The late start of the tour was waiting for the delayed connection from London Kings Cross.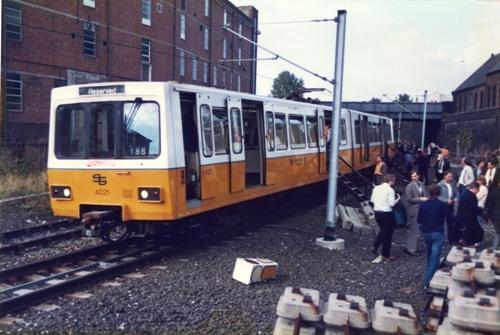 Everyone off! Passengers detrain from 4021 & 4013 in Bridge Street Sidings
before for the walk to Manors (photo: LASERman)
Source : LASERman



Timings (Booked & Actual)
(from LASERman)
| | | |
| --- | --- | --- |
| Location | Booked | Actual |
| Newcastle Central | 13.38d | 14.08 |
| Heworth | 13/45 | ? |
| Pelaw | 13/47 | 14/17 |
| Hebburn | 13/51 | 14/19½ |
| Jarrow | 13/54 | 14.22 ~ 14.23½ |
| Bede | 13/56 | 14/25½ |
| South Shields | 14/06 | 14/34½ |
| South Shields Sidings | 14.07 ~ 14.16 | 14.36 ~ 14.45 [No2] |
| South Shields | 14/17 | 14/46 |
| Bede | 14/24 | 14.54 ~ 14.54½ |
| Jarrow | 14.26 ~ 14.30 | 14/56½ |
| Hebburn | 14/33 | 14/59½ |
| Pelaw Sidings Refuge Line | ? | ? |
| Pelaw | 14/36 | 15/04 |
| Heworth | 14/38 | 15/05½ |
| Monument | 14/46 | 15.12 ~ 15.12½ |
| South Gosforth | 14/54 | 15.20½ ~ 15.21 |
| Regent Centre | 14/56 | 15.23½ ~ 15.25 |
| Bank Foot Siding | 15.03 ~ 15.11 | 15.33 ~ 15.40½ |
| Regent Centre | 15/17 | 15/47 |
| South Gosforth | 15/19 | 15.49½ ~ 15.50 |
| New Bridge Street Depot | 15.24a ~ ECS | 15.56 ~ ECS |
| Manors | ECS ~ 15.56d | ECS ~ 16.16½ |
| Stoddart Street Sidings | 15.57 ~ 16.17 | 16.19½ ~ 16.27 [No2] |
| St James | 16.20 ~ 16.24 | 16.31½ ~ 16.34½ |
| Wallsend | 16/35 | 16/42½ |
| North Shields | 16/44 | 16.52½ ~ 16.53 |
| Tynemouth | ? | 16.55½ ~ 16.57½ |
| Whitley Bay | 16/51 | 17/00½ |
| Monkseaton Loop | ? | ? |
| Monkseaton | 16/55 | 17/04½ |
| Benton | 17/04 | 17/11½ |
| Longbenton | 17/07 | 17/13 |
| South Gosforth Depot | 17.13a ~ 18.11d | 17.18½ ~ 18.03 [via CWM] |
| Regent Centre Reversing Sdg | 18.17 ~ 18.21 | 18.14½ ~ 18.16½ |
| Longbenton | 18/25 | 18/22½ |
| Four Lane Ends | 18.27 ~ 18.28 | 18/24 |
| Benton | 18/30 | 18/25½ |
| Benton Sidings | 18.31 ~ 18.38 | 18.27 ~ 18.38 [No2] |
| Benton | 18/39 | ? |
| Longbenton | ? | 18/41½ |
| South Gosforth | 18/44 | 18.44½ ~ 18.45 |
| Monument | 18/52 | 18/52½ |
| Newcastle Central | 18.53a | 18.53½ |