20th August 1985
British Rail
Scarborough Spa Express
| | |
| --- | --- |
| Locos Used | steam: 777 'Sir Lamiel' & 92220 'Evening Star' |
| Stock Used | 9x mark 1's (90mph vacuum-braked) |
Route :
1L50 : York to Scarborough
1L51 : Scarborough to York
| | |
| --- | --- |
| Loco | Route |
| 777 | York - Church Fenton - Micklefield - Cross Gates - Leeds - Wortley Jn - Headingley - Horsforth - Harrogate - Starbeck - Poppleton - Skelton Jn - York |
| 92220 | York - Malton - Seamer - Scarborough |
| 92220 | Scarborough - Seamer - Malton - York |
| 777 | York - Church Fenton - Micklefield - Cross Gates - Leeds - Wortley Jn - Headingley - Horsforth - Harrogate - Starbeck - Poppleton - Skelton Jn - York |
Notes :
(1) Gordon Lacy comments: 777 performed very well in the morning, benefitting from a completely unchecked run to York. However, 92220 was hampered by three long pw slacks before Malton. In an effort to make up time, 68mph was recorded briefly passing Heslerton, before further checks spoilt the run. The evening run was marred by even more checks, despite having left closer to time. A hoped for cracking run with 777 (to make up a few minutes) turned into a mediocre trundle, and totally unchecked at that!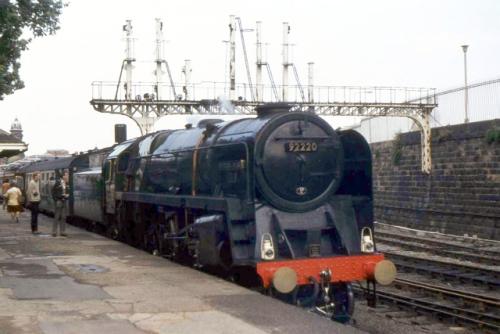 92220 waits to leave Scarborough (photo: Gordon Lacy). Since the 1984
season Scarborough changed from semaphore signals to colour-light as the
disused gantry behind 'Evening Star' demonstrates.
Sources : Robin Lush, Phil Durrell & Gordon Lacy



Timings (Booked & Actual)
(from Gordon Lacy)
| | | | | | |
| --- | --- | --- | --- | --- | --- |
| Location | Booked | Actual | | Booked | Actual |
| York | 08.35d | ? | | ? | ? |
| Skelton Jn | ? | ? | | ? | ? |
| Poppleton | ? | ? | | ? | ? |
| Hammerton | ? | ? | | ? | ? |
| Cattal | ? | ? | | ? | ? |
| Knaresborough | ? | ? | | ? | ? |
| Harrogate | ? | ? | | ? | ? |
| Rigton LC | ? | ? | | ? | ? |
| Horsforth | ? | ? | | ? | ? |
| Wortley Jn | ? | ? | | ? | ? |
| Whitehall Jn | ? | ? | | ? | ? |
| Leeds | ??.??a ~ 10.09d | ??.?? ~ 10.10½ | | 18.43a ~ ??.??d | 18.57 ~ ??.?? |
| Cross Gates | 10/18½ | 10/18½ | | 18/35 | 18/49 |
| Micklefield | 10/26½ | 10/24½ | | 18/27½ | 18/41½ |
| Church Fenton | 10/32 | 10/31 | | 18/19½ | 18/34½ |
| Colton Jn | 10/38 | 10/35½ | | 18/13½ | 18/28 |
| York | 10L46a ~ 11L06d | 10.42 ~ 11.06 | | 17L52a ~ 18L05d | 18.07 ~ 18.18 |
| Malton | 11/34 | 11/38½ | | 17/25 | 17/29 |
| Seamer | 11/56 | 12/01 | | 17/03 | 17/03 |
| Scarborough | 12.02a | 12.09½ | | 16.56d | 16.56½ |