3rd August 1985
Hertfordshire Railtours
Silver Hammer
| | |
| --- | --- |
| Locos Used | 20090, 20104, 25200, 25286 & 85035 |
| Stock Used | 80553+7169+35324+5007+4957+1701+4894+4954+18705+4995+4827 |
Route : 1Z26 throughout
| | |
| --- | --- |
| Loco(s) | Route |
| 85035 | London Euston - (via WCML, Weedon & Trent Valley) - Wigan North Western |
| 20104 + 20090 | Wigan North Western - Farington Jn - Lostock Hall Jn - Clitheroe - Hellifield - (via S&C) - Carlisle |
| 25286 + 25200 | Carlisle - Dumfries |
| 25200 (1) | Dumfries - Maxwelltown |
| 25286 (2) | Maxwelltown - (3) Dumfries |
| 25200 + 25286 | Dumfries - Carlisle |
| 20090 + 20104 | Carlisle - (via WCML) (3) - Wigan North Western |
| 85035 | Wigan North Western - (reverse of outward route) - London Euston |
Notes :
(1) 25286 on rear.
(2) 25200 on rear.
(3) John Harrup comments: on the return trip from Maxwelltown the train was held for over an hour at Dumfries (Maxwelltown Goods Jn) awaiting a path onto the single line resulting in a late arrival at Carlisle. To make up time, permission was given for the pair of 20s to return via the WCML rather than the S&C as booked. Unable to work in Multiple due to a fault, so worked in tandem. Very exhilarating ride over Shap resulting in a slightly early arrival at Wigan North Western!!
Sources : John Guyatt, John Harrup & LASERman



Photo Review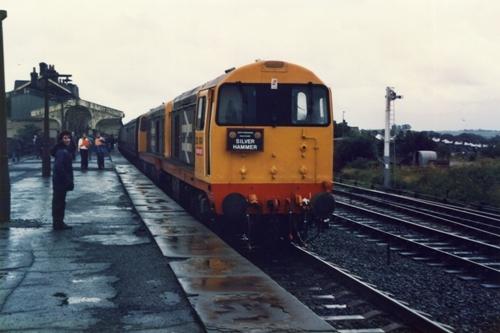 20104 & 20090 pause at Hellifield (photo: LASERman)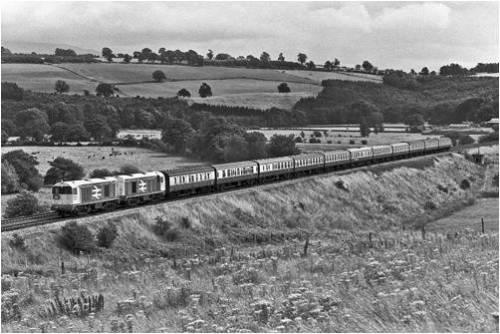 The 20's, northbound on the S&C near Lazonby (photo: David Ingham)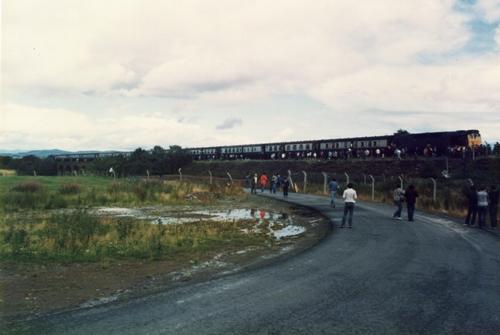 25200 and, on the rear, 25286 at Maxwelltown (photo: LASERman)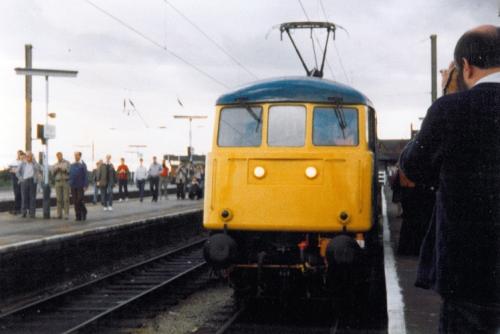 85035 in ex-works condition about to be attached at Wigan North Western
on the return leg (photo: Nick Blyth)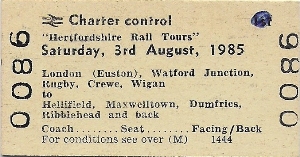 From Bob Mitchell's ticket collection.


Timings (Booked & Actual)
(from John Harrup)
Location

Booked

Actual

Booked

Actual

Euston

07.00d

07.00 [P11]

22.15a

22.28½ [P12]

Willesden

07/07

07/07

22/07

22/19½

Watford Junction

07.16a ~ 07.17d

07.16½ ~ 07.17½

21.54a ~ 21.55d

22.04 ~ 22.06½

Tring

07/28½

07/29

21/43½

21/53½

Bletchley

07/38½

07/39

21/33½

21/44

Hanslope

07/47½

?

21/22½

21/36½

Weedon

07/53½

07/58

21/13½

21/28½

Rugby

08.10a ~ 08.12d

08.10½ ~ 08.12½

21.01a ~ 21.03d

21.14½ ~ 21.16½

Nuneaton

08/23

08/27

20/49½

20/58½

Tamworth

08/31

08/37

20/40½

20/48

Lichfield

08/35

08/41

20/36½

20/44

Armitage

08/39

08/44½

20/33

20/40½

Colwich

08/42

08/48½

20/29

20/36½

Milford & Brocton

08/44

08/50

?

20/35

Whitehouse Jn

?

?

20/26½

20/34

Stafford

08/49½

08/53

20/23½

20/29

Norton Bridge

08/53½

?

20/18

20/24

Madeley

09/01

09/04½

20/10½

20/15

Crewe

09.12a ~ 09.14d

09.13 ~ 09.15½

19.59½a ~ 20.02d

20.04 ~ 20.06½ [SL]

Coal Yard

09/16½

09/18

19/57

20.00 ~ 20.00½

Winsford Station

?

?

19/42½

19/54

Winsford

09/23

09/24

19/40½

19/53½

Weaver Jn

09/29

09/30½

19/34

19/46½

Acton Grange Jn

09/34

09/35

19/29½

19/43

Warrington Bank Quay

09/35½

09/36½

19/27½

19/41½

Winwick Jn

09/38

09/39

19/24½

19/38½

Springs Branch

09/44

09/45

19/19

?

Wigan North Western

09L45½a ~ 09L55d

09L48½ ~ 10L03

19L07a ~ 19L17d

19.17 ~ 19.29½ [P1]

Balshaw Lane Jn

10/06

10/17 [SL]

19/02

19/06½

Euxton Jn

10/11½

10/19½

19/00

19/04½

Farington Jn

10/16

10/25½

18/55

19/01½

Preston

DIV

18.55 ~ 18.57

Lancaster

DIV

18/35½

Carnforth

DIV

18.25 ~ 18.27½

Oxenholme

DIV

18/13½

Tebay

DIV

18/03

Penrith

DIV

17/43

Upperby Jn

DIV

17.18½ ~ 17.22

Bamber Bridge

10/24½

10/30

18/45

DIV

Cherry Tree

10/33

10/40

18/39½

DIV

Blackburn

10c36 ~ 10c38

10/43

18c34 ~ 18c36

DIV

Daisyfield Jn

10/40

10/45½

18/32½

DIV

Clitheroe

10/46

11/03

18/14½

DIV

Hellifield

11p22a ~ 11p32d

11.24 ~ 11.34

17.54a ~ 17.55d

DIV

Settle Jn

11/36½

11/40

17/51½

DIV

Settle

11/38½

11/47½

17/48½

DIV

Ribblehead

?

?

17p23a ~ 17p33d

DIV

Blea Moor

11/56½

12.09½ ~ 12.15½

17/17½

DIV

Ais Gill

12/09

12/29½

17/06

DIV

Appleby

12/26

12/50½

16/42

DIV

Petteril Bridge Jn

13/09½

13/30

16/06

DIV

Carlisle

13L13a ~ 13L23d

13.50½ ~ 14.08½

15L53a ~ 16L03d

17.00½ ~ 17.14½

Gretna Jn

13/33

14/18½

15/43

16/50½

Annan

13/41

14/29

15/35

16/42½

Dumfries

13L58a ~ 14L13d

14.44½ ~ 14.58½

15L04a ~ 15L19d

16.16 ~ 16.27½

Signal D52

?

15.32½ ~ 16.13½

Maxwelltown

14.31a

15.08½

14.46d

15.28½