29th June 1985
S.E.G. / N.R.M. / L.C.G.B.
The William & Mary Railtour
Route :
Main tour : 1Z?? (4) throughout
EMUs
Route
2090 + 4732 (1)

Preston Park - Haywards Heath - Three Bridges - East Croydon - London Victoria

2090 + 4732
London Victoria SL – Balham Jn – Streatham Hill – West Norwood – Crystal Palace – Bromley Jn – Norwood Junction – West Croydon – Mitcham Junction – Wimbledon
2090 + 4732
Wimbledon - Wimbledon West Jn – Raynes Park – New Malden – Norbiton – Kingston – Shepperton
2090 + 4732
Shepperton - Strawberry Hill - Twickenham
2090 + 4732
Twickenham - Staines – Ascot – Reading (2)
2090 + 4732
Reading – Ascot
2090 + 4732
Ascot – Bagshot – Aldershot
2090 + 4732
Aldershot – Guildford – Guildford

South Jn (3)

2090 + 4732
Guildford

South Jn

– Guildford – Effingham Junction – Hampton Court Jn – Raynes Park – Wimbledon – Streatham – Peckham Rye – London Bridge
2090 + 4732
London Bridge – Signal L1490
2090 + 4732
Signal L1490 – London Bridge – Blackfriars
2090 + 4732
Blackfriars – Loughborough Junction – Brixton Jn – Factory Jn – Stewarts Lane Jn – London Victoria
2090 + 4732
London Victoria – Stewarts Lane Jn – Longhedge Jn – Clapham Junction – East Putney – Wimbledon – Weybridge – Woking – Basingstoke – Shawford (to SL) – Eastleigh South Jn – (via Portsmouth Line & Eastleigh Depot loop) – Eastleigh Loop – Winchester – Wallers Ash – Worting Jn – Basingstoke – Woking – Chertsey – Staines – Hounslow – Clapham Junction – Longhedge Jn

- Stewarts Lane Jn – London Victoria (E)
2090 + 4732 (1)
London Victoria (E) - (reverse of morning route) - Preston Park
Notes:
(1) The legs to/from London were not part of the main tour.
(2) Was booked to reverse in the electric sidings at Reading but ran into the station to reverse after the sidings were refused 3 days before the tour date.
(3) Reversal required at Guildford South Jn to gain access to the Surbiton line.
(4) Given as 1Z20 and 1Z40 by different sources - confirmation of correct headcode is required. Nick Leverton confirms that the tour itinerary gave the headcode as 1Z20.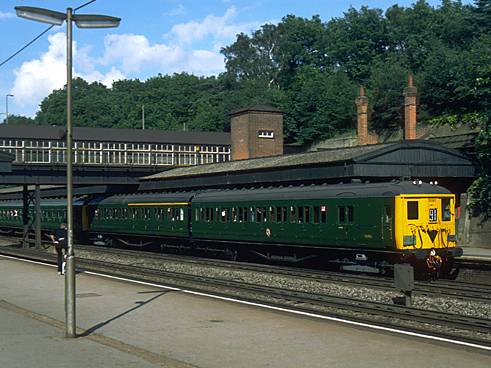 2-BIL 2090 leads 4-SUB 4732 at Weybridge (photo: Ray Pettit)
Sources : Andy Pullar & Kevin Driscoll



Timings (Booked & Actual)
(from Kevin Driscoll)
Pre- & post-tour sections
| | | |
| --- | --- | --- |
| Location | Booked (out) | Booked (rtn) |
| Preston Park | 08.05d | 22.50a |
| Haywards Heath | ??.??a ~ 08.24d | 22.31a ~ ??.??d |
| Three Bridges | ??.??a ~ 08.36d | 22.19a ~ ??.??d |
| East Croydon | ??.??a ~ 09.02d | 21.52a ~ ??.??d |
| Victoria | 09.20a | 21.35d |
Main tour
| | | |
| --- | --- | --- |
| M.C | Location | Booked (actual) |
| 0.00 | Victoria | 09.40d |
| 4.68 | Balham Jn | 09/49 |
| 5.55 | Streatham Hill | 09/51 |
| 6.78 | West Norwood | 09/54 |
| 8.52 | Crystal Palace | 09/58 |
| 9.38 | Bromley Jn | 09/59 |
| 10.12 | Norwood Junction | 10.01a ~ 10.06d [RL] |
| 11.71 | West Croydon | ??.??a ~ 10.11d |
| 15.04 | Mitcham Junction | 10/16 |
| ? | Sig. VC840 | 10*21a ~ 10*23d |
| 18.15 | Wimbledon | [P9] 10.25a ~ 10.31d |
| 18.54 | Wimbledon West Jn | 10/33 |
| 19.48 | Raynes Park | 10/35 |
| 20.59 | New Malden | 10/38 |
| 22.20 | Norbiton | 10p41a ~ 10p54d |
| 23.05 | Kingston | 10/57 |
| 24.50 | Teddington | 11/00 |
| 25.67 | Fulwell | 11/03 |
| 31.66 | Shepperton | 11.13a ~ 11.20d |
| 36.12 | Hampton | 11p27a ~ 11p37d |
| 37.65 | Fulwell | 11/39 |
| 38.37 | Strawberry Hill | 11/41 |
| 39.37 | Twickenham | 11.44a ~ 11.51d |
| 41.50 | Feltham Jn | 11/54 |
| 47.17 | Staines | 12/01 |
| 51.30 | Virginia Water | 12/07 |
| 53.26 | Longcross | 12p11a ~ 12p21d |
| 57.15 | Ascot | 12/27 |
| 64.66 | Wokingham | 12/37 |
| 68.59 | Earley | 12/42 |
| - | Reading Electric Sidings | 12.46a ~ 12.48d (DIV) |
| - | Reading Spur Jn | ??.??a ~ ??.??d |
| 71.46 | Reading | 12.43a ~ 12.58d |
| 74.33 | Earley | 13/02 |
| 78.26 | Wokingham | 13/08 |
| 85.77 | Ascot | 13.20a ~ 13.26d |
| 89.07 | Bagshot | 13p31a ~ 13p41d |
| 95.46 | Frimley Jn | 13/50 |
| 97.65 | Ash Vale | 13/53 |
| 100.28 | Aldershot | 13.57a ~ 14.03d |
| 101.67 | Aldershot North Jn | 14/05 |
| 103.12 | Ash | 14/09 |
| 109.34 | Guildford | 14.17a ~ 14.28d |
| 109.44 | Guildford South Jn | ??.??a ~ ??.??d |
| 109.54 | Guildford | 14.33a ~ 14.37d |
| 118.3 | Effingham Junction | 14/48 |
| 126.22 | Hampton Court Jn | 15/00 [SL] |
| 127.46 | Surbiton | 15/02 |
| 130.78 | Raynes Park | 15/07 [RL] |
| 131.72 | Wimbledon West Jn | 15/09 |
| 132.31 | Wimbledon | [P9] 15c15a ~ 15c17d |
| 135.56 | Streatham South Jn | 15/22 |
| 139.22 | Streatham | 15/23 |
| 140.64 | Tulse Hill | 15/26 |
| 144.78 | Peckham Rye | 15/30 |
| 145.22 | South Bermondsey Jn | 15/33 |
| 146.73 | London Bridge | 15c36a ~ 15c44d [Central Platform] |
| 147.21 | Sig. L1490 | 15.46a ~ 15.48d |
| 147.49 | London Bridge | [P6] 15.50a ~ 15.54d |
| 148.07 | Metropolitan Jn | 15/57 |
| 148.70 | Blackfriars | 15.59a ~ 16.04d |
| 152.08 | Loughborough Junction | 16/11 |
| 152.67 | Brixton Jn | 16/13 |
| 154.14 | Factory Jn | 16/15 |
| 154.39 | Stewarts Lane Jn | 16/17 |
| 155.75 | Victoria | [P2] 16.22a ~ 16.39d |
| 157.31 | Stewarts Lane Jn | 16/44 |
| 157.61 | Longhedge Jn | 16/46 |
| 158.69 | Clapham Junction | 16c50a ~ 16c51d |
| 160.04 | Point Pleasant Jn | 16/55 |
| 160.55 | East Putney | 16/58 |
| 163.41 | Wimbledon | 17/09 |
| 168.26 | Surbiton | 17/15 |
| 175.35 | Weybridge | 17p24a ~ 17p38d [SL] |
| 180.50 | Woking | 17/46 [FL] |
| 204.07 | Basingstoke | 18/12 |
| 206.48 | Worting Jn | 18/16 |
| 214.33 | Micheldever | 18p25a ~ 18p31d |
| 222.72 | Winchester | 18/40 |
| 229.69 | Eastleigh Loop | 18.51a ~ 18.54d |
| 230.38 | Eastleigh South Jn | 18/57 |
| 231.49 | Eastleigh Loop | 19.09a ~ 19.14d [FL] |
| 238.46 | Winchester | 19/23 |
| 244.02 | Wallers Ash | [UPL] 19*30a ~ 19*37d |
| 254.71 | Worting Jn | 19/50 [FL] |
| 257.32 | Basingstoke | 19/53 |
| 280.69 | Woking | 20/19 |
| 284.73 | Byfleet Jn | 20/25 |
| 285.64 | Addlestone Jn | 20/27 |
| 290.55 | Virginia Water | 20/37 |
| 294.41 | Staines | 20.47a ~ 20.48d |
| 300.10 | Hounslow | 20/55 |
| 301.10 | Hounslow | 20/57 |
| 308.46 | Barnes | 21/05 |
| 311.49 | Clapham Junction | 20/59 |
| 312.57 | Longhedge Jn | 21/15 |
| 313.07 | Stewarts Lane Jn | 21/17 |
| 313.43 | Victoria (Eastern) | 21.22a |