20th April 1985
Southern Electric Group
The Dungeness Dynamo
| | |
| --- | --- |
| Loco Used | steam: 'Ajax' |
| DEMU's Used | 6L 1006 & 3D 1310 (1) |
Route : 1Z36 throughout
Headcode 3 : Watford Junction to Hastings
(double-white blank Ashford - Dungeness - Ashford)
Headcode 48 : Hastings to Watford Junction
DEMU's
Route
1310 + 1006
Watford Junction - Wembley Central - Willesden No.7 - Signal WN91 (2)
1006 + 1310
Signal WN91 - Willesden No.7 (2)
1310 + 1006
Willesden No.7 (3) - Willesden WL Jn - Kensington Olympia - Latchmere Jn (3) - Clapham Junction
1006 + 1310
Clapham

Junction - Longhedge Jn - Factory Jn - (via Atlantic Line) - Nunhead - Lewisham - Eltham - Barnehurst - Dartford - Gravesend - Hoo Jn - Grain

1310 + 1006
Grain - Hoo Jn - Gravesend
1006 + 1310
Gravesend - Gillingham - Signal ET26
1310 + 1006
Signal ET26 - Chatham Dockyard
1006 + 1310 (4)
Chatham Dockyard - Signal ET26
1310 + 1006
Signal ET26 - Gillingham - Strood
1006 + 1310
Strood - Maidstone West - Paddock Wood
1310 + 1006
Paddock Wood - Ashford - Appledore - Lydd Town - Dungeness
1006 + 1310
Dungeness - Lydd Town - Appledore - Ashford
1310 + 1006
Ashford - Appledore - Hastings - Eastbourne
1006 + 1310
Eastbourne - Lewes - Haywards Heath - Ardingly
1310 + 1006
Ardingly - Haywards Heath - Redhill - East Croydon - Norwood Junction - Crystal Palace - Streatham Hill - Clapham Junction - Latchmere Jn - Wembley Central - Watford Junction
Notes :
(1) Originally listed as 1304 however Chris Tompson's has commented that his photos clearly show the unit to have been 1310. LASERman comments that this error probably originated from SEG Live Rail magazine tour report which showed 1304 but confirms he has also recorded it as being unit 1310.
(2) Stopped as driver had no route knowledge via Acton Canal Wharf. Train returned to Willesden No 7 to be diverted via Kensington Olympia.
(3) Booked via Acton Canal Wharf Jn, Acton Wells Jn, Kew East Jn, Barnes.
(4) Banked to Dockyard exit by 0-4-0 steam locomotive 'Ajax' is actually RSH 0-4-0ST 7042/1941.
Sources : Paul Griffin (joined at Lewisham, left at Clapham Junction),
Jeremy Sleightholm (joined/left the train at Clapham Junction), Chris Tompson
& LASERman (on the train throughout)



Photo Review
(all photos: Chris Tompson)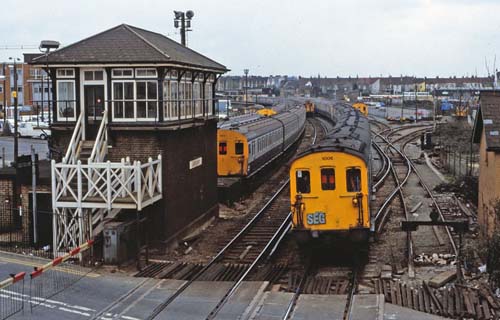 The tour passes Gillingham signalbox. The Chatham Dockyard branch can
be seen heading off on the right of the picture.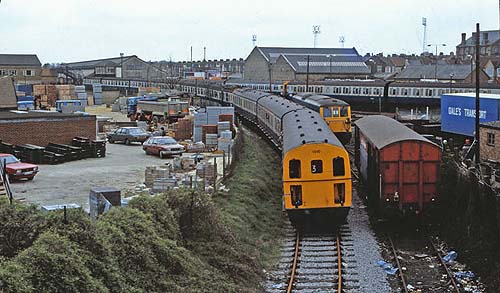 Heading down the Chatham Dockyard branch. Gillingham signalbox is just
visible above the rear of the train.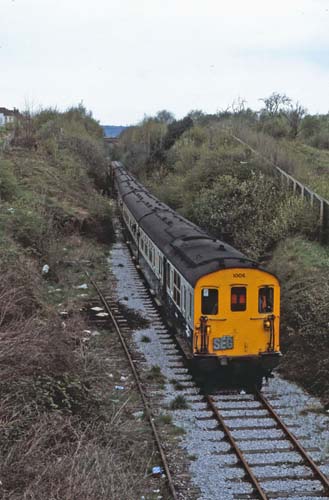 ...and further still down the branch...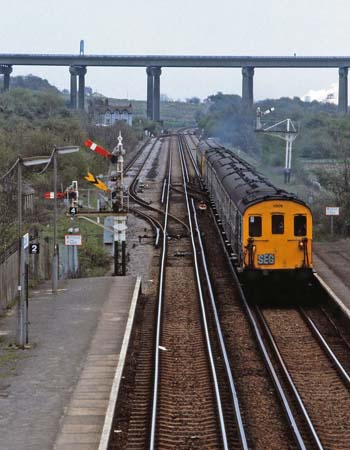 1006 leads the formation through Cuxton.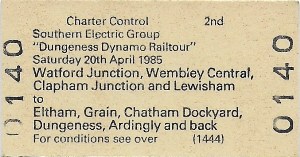 From Bob Mitchell's ticket collection.


Timings (Booked & Actual)
(from Paul Griffin & LASERman)
| | | | |
| --- | --- | --- | --- |
| M.C | Location | Booked | Actual |
| 0.00 | Watford Junction | 07.00d | 07.00 [SL] |
| 9.30 | Wembley Central | ??.??a ~ 07.12d | 07.11 ~ 07.12˝ [LLGL] |
| ? | Willesden No 7 | ? | 07/21˝ |
| ? | Signal WN91 | ? | 07.22 ~ 07.37˝ |
| ? | Acton Canal Wharf Jn | ? | DIV |
| ? | Acton Wells Jn | ? | DIV |
| ? | South Acton | ? | DIV |
| 14.75 | Kew East Jn | 07/34 | DIV |
| 15.28 | New Kew Jn | 07/37 | DIV |
| 17.66 | Barnes | 07/42 [SL] | DIV |
| ? | Willesden No 7 | DIV | 07.40 ~ 08.00 |
| ? | Willesden West London Jn | DIV | 08/07 |
| ? | Mitre Bridge Jn | DIV | 08/09 |
| ? | North Pole Jn | DIV | 08/10˝ |
| ? | Kensington Olympia | DIV | 08/13 |
| ? | Latchmere Jn | DIV | 08/17˝ |
| 20.79 | Clapham Junction | ??.??a ~ 07.50d [P3] | 08.21 ~ 08.25 [P5] |
| 22.05 | Longhedge Jn | 07/53 | 08/28˝ |
| 22.50 | Factory Jn | 07/56 [AL] | 08/30 [AL] |
| 25.05 | Denmark Hill | 08/00 | 08/34 |
| 25.41 | Crofton Road Jn | 08/01 | 08/35 |
| 26.51 | Nunhead | 08/03 | 08/37˝ |
| 28.36 | Lewisham | ??.??a ~ 08.09d | 08.43 ~ 08.44˝ |
| 29.28 | Blackheath | 08/11 | 08/47 |
| 31.43 | Eltham | 08.16a ~ 08.25d | 08.51˝ ~ 08.57˝ |
| 36.24 | Barnehurst | 08/33 | ? |
| 37.68 | Crayford Creek Jn | 08/35 | 09/06˝ |
| 39.07 | Dartford Jn | 08/37 | 09/08˝ |
| 39.32 | Dartford | 08/38 | 09/09˝ |
| 46.16 | Gravesend | 08/47 | 09/19 |
| 49.41 | Hoo Jn | 08*53 ~ 08.53 | 09.23˝ ~ 09.24 |
| 51.03 | signal D12 | 09*00 ~ 09*00 | 09.29˝ ~ 09.31 |
| 60.64 | Grain | 09.33 ~ 09.48 | 09.59˝ ~ 10.12˝ |
| 70.45 | signal D12 | 10*22 ~ 10*22 | 10.43 ~ 10.46 |
| 72.07 | signal D19 | 10.27 ~ 10.27 | 10.50˝ ~ 10.51 |
| 75.32 | Gravesend | 10.37a ~ 10.43d | 10.57 ~ 11.02˝ [P1] |
| 82.48 | Strood | 10/52 | 11/14 |
| 82.72 | Rochester Bridge Jn | 10/53 | 11/15 |
| 85.66 | Gillingham | 11.00a ~ 11.08d | 11.20 ~ 11.26 |
| ??.?? | signal ET26 | 11.13 ~ 11.13 | 11.28˝ ~ 11.31˝ |
| 86.43 | Chatham Dockyard | 11.25a ~ 11.55d | 11.44˝ ~ 12.22˝ |
| ??.?? | signal ET25 | ??.?? ~ ??.?? | 12.33˝ ~ 12.34˝ |
| 87.20 | Gillingham | 12.09a ~ 12.18d | 12.38 ~ 12.41˝ |
| 90.14 | Rochester Bridge Jn | 12/24 | 12/47˝ |
| 90.38 | Strood | 12.25a ~ 12.34d | 12.49 ~ 12.54 |
| 96.07 | Snodland | 12.42a ~ 12.55d | 13.02 ~ 13.10˝ |
| 101.64 | Maidstone West | 13/03 | ? |
| 121.60 | Paddock Wood | 13.18a ~ 13.26d | 13.31 ~ 13.36˝ |
| 143.03 | Ashford | 13c47 ~ 13c47 | 14.00˝~ 14.06˝ [P2] |
| 151.44 | Appledore | 14/00 | 14.20˝ ~ 14.22˝ |
| 158.50 | Lydd Town | 14.40a ~ 14.50d | 14.47 _ 14.56˝ |
| 160.79 | Dungeness | 14.57a ~ 15.05d | 15.04 ~ 15.16 |
| 170.34 | Appledore | 15/45 | 15.48˝ ~ 15.49 |
| 178.75 | Ashford | 15.58a ~ 16.06d | 16.01˝ ~ 16.08 [P1] |
| 187.36 | Appledore | 16/19 | 16/20 |
| 194.20 | Rye | 16/28 | 16/28˝ |
| 204.29 | Ore | 16/43 | 16.43˝ ~ 16.47˝ |
| 205.21 | Hastings | 16.46a ~ 17.01d | 16.50 ~ 17.07 |
| 206.64 | Bopeep Jn | 17/05 | 17/10˝ |
| 208.71 | Bexhill | 17/09 | ? |
| 215.55 | Pevensey & Westham | 17/17 | ? |
| 218.61 | Hampden Park | 17/22 | 17/24˝ |
| 220.60 | Eastbourne | 17.25a ~ 17.35d | 17.27 ~ 17.35˝ |
| 224.77 | Polegate | 17/41 | 17/42 |
| 235.46 | Southerham Jn | 17/53 | 17/53 |
| 236.50 | Lewes | 17/56 | 17/55 |
| 245.55 | Keymer Jn | 18/10 | 18/06˝ [DL] |
| 248.65 | Haywards Heath | 18c16 ~ 18c16 | 18.12 ~ 18.12˝ [P1] |
| 250.68 | Ardingly | 18.25a ~ 18.35d | 18.18˝ ~ 18.24˝ |
| 252.71 | Haywards Heath | 18.45a ~ 19.15d | 18.34˝ ~ 19.15˝ [P1/DSL] |
| 253.50 | Copyhold Jn | 19/16 | 19/23˝ [UL] |
| 259.22 | Balcombe Tunnel Jn | 19/22 [FL] | 19/30 [FL] |
| 261.29 | Three Bridges | 19/24 | 19/32 |
| 269.00 | Earlswood | 19/34 [SL] | 19/39 [SL] |
| 269.69 | Redhill | 19c36 ~ 19c36 | 19.50 ~ 19.53 |
| 276.25 | Stoats Nest Jn | 19/43 [SL] | 20/01 |
| 280.17 | East Croydon | 19.51a ~ ??.??d | 20.06˝ ~ 20.07˝ |
| 280.56 | Windmill Bridge Jn | 19/52 [SL] | 20/09 |
| 281.70 | Norwood Junction | 19/55 | 20/12˝ |
| 282.43 | Bromley Jn | 19/56 | 20/14 |
| 283.29 | Crystal Palace | 19/58 | 20/16 |
| 285.03 | West Norwood | 20/02 | 20/19 |
| 286.28 | Streatham Hill | 20/04 | 20/21˝ |
| 287.15 | Balham Jn | 20/06 [SL] | 20/21˝ |
| 289.28 | Clapham Junction | 20.11a ~ ??.??d | 20.27˝ ~ 20.28˝ |
| 289.74 | Latchmere Jn | 20/15 | 20/31 |
| ? | Kensington Olympia | ? | 20/36 |
| ? | North Pole Jn | ? | ? |
| ? | Mitre Bridge Jn | ? | 20/40˝ |
| ? | Willesden WL Jn | ? | 20.41˝ ~ 20.43˝ [SL] |
| 297.26 | Wembley Central | 20.44a ~ ??.??d | 20.50˝ ~ 20.52˝ |
| 306.57 | Watford Junction | 20.56a | 21.04˝ |