9th February 1985
Hertfordshire Rail Tours
Knottingley Man O'War
| | |
| --- | --- |
| Locos Used | 37052, 37263, 45012 & 47157 |
| Stock Used | 17015+124+125+3111+3119+3107+1705+3115+3114+123+128+121 |
Route : 1G36 throughout
| | |
| --- | --- |
| Loco(s) | Route |
| 37052 + 37263 | London Kings Cross - Finsbury Park (1) - Potters Bar - Stevenage - Peterborough |
| 45012 (3) | Peterborough - Spalding - Sleaford avoiding line - Lincoln Central - Doncaster (goods line) - Temple Hirst Jn - Hambleton South Jn - Hambleton West Jn - Gascoigne Wood Jn - Milford Jn - Ferrybridge Jn - Knottingley West Jn - Snaith - Goole - Brough - Anlaby Road Jn - West Parade North Jn - Bridlington - Scarborough (2) |
| 45012 | Scarborough - York |
| 47157 | York - Church Fenton - Castleford - Normanton - Wakefield Kirkgate - Westgate - Gelderd Rd Jn - Wortley S Jn - Holbeck W Jn - Whitehall Jn - Engine Shed Jn - Turners Lane Jn - Crofton West Jn - Crofton East Jn - Monkhill - Knottingley - Askern - Doncaster - Up East Slow Line/flyover - Loversall Carr Jn - Retford - Peterborough |
| 37052 + 37263 | Peterborough - Stevenage - Potters Bar - London Kings Cross |
Notes:
(1) Was booked via the Finsbury Park Slow Line No 2 but in fact went mainline.
(2) At Scarborough all passengers had to alight. 08771 drew the stock out of the station, releasing the 45 which then propelled the stock back into the station, before continuing to York.
(3) Originally uploaded with 45013 taking over from 45012 at Doncaster via Scarborough to York when 47157 took over, however 'Bista' confirms "45013 did NOT work this train from Doncaster. It was stood steaming on the goods lines next to Doncaster station when we passed. Much to the annoyance of all as 45012s boiler had packed up!"
(4) Andy Pullar comments: 'HRT advertisement was for class 40 haulage - but only D200 was left in service [?] which was allocated to another charter on the day. I think that someone decided that a class 45 was an appropriate stand in. I also think that the loco change at Peterborough was included as by this time 1Co-Co1 locos had been banned on the ECML south of Peterborough.'
(5) It is reported that the train was basically unheated all day, for a combination of reasons on what was a bitterly cold day (defective boilers on the 37's and an empty boiler on 45012). The class 47 replaced 45012 for this very reason, but did not significantly improve the situation (the heating was only working on one side of the stock).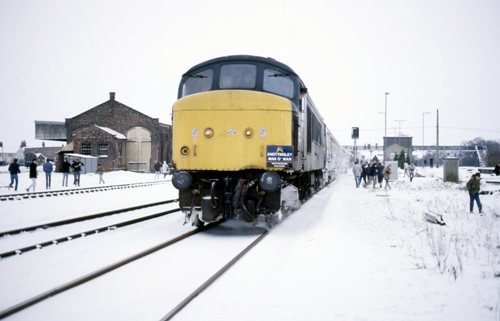 45012 in the snow at Spalding (photo: Michael Croxford)
Sources : Jeremy Sleightholm (joined at Doncaster, left at Kings Cross), Andy Pullar,
Tony Knight, Gary Thornton, 'Bista' & LASERman



Timings (Booked & Actual)
(from LASERman)
| | | |
| --- | --- | --- |
| Location | Booked | Actual |
| Kings Cross | 07.28d [FL] | 07.43½d |
| Finsbury Park | 07/34 | 07/49 |
| Alexandra Palace | 07/38 | 07/52½ |
| Potters Bar | 07/56 | 08/03 |
| Digswell | ? | 08/11 |
| Woolmer Green | ? | 08/13½ |
| Stevenage | 08.04a ~ 08.05d | 08.19 ~ 08.20½ |
| Hitchin South Jn | ? | [SL] |
| Hitchin | 08/14 | 08/27 |
| Sandy | ? | ? |
| St Neots | ? | [FL] |
| Huntingdon | 08/36 [SL] | 08/52 |
| Peterborough | 08.57a ~ 09.15d | 09.07½ ~ 09.21 |
| Werrington Jn | 09/21 | 09/27½ |
| Spalding | 09.37a ~ 09.52d | 09.47 ~ 09.56 |
| Sleaford South Jn | 10/14 | 10/15 |
| Sleaford North Jn | 10/16 | 10/16½ |
| Pelham Street Jn | 10/42 | 10/35 |
| Lincoln Central | 10c43 ~ 10c45 | 10/36½ |
| Sykes Jn | 10/56 | 10/46½ |
| Gainsborough Lea Road | 11/06 | 10/55½ |
| Trent Jn | 11/08 | 10/57 |
| Bessacarr Jn | 11/28 | 11/13½ |
| Doncaster | 11.34a ~ 11.38d | 11.142 ~ 11.48 |
| Shaftholme Jn | 11/45 | 11/54½ |
| Temple Hirst Jn | 11/53 | 12/02 |
| Hambleton South Jn | 11/59 | 12/06 |
| Hambleton West Jn | 12/00 | 12/07½ |
| Gascoigne Wood Jn | 12/04 | 12/10½ |
| Milford Jn | 12/07 | 12/13½ |
| Ferrybridge | 12/13 | 12/19 |
| Knottingley West Jn | 12/15 | 12/20½ |
| Whitley Bridge | 12/22 | 12/30 |
| Hensall Jn | ? | 12/34½ |
| Snaith | 12/30 | 12/36½ |
| Engine Shed Jn | 12/41 | 12/43½ |
| Goole | 12/44 | 12/48½ |
| Gilberdyke | 12/51 | 12/59/15 |
| Brough | 12/58 | 13.07 ~ 13.07½ |
| Anlaby Road Jn | 13/12 | 13/21 |
| West Parade North Jn | 13/13 | 13/22 |
| Beverley | 13/21 | 13/31 |
| Driffield | 13/31 | ? |
| Bridlington | 13/44 | 13.53 ~ 14.13 |
| Hunmanby | 13t59 | 14/29½ |
| Filey | 14/04 | 14/33 |
| Seamer | 14/13 | 14/40 |
| Scarborough | 14.18 ~ 15.00 | 14.45 ~ 15.17 [P1] |
| Seamer | 15/05 | 15/22 |
| Malton | 15/24 | 15/38 |
| York | 15/52 | 16L05½ ~ 16L15 |
| Church Fenton | 16/07 | 16/26 |
| Milford | 16/12 | 16/30 |
| Altofts Jn | 16/22 | 16/39½ |
| Goose Hill Jn | 16/25 | 16/44½ |
| Wakefield Kirkgate | 16/31 | 16/47 |
| Wakefield Westgate | 16/35 | 16/50½ |
| Gelderd Road Jn | ? | 17/04½ |
| Wortley South Jn | 16/49 | 17/05½ |
| Holbeck West Jn | 16/50 | 17/06½ |
| Whitehall Jn | 16/51 | 17/07 |
| L871 | 16c54 ~ 16c56 | ? |
| Altofts Jn | 17/11 | 17/20 |
| Goose Hill Jn | 17/14 | 17/22½ |
| Turners Lane | 17/19 | 17/26½ |
| Calder Bridge Jn | 17/22 | 17/28 |
| Crofton West Jn | 17/25 | 17/30½ |
| Crofton East Jn | 17/27 | 17/31½ |
| Pontefract Monkhill | 17/36 | 17/40½ |
| Knottingley West Jn | 17/41 | 17/45 |
| Shaftholme Jn | 17/56 | 17/59½ |
| Doncaster | 18.05a ~ 18.11d | 18.08 ~ 18.13 |
| Belmont / Decoy / Flyover | ? | ? |
| Loversall Carr Jn | 18/29 | 18.20½ ~ 18.37½ |
| Retford | 18*44 ~ 18*52 | 18.54 ~ 19.00 |
| Newark Northgate | 19/11 | 19/24 |
| Barkston South Jn | 19/20 | 19/32½ |
| Grantham | 19/25 | 19/36 |
| Stoke | 19/35 | ? |
| Tallington | 19/46 | ? |
| New England North Jn | 19/53 [SL] | ? |
| Peterborough | 19.56a ~ 20.14d | 19.59 ~ 20.16½ |
| Huntingdon | 20/34 | 20/34½ |
| Sandy | 20/46 | 20/41½ |
| Hitchin | 21/01 | 21/02 |
| Stevenage | 21.07a ~ 21.09d | 21.08½ ~ 21.11 |
| Woolmer Green | 21/16 | 21/20 |
| Digswell | [FL] | [SL] |
| Potters Bar | 21/26 | 21/36 |
| Alexandra Palace | 21/36 | 21/46½ [FL] |
| Hornsey | ? | 21.50½ ~ 21.51½ |
| Finsbury Park | 21/38 | 21/55½ |
| Kings Cross | 21.42a | 22.02 [P7] |