3rd September 1983
Bluebell Railway
Ardingley 100
Route : (5 round trips made)
| | |
| --- | --- |
| DMU | Route |
| as listed | Haywards Heath - Copyhold Jn - Ardingley |
| as listed | Ardingley - Copyhold Jn - Haywards Heath |
Notes :
(1) The trips were made to mark the centenary of the opening of the railway between Haywards Heath and Horsted Keynes in 1883. Services ceased on 28th October 1963. There was no alighting at Ardingley. Fare was £2 - or a package fare of £3 which included a bus link from Haywards Heath to Sheffield Park and a 3rd class return to Horsted Keynes on the Bluebell Railway.
Source : Alan Osborn (travelled on 11.55 departure)



Photo Review
(all photos: Andy Prime)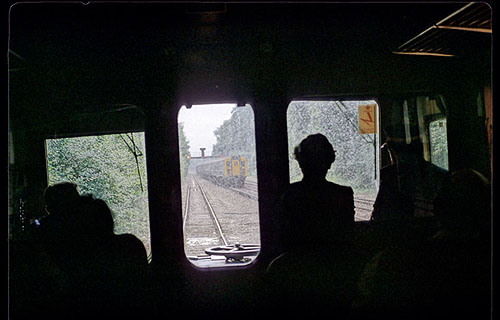 View from set L582 during the journey.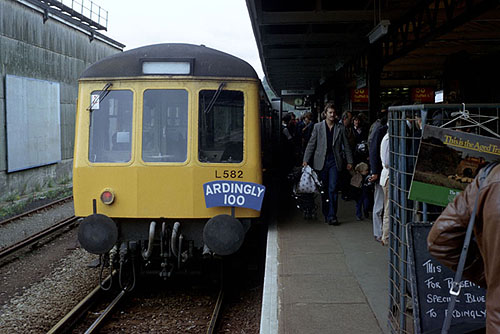 Haywards Heath.


Timings (Booked Only)
(from Alan Osborn)
Train 1
| | | |
| --- | --- | --- |
| Location | Booked (out) | Booked (rtn) |
| Haywards Heath | 10.55d | ??.??a |
| Ardingley | ??.??a | ??.??d |
Train 2
| | | | | | |
| --- | --- | --- | --- | --- | --- |
| Location | Booked | Actual | | Booked | Actual |
| Haywards Heath | 11.55d | 11.55 | | 12.20a | 12.17 |
| Ardingley | 12.05d | 12.03 [MP 0¾] | | 12.10d | 12.11 |
Train 3
| | | |
| --- | --- | --- |
| Location | Booked (out) | Booked (rtn) |
| Haywards Heath | 12.55d | ??.??a |
| Ardingley | ??.??a | ??.??d |
Train 4
| | | |
| --- | --- | --- |
| Location | Booked (out) | Booked (rtn) |
| Haywards Heath | 13.55d | ??.??a |
| Ardingley | ??.??a | ??.??d |
Train 5
| | | |
| --- | --- | --- |
| Location | Booked (out) | Booked (rtn) |
| Haywards Heath | 14.55d | ??.??a |
| Ardingley | ??.??a | ??.??d |