30th April 1983
S.E.G. / R.C.T.S.
Devonian Rail Tour
| | |
| --- | --- |
| DEMU Used | 1014 (running as 6-car set) |
Route : 1Z25 throughout
(SR headcode : 60)
| | |
| --- | --- |
| DEMU | Route |
| 1014 | London Waterloo - Clapham Junction - Earlesfield - Wimbledon - Woking - Basingstoke - Worting Jn - Andover - Salisbury - Gillingham - Yeovil Junction - Honiton - Exeter Central - Exeter St Davids - Cowley Bridge Jn - Crediton - Meldon Quarry |
| 1014 | Meldon Quarry - Crediton - Cowley Bridge Jn - Exeter St Davids (1) - Dawlish Warren - Newton Abbot |
| 1014 | Newton Abbot - Heathfield |
| 1014 | Heathfield - Newton Abbot - Paignton |
| 1014 | Paignton - Newton Abbot - Dawlish Warren - Exeter St Davids - Taunton - Cogload Jn - Castle Cary - (via Frome avoiding line) - Fairwood Jn - (2) Westbury (2) - Heywood Road Jn - Bedwyn - Newbury - Southcote Jn - Reading - Earley - Ascot - Virginia Water - Staines - Feltham Jn (3) - Hounslow - Kew Bridge - (3) Barnes - Clapham Junction - London Waterloo |
Notes :
(1) Train was delayed at Exeter waiting a crew.
(2) Was booked via Westbury avoiding line but went via station (regulating, due to early running?).
(3) Was booked via Twickenham.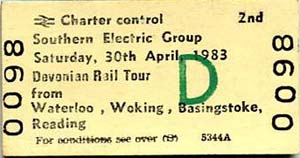 Nigel Jordan's tour ticket.
Sources : Chris Harley, Nigel Jordan & Alan Osborn



Tour Review
(by Nigel Jordan)
An on time departure from Waterloo and completely clear run down the fast line, with speeds in the high 60s / low 70s, gave on time departures from Woking and Basingstoke. Hard running over the undulating line to Salisbury got the train there 5 early. More hard running, both before and after Yeovil, put the train into Exeter around booked time. After the return trip up to Meldon Quarry the tour was still running near enough to time. My records don't show why it left Exeter 40 late (waiting crew - Webmaster) but no further time was lost down to Paignton. The hour stop there was shortened to 20 minutes to ensure an on time departure. Departure from Exeter was also on time and a fast run down from Whiteball Summit put us 3 early passing Taunton. More good running and we had gained another 5 minutes by Castle Cary. I guess the early running caused the train to be stopped at Westbury rather than running non stop via the avoiding line as booked. Reading was reached in less than a hour from Westbury. The run into Waterloo took 67 minutes even though the train was diverted round the Hounslow loop and with 3 minutes lost to signal checks at and after Clapham Junction.
Nigel Jordan



Timings (Booked & Actual)
(from Nigel Jordan & Alan Osborn)
| | | |
| --- | --- | --- |
| Location | Booked | Actual |
| Waterloo | 08.08d [FL] | 08.08 |
| Clapham Junction | 08/14½ | 08/14 |
| Hampton Court Jn | 08/24½ | 08/23 |
| Woking | 08.35½a ~ 08.36½d | 08.33 ~ 08.36 |
| Basingstoke | 08.59½a ~ 09.00½d | 08.59 ~ 09.00 |
| Worting Jn | 09/04½ | 09/05 |
| Andover | 09/21 | 09/19 |
| Tunnel Jn | 09/38 | 09/34 |
| Salisbury | 09.41a ~ 09.42d | 09.36 ~ 09.42 |
| Wilton Jn | 09/46 | 09/45 |
| Wilton | 09/48 | 09/47 |
| Gillingham | 10/07 | ? |
| Templecombe | 10/14 [ML] | 10/11 |
| Sherbourne | 10/21 | ? |
| Yeovil Junction | 10x28 ~ 10x43 | 10.24 ~ 10.47 |
| Chard Jn | 11/02 | ? |
| Honiton | 11/18 | 11/22 |
| Pinhoe | 11/30 | ? |
| Exeter Central | 11/34 | 11/36 |
| Exeter St Davids | 11c37 ~ 11c39 | 11.39 ~ 11.44 |
| Cowley Bridge Jn | 11/42 | 11/47 |
| Crediton | 11c48 ~ 11c49 | 11.54 ~ 11.57 |
| Meldon Quarry | 12.25a ~ 12.35d | 12.28 ~ 12.47 |
| Crediton | 13c12 ~ 13c13 | 13.25 ~ 13.26 |
| Cowley Bridge Jn | 13/20 | 13/34 |
| Exeter St Davids | 13c23 ~ 13c25 | 13.39 ~ 14.06 |
| Dawlish Warren | 13/37 | 14/20 |
| Newton Abbot | 13.48 ~ 13.55 | 14.38 ~ 14.41 |
| Heathfield | 14.18 ~ 14.23 | 15.03 ~ 15.08 |
| Newton Abbot | 14/50 | 15/34 |
| Paignton | 15.05a ~ 16.05d | 15.49 ~ 16.06 |
| Newton Abbot | 16/20 | 16/20 |
| Dawlish Warren | 16/33 | 16/34 |
| Exeter St Davids | 16c48 ~ 16c50 | 16.51 ~ 16.52 |
| Cowley Bridge Jn | 16/52 | ? |
| Whiteball Summit | 17/11 | ? |
| Taunton | 17/23 | 17/24 |
| Castle Cary | 17/52 | 17/48 |
| Blatchbridge Jn | 18/05 | 18/02 |
| Clink Road Jn | 18/07 | 18/04 |
| Fairwood Jn | 18/10 | 18/08 |
| Westbury | DIV | 18.10 ~ 18.11 |
| Heywood Road Jn | 18/12 | 18/13 |
| Lavington | 18/20 | ? |
| Woodborough | 18/28 | ? |
| Bedwyn | 18/42 | ? |
| Newbury | 18/55 | 18/52 |
| Southcote Jn | 19/07½ | 19/06 |
| Reading | 19.10a ~ 19.13d [ML] | 19.11 ~ 19.12 |
| Earley | 19/18 | ? |
| Wokingham | 19/22½ | 19/23 |
| Ascot | 19/32 | 19/32 |
| Virginia Water | 19/44 | 19/38 |
| Staines | 19/52 | 19/46 |
| Feltham Jn | 19/58 | 19/55 |
| Twickenham | 20/02 [FL] | DIV |
| Hounslow | DIV | 19/57 |
| Barnes | 20/06 [FL] | 20/04 |
| Clapham Junction | 20/11 | 20.09 ~ 20.11 |
| Waterloo | 20.18a | 20.18 |