27th February 1983
S.L.O.A.
The Flying Scotsman Pullman
| | |
| --- | --- |
| Locos Used | 47158 'Henry Ford' & steam: 4472 'Flying Scotsman' |
| Stock Used | SLOA Pullman, load 12 (load 13 when 4472 was on) |
Route : 1G60 throughout
| | |
| --- | --- |
| Loco | Route |
| 47158 | London Kings Cross - (via ECML) - Peterborough |
| 4472 | Peterborough - (via ECML) - Doncaster - South Kirkby Jn - Turners Lane Jn - Normanton - Castleford - Church Fenton - York |
| 47158 | York - (via 'old' ECML route) - London Kings Cross |
Notes :
(1) Some contemporary sources record this train as having run on 26th February but it has been confirmed it did not. 4472 'Flying Scotsman' did however work from York to Peterborough on the 26th, possibly light engine (confirmation required). Approximate published timings for this movement are included below for completeness.
(2) This tour operated with the SLOA Pullman train, with preserved saloon GE No 1 added at Peterborough. During the water stop at Newark the train set back on the Bottesford branch to clear the ECML for other trains. Such was the popularity of this run that it was repeated on the following two Sunday's.
Sources : Nigel Rollings (joined/left train at Peterborough) & David Hills



Photo Review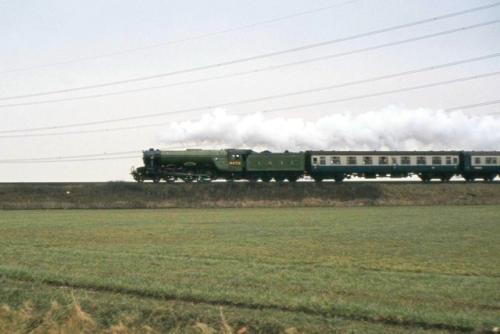 4472 running some 20mins late south of Newark (photo: Gordon Lacy)
4472 was carrying the 'Flying Scotsman' headboard at this stage.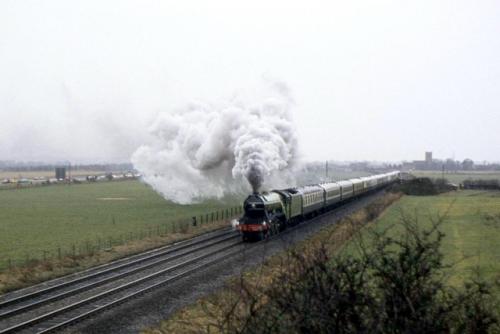 Still 20mins late, 4472 heads past Muskham (photo: Gordon Lacy)


Timings (Booked & Actual)
(from Nigel Rollings & Dick Franklin)
M.C
Location
Booked
Actual
Booked
Actual
M.C
0.00
Kings Cross
09.20d [FL]
09.21½
20.07a
20.27
389.73
2.41
Finsbury Park
09/26
09/26½
20/03
20/21½
387.32
4.78
Alexandra Palace
09/28
09/30 [FL]
20/01
20/20
384.75
12.57
Potters Bar
09/35
09/40 [SL]
19/54
20/14½
377.16
20.25
Welwyn Garden City
09/40
09/47
?
?
?
23.67
Woolmer Green
09/44 [SL]
09/49½ [SL]
19/46
20/06½
366.06
27.47
Stevenage
09.49a ~ 09.51d
09.53½ ~ 09.54½ [FL]
19.39a ~ 19.41d
20.00 ~ 20.01
362.26
31.74
Hitchin
09/57
10/00
19/35
19/55½
357.79
44.10
Sandy
10/05
10/09½ [SL]
19/25
19/46½
345.63
58.70
Huntingdon
10/15
10/25½
19/15
19/35½
331.03
76.29
Peterborough
10L37a ~ 11L00d
10.51½ ~ 11.10½
18.58a ~ 19.00d
19.13½ ~ 19.15
313.44
84.64
Tallington
11/11
11/25 [SL]
18/51
19/04½
305.09
100.08
Stoke Summit
11/29
11/46
18/41
18/55
289.65
?
High Dyke
?
?
18/37 [FL]
?
?
105.38
Grantham
11/36
11/52
18/26 [SL]
18/50½ [FL]
284.35
109.56
Barkston South Jn
11/40
?
18/22
18/47
280.17
?
Claypole
?
12.03 ~ 12.08
?
?
?
120.08
Newark Northgate
11w52a ~ 12w50d
12.13½ ~ 13.12½
18/14
18.30½ ~ 18.32½
269.65
138.49
Retford
13/12
13/36½
17*53 ~ 17*59
18.08 ~ 18.11 [SLW]
251.24
?
?south of Doncaster station?
?
13.56 ~ 14.12½
(water stop?)
155.77
Doncaster
13w45 ~ 14w05
14/15
17c34 ~ 17c36
17.48 ~ 17.50
233.76
-
Shaftholme Jn
17/29
17/31½
229.57
-
Selby
17/15
17/19
215.48
157.53
Bentley Crossing
14/09
?
160.57
Adwick Jn
14/13
14/22
165.78
South Kirkby Jn
14/20
14/28½
171.53
Hare Park Jn
14/28
14/38½
173.04
Crofton West Jn
14/33
14/42
174.25
Calder Bridge Jn
14/36
14/47
175.10
Turners Lane Jn
14/39
14/50
177.08
Goose Hill Jn
14/45
14/56
178.41
Altofts Jn
14/48
14/58½
180.79
Castleford
14/53
15/02½
187.07
Milford Jn
15/00
15/13
191.03
Church Fenton
15/05
15/25
201.62
York
15L20a
15.40
17.00d
17.02½
201.62


Associated Train Movements
26/02 : 4472 movement
| | |
| --- | --- |
| Location | (approximate booked) |
| York | 08.30d |
| Doncaster | 09.15a ~ 18.30d |
| Retford | 19/00 |
| Newark Northgate | 16/20 |
| Grantham | 19/40 |
| Peterborough | 20/15 |
| March (turn) | 20.45 |
| Peterborough | 21.15a |