4th October 1980
6000 Locomotive Association
The Deeside Venturer
| | |
| --- | --- |
| Locos Used | ????? & steam: 4930 'Hagley Hall' & 6000 'King George V' |
| Stock Used | 10 mark 1's including 4776 (1) |
Route : 1Z20 throughout
| | |
| --- | --- |
| Loco | Route |
| ????? | Taunton - Bridgwater - Worle Jn - Uphill Jn - Bristol Temple Meads - Stapleton Road - Filton Jn - Patchway - Severn Tunnel Junction - Newport |
| 4930 | Newport - Maindee North jn - Abergavenny - Hereford |
| 6000 | Hereford - Craven Arms - Shrewsbury - Wrexham General - Chester |
| 6000 | Chester - (reverse of outward route) - Hereford |
| 4930 | Hereford - (reverse of outward route) - Newport |
| ????? | Newport - (reverse of outward route) - Taunton |
Notes :
(1) Rake was increased to 12 coaches from Hereford to Chester and back - additional vehicles were Pullman cars 'Aquilla' & 'Christine' (car 64).
(2) Gordon Lacy comments: An excellent outing, never more than 12 minutes out of time. Although beset somewhat by clearance slacks, these were adequately allowed for. The highlight of the whole day being Hagley Hall's superb run back from Hereford carving 18 minutes out of the schedule, & storming past Abergavenny at 74mph in the dark!
(2) May have run in conjunction with the Great Western Society?
Source : Gordon Lacy (joined/left the train at Newport)



Photo Review
(all photos: Gordon Lacy)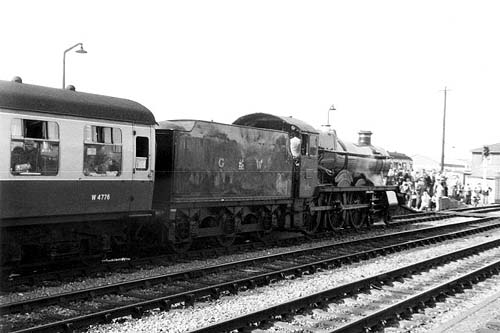 4930 upon arrival at Hereford on the way northwards.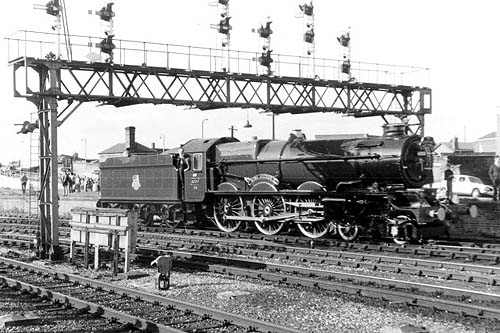 6000 at Chester after coaling and watering.


Timings (Booked & Actual)
(from Gordon Lacy)
| | | | | | |
| --- | --- | --- | --- | --- | --- |
| Location | Booked | Actual | | Booked | Actual |
| Taunton | 08.45d | ? | | 21.50a | ? |
| Bridgwater | 08/56 | ? | | 21/38 | ? |
| Worle Jn | 09/08 | ? | | 21/26 | ? |
| Bristol Temple Meads | 09.26a ~ 09.30d | ? | | 21.04a ~ 21.08d | ? |
| Filton Jn | ? | ? | | 20/56 | ? |
| Pilning | 09/43 | ? | | 20/50 | ? |
| Severn Tunnel Junction | 09/49 | ? | | 20/44 | ? |
| Newport | 10L00a ~ 10L15d | ??.?? ~ 10.19 | | 20L24a ~ 20L34d | 20.18 ~ ??.?? |
| Maindee North Jn | 10/17 | 10/22 | | 20/22 | 20/15 |
| Llantarnam Jn | 10/25 | 10/31 | | 20/14 | 20/08 |
| Pontypool Road | 10p34a ~ 10p49d | 10.40 ~ 10.49 | | 20/04 | 20/01 |
| Abergavenny | 11/14 | 11/10 | | 19/45 | 19/49 |
| Pontrilas | 11/32 | 11/26½ | | 19/29 | 19/22½ |
| Hereford | 11L57a ~ 12L10d | 11.50½ ~ 12.10 | | 18L54a ~ 19L04d | 18.50 ~ 19.16 |
| Shelwick Jn | 12/17 | 12/16½ | | 18/51 | 18/45 |
| Leominster | 12/36 | 12/35 | | 18/32 | 18/29 |
| Woofferton | 12/46 | 12/46 | | 18/22 | 18/20 |
| Craven Arms | 13/08 | 13/07½ | | 17/58 | 18/03 |
| Church Stretton | 13/17 | 13/20½ | | 17/47 | 17/54 |
| Sutton Bridge Jn | 13/31 | 13/35½ | | 17/33 | 17/32 |
| Shrewsbury | 13w34a ~ 14w09d | 13.38½ ~ 14.12 | | 16w55a ~ 17w30d | 16.58 ~ 17.30 |
| Gobowen | 14/31 | 14/36 | | 16/35 | 16/38½ |
| Ruabon | 14/43 | 14/45 | | 16/25 | 16/30½ |
| Wrexham General | 14/50 | 14/54 | | 16/20 | 16/22½ |
| Rossett | 14/56 | 15/00 | | 16/14 | 16/16 |
| Chester | 15.05a | 15.12½ | | 16.05d | 16.05 |
WSR Option:
| | | |
| --- | --- | --- |
| Location | Booked | Actual |
| Bishops Lydeard | 13.45d | 13.52 |
| Minehead | ? | ? |