9th December 1979
Worcester Loco Society
The Yorkshire Terrier
| | |
| --- | --- |
| Locos Used | 25027, 25037, 25129, 25263, 47363, 55012 'Crepello', 76014, 76030, 85006, 86003 & 86215 |
Route : 1Z79 throughout
| | |
| --- | --- |
| Loco(s) | Route |
| 25027 + 25037 | London Marylebone - Northolt Jn - High Wycombe - Aynho Jn - Leamington Spa - Coventry |
| 85006 | Coventry - Tile Hill (1) |
| 86215 (2) | Tile Hill - Birmingham International |
| 86003 (3) | Birmingham International - New Street - Soho South Jn - Perry Bar North Jn - Bescot - Wolverhampton - Stafford - Crewe - Wilmslow - Cheadle Hulme - Stockport |
| 47363 | Stockport - Heaton Norris Jn |
| 47363 | propel onto [UL] |
| 47363 (4) | Heaton Norris Jn [UL] - Guide Bridge |
| 76014 + 76030 | Guide Bridge - Woodhead - Woodburn Jn - Shepcote Lane - Tinsley Yard |
| 55012 | Tinsley Yard - Treeton North Jn - Rotherham (Signal 419) - Doncaster |
| 55012 | Doncaster - (via ECML) - Finsbury Park - (5) - Canonbury Jn - Dalston Western Jn |
| 25129 + 25263 | Dalston Western Jn - Channelsea Jn - Stratford - Temple Mills - South Tottenham - Junction Road Jn - Carlton Road Jn - Cricklewood Jn - Neasden Jn |
| 25129 + 25263 | Neasden Jn - Neasden South Jn - Northolt Jn - (route then as outward) - Birmingham New Street |
Notes:
(1) Loco failed.
(2) 86215 was on a following service train and was used to propel the railtour from Tile Hill to Birmingham International - with its own train still in tow!
(3) Plus failed 85006 dead-in-tow.
(4) Ran 'wrong-line' towards Guide Bridge.
(5) Some sources had suggested the loco change took place at Finsbury Park or Canonbury Jn however Dalston Western Jn has been since stated as the location where 55012 handed over to the two class 25's.
Sources : John Nelson (joined/left train at Leamington Spa), Clive Barlow,
Kevin Driscoll, Ian Bowskill & Nigel Ward



Photo Review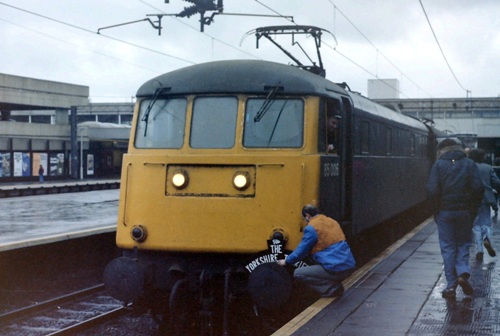 85006 receiving the headboard at Coventry (photo: Nigel Ward)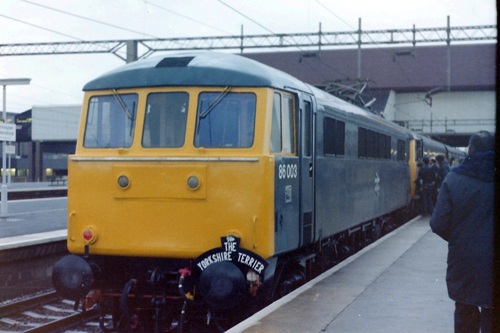 86003 added to failed 85006 at Birmingham International (photo: Nigel Ward)


Timings (Booked & Actual)
(by John Nelson)
| | | |
| --- | --- | --- |
| Location | Booked | Actual |
| London Marylebone | 08.00d | ? |
| Neasden South | 08/07 | ? |
| Northolt Jn | 08/13 | ? |
| West Ruislip | 08.19a ~ 0820d | ? |
| High Wycombe | 08.37a ~ 08.38d | ? |
| Princes Risborough | 08.50a ~ 09.02d | ? |
| Bicester | 09/19 | ? |
| Aynho Jn | 09/28 | ? |
| Banbury | 09.33a ~ 09.34d | ? |
| Leamington Spa | 09.54a ~ 09.55d | 10.59 ~ 11.00 |
| Kenilworth | 10/03 | 11/04 |
| Coventry | 10.11a ~ 10.21d | 11.11 ~ 11.22 |
| Proof House Jn | 10/39 | 12/36 |
| Birmingham New Street | 10.41a ~ 10.45d | 12.38 ~ 12.45 |
| Soho South Jn | 10/50 | 12/50 |
| Soho East Jn | 10/52 | 12/52 |
| Perry Barr West Jn | 10/55 | 12/54 |
| Perry Barr North Jn | 10/56 | 12/55 |
| Bescot | 11/01 | 12/58 |
| Portobello Jn | 11/08 | 13/09 |
| Wolverhampton | 11/13 | 13/10 |
| Stafford | 11/30 | 13/25 |
| Norton Bridge | 11/34 | 13/28 |
| Madeley | 11/41 | 13/35 |
| Crewe | 11.55a ~ 11.57d | 13.52 ~ 13.54 |
| Sandbach | 12/14 | 14/01 |
| Alderley Edge | 12/23 | 14/08 |
| Wilmslow | 12/24 | 14/09 |
| Cheadle hulme | 12/29 | 14/14 |
| Edgeley No.1 Jn | 12/33 | 14/16 |
| Stockport | 12.35a ~ 12.53d | 14.18 ~ 14.28 |
| Heaton Norris Jn | 12/55 | 14/51 |
| Guide Bridge | 13.04a ~ 13.14d | 15.00 ~ 15.10 |
| Valehouse | 13/30 | 15/22 |
| Woodhead | 13/38 | 15/28 |
| Dunford West | 13/43 | 15/33 |
| Penistone | 13/50 | 15/30 |
| Sheffield No.4 | 14/05 | 15/49 |
| Woodburn Jn | 14/08 | 15/51 |
| Attercliffe Jn | 14/11 | 15/52 |
| Shepcote Lane | 14/14 | 15/54 |
| Tinsley Yard | 14.20 ~ 14.35 | 15.58 ~ 16.13 |
| Treeton North Jn | 14/42 | 16/20 |
| Rotherham (signal 419) | 14.46 ~ 14.48 | 16/24 ~ 16.40 |
| Aldwarke Jn | 14/52 | 16/44 |
| Mexborough | 14/58 | 16/50 |
| Denaby Crossing | 15/00 | 16/52 |
| Hexthorpe Jn | 15/05 | 16/57 |
| Doncaster | 15.11a ~ 17.05d | 17.07 ~ 18.37 |
| Retford | 17/20 | 19/00 |
| Newark North Gate | 17/32 | 19/12 |
| Barkston South Jn | 17/40 | 19/20 |
| Grantham | 17/43 | 19/23 |
| Stoke | 17/47 | 19/25 |
| Tallington | 17/56 | 19/36 |
| Peterborough | 18/02 | 19/41 |
| Huntingdon | 18/13 | 19/53 |
| Sandy | 18/22 | 19/59 |
| Hitchin | 18/32 | 20/12 |
| Woolmer Green | 18/38 | 20/18 |
| Potters Bar | 18/45 | 20/28 |
| Wood Green | 18/52 | 20/37 |
| Finsbury Park | 18.56a ~ 18.58d | 20.41 ~ 20.51 |
| Canonbury Jn | 19/01 | 21/00 |
| Dalston Western Jn | 19L04 ~ 19L14 | 21.02 ~ 21.15 |
| Victoria Park | 19/20 | 21/21 |
| Channelsea Jn | 19/22 | 21/23 |
| Stratford | 19.25a ~ 19.27d | 21.26 ~ 21.28 |
| Temple Mills East Jn | 19.31 ~ 19.48 | 21.32 ~ 21.33 |
| Temple Mills West Jn | 19/52 | 21/34 |
| Tottenham South Jn | 19/57 | 21/35 |
| South Tottenham | 20/01 | 21/39 |
| Upper Holloway | 20/07 | 21/46 |
| Junction Road Jn | 20/14 | 21/53 |
| Carlton Road Jn | 20/17 | 21/57 |
| Cricklewood Jn | 20.21 ~ 20.23 | 22.09 ~ 22.11 |
| Dudding Hill | 20/28 | 22/16 |
| Neasden Jn | 20.33 ~ 20.45 | 22.53 ~ 23.02 |
| Neasden South Jn | 20/50 | 23/07 |
| Northolt Jn | 21/00 | 23/12 |
| West Ruislip | 21.05a ~ 21.06d | 23.17 ~ 23.18 |
| High Wycombe | 21.23a ~ 21.24d | 23.40 ~ 23.41 |
| Princes Risborough | 21.37a ~ 21.38d | 23.54 ~ 23.55 |
| Bicester | 21/50 | 00/13 |
| Aynho Jn | 21/59 | 00/24 |
| Banbury | 22.04a ~ 22.06d | 00.30 ~ 00.32 |
| Leamington Spa | 22.26a ~ 22.28d | 00.54 ~ ??.?? |
| Kenilworth | 22/35 | ? |
| Coventry | 22.42a ~ 22.44d | ? |
| Proof House Jn | 23/03 | ? |
| Birmingham New Street | 23.06a | ? |