29th September 1979
F & W Railtours
The East Anglian (Re-Run)
| | |
| --- | --- |
| Locos Used | 31322, 37240 & 40006 |
| Stock Used | 11 mark 1 coaches vb90mph (4xTSO, FK, BCK, RBR, 4xTSO) |
Route : 1Z86 throughout
| | |
| --- | --- |
| Loco(s) | Route |
| ?37240? | Cheltenham Spa - Abbotswood Jn - Norton Jn - Worcester Shrub Hill - Droitwich Spa - Kidderminster - Stourbridge Junction - Galton Jn - Soho South Jn - Birmingham New Street |
| 40006 | Birmingham New Street - Proof House Jn - St Andrews Jn - Bordesley Jn - Kings Norton - Barnt Green - Stoke Works Jn - Abbotswood Jn - Cheltenham Spa - Standish Jn - Stroud - Swindon - Didcot Parkway - Reading - Slough - Ealing Broadway - Acton Wells - Willesden Junction HL - Camden Road Jn - Dalston - Stratford - Chelmsford - Colchester - Ipswich - Saxmundham - Lowestoft |
| 31322 | Lowestoft - Reedham - Norwich |
| 40006 | Norwich - Thetford - Ely North Jn - March - Peterborough - Stamford - Manton Jn - Melton Mowbray - Syston South Jn - Leicester - Hinckley - Midland Jn - Abbey Jn - Water Orton - Birmingham New Street |
| 37240 | Birmingham New Street - Proof House Jn - St Andrews Jn - Bordesley Jn - Kings Norton - Barnt Green - Stoke Works Jn - Abbotswood Jn - Cheltenham Spa - Standish Jn - Stroud - Swindon - Reading |
Notes :
(1) Route & loco confirmation required prior to Reading. Andrew Young confirms the use of 37240 from Birmingham to at least Cheltenham Spa on the return. With no reversal at Gloucester is seems likely that 37240 worked through to Swindon.
Sources : various including Gordon Lacy (joined Reading, left March) & Andrew Young



Photo Review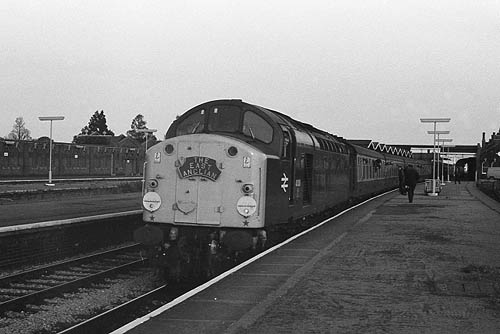 40006 departing March (photo: Gordon Lacy)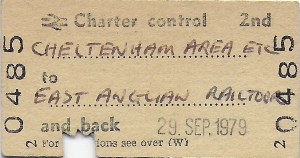 From Bob Mitchell's ticket collection.


Timings (Booked & Actual)
(from Gordon Lacy)
| | | |
| --- | --- | --- |
| Location | Booked | Actual |
| Cheltenham Spa | 06.30d | ? |
| Ashchurch | 06/38 | ? |
| Abbotswood Jn | 06/48 | ? |
| Worcester Shrub Hill | 09.55a ~ 07.00d | ? |
| Droitwich Spa | 07/08 | ? |
| Kidderminster | 07/19 | ? |
| Stourbridge Junction | 07.30a ~ 07.32d | ? |
| Galton Jn | 07/50½ | ? |
| Birmingham New Street | 08L00a ~ 08L10d | ? |
| Camp Hill | 08/19½ | ? |
| Kings Norton | 08/26 | ? |
| Barnt Green | 08/33 | ? |
| Stoke Works Jn | 08/38 | ? |
| Abbotswood Jn | 08/46 | ? |
| Ashchurch | 08/53 | ? |
| Cheltenham Spa | 09.00a ~ 09.02d | ? |
| Gloucester Yard Jn | 09/10 | ? |
| Standish Jn | 09/16 | ? |
| Stroud | 09.21a ~ 09.22d | ? |
| Kemble | 09/40 | ? |
| Swindon | 09.52a ~ 09.57d | ? |
| Challow | 10/10 | ? |
| Didcot Parkway | 10/17 | ? |
| Reading | 10.29a ~ 10.30d | ??.?? ~ 11.03½ |
| Twyford | 10/37 | 11/11 |
| Maidenhead | 10/42 | 11/18 |
| Slough | 10/46 | 11/24 |
| Southall | 10/53 | 11/31½ |
| Ealing Broadway | 10.57a ~ 10.58d | 11.38 ~ 11.39 |
| Acton | 11/00 | 11/43 |
| Acton Wells Jn | 11/05 | 11/45 |
| Willesden Junction HL | 11c07 ~ 11c09 | 11/47 |
| Camden Road Jn | 11/21 | 12/04 |
| Dalston Western Jn | 11/34 | 12/09½ |
| Victoria Park Jn | 11/39 | 12/14 |
| Canonbury Jn | 11/41 | 12/16 |
| Stratford | 11c44 ~ 11c46 | 12.17½ ~ 12.18 |
| Gidea Park | 11/57 | 12/29 |
| Shenfield | 12/06½ | 12/35½ |
| Chelmsford | 12/15 | 12/48½ |
| Witham | 12/23½ | 12/59½ |
| Marks Tey | 12/29 | 13/06 |
| Colchester | 12/36 | 13/10 |
| Manningtree | 12/44 | 13/16 |
| Ipswich | 12p55a ~ 13p05d | 13.29 ~ 13.31½ |
| Woodbridge | 13/23 | 13/45 |
| Saxmundham | 13/40 | 13/59 |
| Halesworth | 13/53 | 14/09½ |
| Beccles | 14/05 | 14/28 |
| Lowestoft | 14L20a ~ 15L00d | 14.45 ~ 15.11 |
| Oulton Broad North | 15p05a ~ 15p15d | 15/15 |
| Reedham | 15/33 | 15/31 |
| Norwich | 15L50 ~ 16L10 | 15.50 ~ 16.11 |
| Wymondham | 16/25½ | 16/25½ |
| Thetford | 16/45 | 16/45 |
| Ely North Jn | 17/13 | 17.08 ~ 17.09 |
| March | 17c34 ~ 17c36 | 17.28 ~ ??.?? |
| Whittlesea | 17/48 | ? |
| Peterborough | 18/00 | ? |
| Stamford | 18/18 | ? |
| Manton Jn | 18/36½ | ? |
| Oakham | 18/43½ | ? |
| Melton Mowbray | 18/53½ | ? |
| Syston South Jn | 19/07 | ? |
| Leicester | 19.14 ~ 19.16 | ? |
| Wigston North Jn | 19/22 | ? |
| Abbey Jn | 19/40 | ? |
| Whitacre Jn | 19/55 | ? |
| Water Orton East Jn | 20/05 | ? |
| Landor Street Jn | 20/16 | ? |
| Birmingham New Street | 20L20a ~ 20L30d | ? |
| Camp Hill | 20/39 | ? |
| Kings Norton | 20/47 | ? |
| Barnt Green | 20/54 | ? |
| Stoke Works Jn | 20/59 | ? |
| Abbotswood Jn | 21/09 | ? |
| Ashchurch | 21/11 | ? |
| Cheltenham Spa | 21.20a ~ 21.22d | ? |
| Gloucester Yard Jn | 21/32 | ? |
| Standish Jn | 21/37 | ? |
| Stroud | 21.42a ~ 21.43d | ? |
| Kemble | 21/58 | ? |
| Swindon | 22.11a ~ 22.13d | ? |
| Challow | 11/26 | ? |
| Didcot Parkway | 22/33 | ? |
| Reading | 22.50a | ? |