21st July 1979
R.C.T.S. / S.E.G.
Marchwood Volunteer No.2 Rail Tour
| | |
| --- | --- |
| DMU Used | Set L416 (formed: 51395+59505+51353) |
Route :
DMU
Route
as listed

London Waterloo – Windsor lines – Hounslow – Staines – Woking –

Fleet

–

Basingstoke – Winchester – Eastleigh – Fareham – Bedenham Exchange Siding

(1)

as listed
Bedenham Exchange Siding – Fareham – Southampton Central – Totton – Marchwood – Marchwood Military Port Model Room Platform (2)
as listed
Marchwood Military Port Port Gate Platform – Marchwood – Totton – Southampton Central – Fareham - Cosham – Havant – Petersfield – Guildford – Aldershot – Camberley – Ascot – Staines – Hounslow – Clapham Junction - (via Windsor lines) – London Waterloo
Notes :
(1) Was booked to run on RNAD lines at Gosport as folows: Bedenham Exchange Siding – Elson Gate - MOD Priddy's Hard Internal Track – Elson Gate - Bedenham Exchange Siding but did not due to industrial action (see below).
(2) Was booked to run from Model Room Platform to Hythe Frost Lane to enable tour patrons to visit the Hythe Pier Tramway. This was cancelled however due to an administrative error by B.R. A shuttle service was however arranged on the Marchwood Military Port Internal shuttle to the Jetty and back and this was hauled by an MoD diesel (see below for further details).
(3) David Sheppard has provided the following text from the letter given to passengers;
We very much regret that owing to an industrial dispute involving members of the Institution of Professional Civil Servants, the tour train will not be able to proceed onto the R.N.A.D. railway at Gosport today. It will not therefore be necessary for cameras to be collected. We profusely apologise for the disappointment this curtailment of the route may cause; we were only advised of it within the last week, after tickets had been dispatched. It is especially unfortunate that this situation has now arisen for the second successive year. It is now our intention to arrange a short tour incorporating the branch to Elson Gate, to run as soon as it can be arranged after settlement of the dispute. Further suggestions for future tours will be gladly received by the organisers, who may be found in the centre of the train.
Also within the past week, British Railways have advised us that owing to a misunderstanding, Department of Transport clearance for the tour train to run between Marchwood and Hythe has not been obtained. Unfortunately, although this is a straightforward procedure, the omission came to light too late for the necessary authority to be obtained.
However, after considerable efforts, arrangements have been made for a shuttle coach service to operate between Marchwood and Hythe Pier, so that the visit to Hythe Pier Railway can still take place. The coach will leave Marchwood (Port Gate) at 13.45, 14.45 and 15.45. There will be no extra charge for this. Tickets for the Pier Railway visit will specify a coach time; please ensure that you use only the coach at the time shown. Pier Railway tickets will be made available before arrival at Marchwood.
Please note that since the train will not be running to Hythe, it will depart from Marchwood later, viz:-
Marchwood (Port Gate Platform) 17.00d
Marchwood (B.R.) 17.10a 17.25d
Other timings, save for the omission of Elson Gate from the route, are generally as shown on P.6 of the printed itinerary. Notwithstanding the foregoing alterations, I nonetheless hope that you will enjoy the tour. B.W. Rayner 19th July 1979.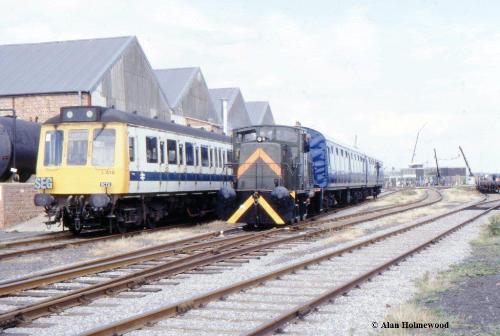 The tour, at Marchwood Military Port (photo: Alan Holmewood)
Sources : Andy Pullar, David Sheppard & Greg Beecroft



Timings (Booked & Actual)
(from Greg Beecroft & John Broderick)
M.C
Location
Booked
Actual
0.00
Waterloo
08.25d
08.25
2.50
Queens Road
08/30½
08/30½
3.71
Clapham Junction
08/35
08/32½
7.04
Barnes
08/38½
08/38
13.40
Hounslow
08/48
08/48½
14.40
Feltham Jn
08/50
08/50½
20.0?
Staines
08.59a ~ 09.00d
08.58 ~ 08.58½
24.22
Virginia Water
09/06
09/08
2?.14
Addlestone Jn
09/17
09/17
30.02
Byfleet Jn
09/19
09/18½
34.41
Woking Jn
09/26
?
57.43
Basingstoke
09.51a ~ 09.52d
09.52 ~ 09.53
60.04
Worting Jn
09/56½
09/57
76.28
Winchester
10/11½
10/13½
83.25
Eastleigh
10.21a ~ 10.22d
10.23½ ~ 10.26
88.64
Botley
10/33
10/37
94.12
Fareham
10.45a ~ 10.47d
10.52 ~ 11.12
?
Gosport Branch Shunt End
?
11.30 ~ 11.49½
97.26
Bedenham Siding
11.05a ~ 11.10d
11.53a
?
Elson Gate
11.30a ~ 11.35d
DIV
97.26
Bedenham Siding
11.55a ~ 12.16d
12.13d
?
Gosport Branch Shunt End
?
12.14½ ~ 12.18
100.40
Fareham
12.34a ~ 12.38d
12.38½ ~ 12.39
113.12
St Denys
12/56
12/58½
114.06
Northam Jn
12.58a ~ 13.02d
?
115.11
Southampton
13.05a ~ 13.06d
13.09 ~ 13.18
117.62
Redbridge
13/10
13/23
118.34
Totton
13/12½
13/25
122.03
Marchwood
13/22
13.32½ ~ 13.33
123.51
MoD Model Room Platform
13.32a or
13.32a ~ 15.45d
13.46½ ~ 16.48
125.19
Marchwood
15.55a ~ 16.05d
DIV (bus)
128.16
School Road Crossing
16.11a ~ 16.15d
DIV (bus)
129.06
Frost Lane
16.18a ~ 17.10d
DIV (bus)
129.76
School Road Crossing
17.13a ~ 17.21d
DIV (bus)
?
MoD Port Gate Platform
17.00d
?16.48d?
132.73
Marchwood
[17/27]
17.10a ~ 17.25d
16.56½ ~ 17.19½
136.42
Totton
17.34a ~ 17.35d
17/36
137.13
Redbridge
17/37
17/37
139.64
Southampton
17.41a ~ 17.43d
17.42½ ~ 17.43½
140.69
Northam Jn
17/46
?
141.63
St Denys
17/49
17.48½ ~ 17.52
154.35
Fareham
18.08a ~ 18.09d
18.13 ~ 18.13½
160.22
Cosham
18/18
18/20½
161.25
Farlington Jn
18/25
18/24
162.24
Havant
18.30a ~ 18.31d
18.29½ ~ 18.30½
173.68
Petersfield
18.49a ~ ??.??d
18/46½
185.59
Haslemere
19.02a ~ ??.??d
18/58
198.34
Guildford
19.22a ~ 19.23d
19.15 ~ 19.20½
204.57
Ash
19/33
19/32
206.02
Aldershot North Jn
19/35½
?
207.42
Aldershot
19.38a ~ 19.42d
19.38 ~ 19.42½
210.05
Ash Vale
19/46
19/46½
212.34
Frimley Jn
19/50
?
215.40
Camberley
19/55
19/54
221.73
Ascot
20/05
20/02½
227.58
Virginia Water
20/13
20/10½
231.72
Staines
20.21a ~ 20.22d
20.18½ ~ 20.19
237.40
Feltham Jn
20/29
?
238.40
Hounslow
20/31
20/29
244.76
Barnes
20/39½
20/37½
248.09
Clapham Junction
20/44½
20/41½
252.00
Waterloo
20.55a
20.50½