14th April 1979
Lea Valley Railway Club
The Highwayman
| | |
| --- | --- |
| Locos Used | 45008, 47109, 83011 & 86250 |
| Stock Used | 34525+15926+16168+16150+80038+3107+15670+15658+16196+16064+35048 |
Route : 1Z28 throughout
| | |
| --- | --- |
| Loco | Route |
| 86250 | London Euston – Watford Jn – Bletchley – Northampton |
| 45008 | Northampton – Market Harborough – Leicester – Trent – Lenton curve – Radford Jn – Trowell Jn – Chesterfield – Beighton – Rotherham – Normanton – Engine Shed Jn – Whitehall Jn – Skipton – Garsdale – Carlisle |
| 47109 | Carlisle – Tebay – Carnforth |
| 47109 | Carnforth – Giggleswick – Hellifield – Blackburn – Farington Jn – Euxton Jn – Bolton – Manchester Victoria – Miles Platting – Ashton Moss South Jn – Crowthorn Jn (1) – Denton Jn – Stockport |
| 83011 | Stockport – Macclesfield – Stoke-on-Trent – Norton Bridge – Stafford – Nuneaton – Rugby – Northampton (2) – Bletchley – Watford Jn – London Euston |
Notes:
(1) Booked route was via Guide Bridge with reversal in Brookside Sidings, presumed section cut out to regain time.
(2) Booked via Weedon.
(3) The tour was originally planned to cover various routes in the North East after reaching Carlisle but had to be changed following the collapse of Penmanshiel Tunnel on 17th March. Original advertised routing between Carlisle and Stockport was:
2 x Class 31 via Hexham (photo-stop), Norwood Jn, High Level Bridge to Newcastle (reverse). Thence via Blyth & Tyne to Morpeth, Newcastle, King Edward Bridge, Pelaw, Washington (photo-stop), Norton West Jn, Norton South Jn, Eaglescliffe, Boroughbridge Jn to York Avoiding Line.
2 x Class 20 York Avoiding Line via Selby, Gascoigne Wood Jn, Burton Salmon Jn, Pontefract Monkhill, Wakefield Kirkgate, Huddersfield, Stalybridge to Stockport.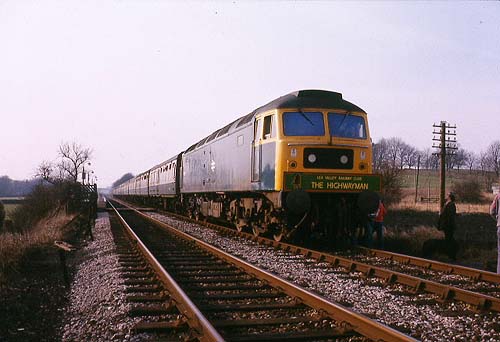 47109 pauses at Giggleswick (photo; LASERman)
Source : LASERman



Timings (Booked & Actual)
(from LASERman)
| | | |
| --- | --- | --- |
| Location | Booked | Actual |
| London Euston | 07.30d | 07.32 [FL] |
| Willesden Jn | 07/38½ | 07/39 |
| Watford Jn | 07.49a ~ 07.51d | 07.48 ~ 07.51½ |
| Hemel Hempstead | ? | 08/00½ [SL] |
| Tring | 08/02 | 08/08 |
| Bletchley | 08.??a ~ 08.15d | 08.28 ~ 08.29½ |
| Hanslope Jn | 08/26 | 08/39½ |
| Northampton | 08.35a ~ 08.45d | 08.49 ~ 09.01 |
| Lamport | 09/05 | 09/20 |
| Market Harborough | 09/25 | 09/38 |
| Kibworth | 09/31 | 09/45 |
| Wigston North | 09/41 | 09/52½ |
| Leicester | 09/47 | 09/57½ |
| Syston South Jn | 09/54 | 10/03 |
| Loughborough | 10/01 | 10/08½ |
| Trent Jn | 10/10 | 10/13½ |
| Trent | 10/11 | 10/14 |
| Lenton South Jn | 10/23 | 10.21 ~ 10.28½ |
| Lenton North Jn | 10/27 | 10/31 |
| Radford Jn | 10/33 | 10/33½ |
| Trowell Jn | 10/41 | 10/44 |
| Pye Bridge Jn | 10/52 | 10/53½ |
| Morton | 10/57 | 10/57½ |
| Clay Cross South Jn | 11/00 | 11/00½ |
| Chesterfield | 11/11 | 11/06½ |
| Beighton | 11/30 | 11/19½ |
| Rotherham | 11/51 | 11/34½ |
| Wath Road Jn | 12/01 | 11/48½ |
| Cudworth | 12/09 | 11/56½ |
| Normanton | 12/18 | 12/08 |
| Engine Shed Jn | 12.36 ~ 12.38 | 12.22½ ~ 12.28 |
| Whitehall Jn | 12/41 | 12.32 ~ 12.34 |
| Wortley Jn | 12/43 | 12/37 |
| Shipley Leeds Jn | 13/01 | 12/47½ |
| Keighley | 13/12 | 12/58 |
| Skipton | 13.27 ~ 13.29 | 13.12½ ~ 13.17 |
| Hellifield | 13/41 | 13/28½ |
| Settle Jn | 13/45 | 13/33 |
| Blea Moor | 14/05 | 14.03 ~ 14.07 |
| Garsdale | 14p15 ~ 14p25 | 14.17½ ~ 14.30½ |
| Ais Gill | 14/31 | 14/35 |
| Appleby | 14/49 | 14/52½ |
| Petteril Bridge Jn | 15/27 | 15/24½ |
| Carlisle | 15.31 ~ 15.51 | 15.27½ ~ 15.51 |
| Penrith | 16/07½ | 16/09 |
| Tebay | 16/22 | 16/24½ |
| Oxenholme | 16/31½ | 16/35 |
| Carnforth | 16.42 ~ 17.05 | 16.48 ~ 17.09 |
| Carnforth East Jn | 17/07 | 17/13½ |
| Wennington | 17/21 | 17/26 |
| Giggleswick | 17p37 ~ 17p47 | 17.43½ ~ 17.52½ |
| Settle Jn | 17/51 | 17/55½ |
| Hellifield | 17/56 | 18.01 ~ 18.27½ |
| Clitheroe | 18/18 | 18/48½ |
| Daisyfield Jn | 18/39 | 19/07½ |
| Blackburn | 18.41 ~ 18.43 | 19.11 ~ 19.25 |
| Cherry Tree | 18/46 | 19/29 |
| Bamber Bridge | 18/54 | 19/36½ |
| Lostock Hall Jn | 18/55½ | 19/39 |
| Farington Jn | 18/59 | 19/41 |
| Euxton Jn | 19/04 | 19/46 |
| Chorley | 19/09 | 19/52 |
| Lostock Jn | 19/20½ | 20/01½ |
| Bolton | 19/25 | 20/05 |
| Agecroft Jn | 19/34½ | 20/14 |
| Windsor Bridge | 19/36 | 20/16½ |
| Manchester Victoria | 19/43 | 20.22 ~ 20.27½ |
| Miles Platting | 19/47 | 20/33 |
| Ashton Moss North Jn | 19/53 | 20/40 |
| Ashton Moss South Jn | 19/54½ | 20/41 |
| Crowthorn Jn | ? | 20/43 |
| Guide Bridge | 20/00 | DIV |
| Brookside Sidings | 20.02 ~ 20.28 | DIV |
| Guide Bridge | 20/30 | DIV |
| Denton Jn | 20/32½ | 20/46 |
| Heaton Norris Jn | 20/37½ | 20/52½ |
| Stockport | 20.39 ~ 20.49 | 20.54 ~ 21.04 |
| Edgeley Jn | 20/50½ | 21/06 |
| Cheadle Hulme | 20/52½ | ? |
| Macclesfield | 21/01 | 21/18½ |
| Kidsgrove | 21/14 | 21/28½ |
| Etruria | 21/18½ | 21/33½ |
| Stoke-on-Trent | 21/21 | 21/35½ |
| Stoke Jn | 21/22½ | ? |
| Stone | 21/28 | 21/42½ |
| Norton Bridge | 21/36 | 21/49½ |
| Stafford | 21/41 | 21/57 |
| Whitehouse Jn | 21/45 | ? |
| Colwich | 21/46½ | 22/02 |
| Armitage | 21/50½ | ? |
| Lichfield TV | 21/54 | ? |
| Tamworth LL | 21/58 | ? |
| Nuneaton | 22/07 | 22/22 |
| Rugby | 22.21a ~ 22.23d | 22.35 ~ 22.40 |
| Weedon | 22/33½ | DIV |
| Northampton | DIV | 22/58½ |
| Hanslope Jn | 22/43 | 23/07½ |
| Bletchley | 22.51½a ~ 22.53d | 23.15½ ~ 23.16½ |
| Tring | 23/07 | 23/28½ |
| Watford Jn | 23.18a ~ 23.20d | 23.39 ~ 23.40 |
| Willesden Jn | 23/32 | 23/49½ |
| London Euston | 23.39a | 23.57 |