14th April 1979
D.A.A. Railtour Society
The Suburban Venturer
| | |
| --- | --- |
| Locos Used | 73127 & 73136 |
| Stock Used | 4TC sets 402 & 421 |
Route : 2Z68 throughout
| | |
| --- | --- |
| Loco | Route |
| 73127 | London Victoria - Stewarts Lane Jn - Clapham Junction - Balham - Selhurst - Sutton - Epsom Downs |
| 73127 | Epsom Downs - Sutton - Norwood Junction |
| 73136 | Norwood Junction - Selhurst - Clapham Junction - Factory Jct - Brixton - Blackfriars |
| 73136 | Blackfriars - Herne Hill - Tulse Hill - Balham |
| 73136 | Balham - Streatham North Jn - (via slow line spur) - Streatham South Jn - Tooting - Wimbledon - Epsom - Guildford |
| 73136 | Guildford - Ash - Aldershot - Alton |
| 73136 | Alton - Ascot - Staines |
| 73136 | Staines - Windsor |
| 73136 | Windsor - Staines - Hounslow - Barnes - Clapham Junction |
| 73136 | Clapham Junction - East Putney - Wimbledon - Motspur Park - Chessington South - Chessington Goods |
| 73136 | Chessington Goods - Chessington South - Motspur Park - Wimbledon - Clapham Junction - London Waterloo |
Notes:
(1) This tour was run to 'mop-up' track that was missed on the 20th January "Electro-Diesel Grice" tour (due to late running).
(2) Andrew Pullar comments: According to the itinerary for the 'Suburban Venturer' I still have in my possession the DAA charter was supposed to have run from Norwood Junction after the loco change to Balham via Crystal Palace rather than Selhurst and Norbury. I have no recollection why the route via Crystal Palace was changed.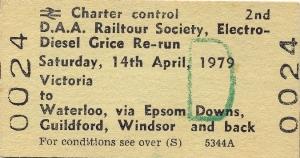 A tour ticket, courtesy of Brian Halford.
Sources : Ken Baldwin, Stew Robertson & Andrew Pullar



Timings (Booked & Actual)
(from John Broderick)
| | | |
| --- | --- | --- |
| Location | Booked | Actual |
| Victoria | 10.23d [SL] | 10.22½ |
| Battersea Pier Jn | 10/26 | ? |
| Stewarts Lane Jn | 10/28 | 10/28½ |
| Longhedge Jn | 10/29 | 10/29½ |
| Pouparts Jn | 10/32 [FL] | 10/35½ |
| Clapham Junction | 10/33 [SL] | 10/38 |
| Balham Jn | 10/37 | ? |
| Streatham Common | 10/40 | 10/44½ |
| Selhurst | 10*46 ~ 10*47 | 10.49 ~ 10.50½ |
| West Croydon | 10/50 | 10/54½ |
| Sutton | 11/00 | 11/02 |
| Epsom Downs | 11.08a ~ 11.20d | 11.10 ~ 11.23½ |
| Sutton | 11/28 | 11/30½ |
| West Croydon | 11/39½ | 11/39 |
| Norwood Junction | [FL] 11.43a ~ 11.55d [SL] | 11L48 ~ 12L16 |
| Selhurst | 11/59 | 12/19½ |
| Streatham Common | 12/04 | 12/23½ |
| Balham Jn | 12/08½ [SL] | ? |
| Clapham Junction | 12*13½ ~ 12*14 | 12.37½ ~ 12.40 |
| Pouparts Jn | 12/15½ | 12/43 |
| Longhedge Jn | 12/17 | ? |
| Factory Jn | 12*20 ~ 12*27 | 12/46 |
| Brixton | 12/31 | 12/49½ |
| Loughborough Junction | 12/37 [SL] | 12/57 |
| Blackfriars | 12.44a ~ 12.51d [SL] | 13.00½ ~ 13.06½ |
| Loughborough Junction | 12/58 | 13/13½ |
| Herne Hill | 13*01 ~ 13*03 | 13/16½ |
| Tulse Hill | 13/06 | 13/19 |
| Streatham Hill | 13/10 | 13.26½ ~ 13.28½ |
| Balham | 13.14a ~ 13.19d [SL] | 13.32½ ~ 13.36½ |
| Streatham Jn | 13/23 | 13/40½ |
| Wimbledon | 13*33 ~ 13*34 | 13/49½ |
| Raynes Park | 13/37 | 13/52 |
| Motspur Park | 13/39 | 13/53½ |
| Epsom | 13*48 ~ 13*50 | 14/00 |
| Leatherhead | 13/57 | 14/08½ |
| Effingham Junction | 14*11 ~ 14*12 | 14/14½ |
| Guildford | 14.30a ~ 15.41d | 14.38 ~ 15.47 |
| Ash | 15/51 | 15/55 |
| Aldershot Jn | 15/53 | ? |
| Aldershot | 15/55½ | 16/02 |
| Farnham | 16/00½ | 16/06 |
| Alton | 16.12½a ~ 16.27d | 16.24½ ~ 16.35 |
| Farnham | 16/39½ | 16/45 |
| Aldershot | 16/44½ | 16/49 |
| Ash Vale | 16/47 | 16/52 |
| Frimley Jn | 16/51 | 16/57½ |
| Camberley | 16/55 | 17/01 |
| Ascot | 17/03 | 17/08 |
| Virginia Water | 17/18 | 17/16 |
| Staines | 17.29½a ~ 17.38½d | 17.29 ~ 17.36½ |
| Windsor | 17.50a ~ 17.56d | 17.48 ~ 17.56 |
| Staines | 18/10 | 18/11½ |
| Feltham Jn | 18/18 | ? |
| Hounslow | 18/20 | 18/21 |
| Barnes | 18*30 ~ 18*34 | 18.31 ~ 18.31½ |
| Clapham Junction | 18.40a ~ 18.49d [FL] | 18.36 ~ 18.53½ |
| Point Pleasant Jn | 18/53 | ? |
| East Putney | 18/56 | 18/59 |
| Wimbledon | 19/05 [SL] | 19/05½ |
| Raynes Park | 19/08 | 19/08 |
| Motspur Park | 19/10 | 19/10 |
| Chessington South | 19.17a ~ 19.18d | 19.17½ ~ 19.18½ |
| Chessington Goods | 19.19a ~ 19.28d | 19.21½ ~ 19.24½ |
| Chessington South | 19/29 | 19/26½ |
| Motspur Park | 19/36 | 19/31 |
| Raynes Park | 19/38 [SL] | 19/34½ |
| Wimbledon | 19/41 | 19/36½ |
| Clapham Junction | 19/45½ | 19/40½ |
| Waterloo | 19.52a | 19.47½ |