16th - 18th March 1979
British Rail
'Nessie Special' (Merrymaker Excursion to Aberdeen & Inverness)
| | |
| --- | --- |
| Locos Used | 25026, 25068, 25079, 27016, 47089, 47193, 81020, 86036 & 862xx |
Route :
| | | |
| --- | --- | --- |
| Dates(s) | Loco(s) | Route |
| 16/03 | 47089 | Ealing Broadway - Hayes & Harlington - Slough - Reading - Oxford - Solihull - Bordesley Jn - Birmingham New Street |
| 16/03-17/03 | 81020 | Birmingham New Street - Wolverhampton - Stafford - (via WCML, Crewe Independent Lines) - Motherwell - Mossend Yard |
| 17/03 | 27016 + 25079 | Mossend Yard - Stirling - Perth - Dundee - Aberdeen (1c) |
| 17/03-18/03 | 25068 + 25026 | Aberdeen - Perth - Mossend Yard |
| 18/03 | 862xx | Mossend Yard - Carlisle |
| 18/03 | 47193 | Carlisle - (via S&C) - Hellifield - Clitheroe - Lostock Hall Jn |
| 18/03 | 86036 | Lostock Hall Jn - Crewe - Birmingham New Street |
| 18/03 | 47089 | Birmingham New Street - Bordesley Jn - Solihull - Oxford - Ealing Broadway |
Notes :
(1) Due to severe late running (see tour review) and adverse weather the train did not go to Inverness as planned. Nigel Giles records the reasons for delays as follows;
a) left 90mins late due to no guard
b) Sat south of Crewe for 3 and a half hours in the middle of the night all other sleeper services getting priority
c) train terminated at Aberdeen; when it departed again there was no heating or water on board
Sources : Chris Morley & Nigel Giles



Tour Review
(from Chris Morley)
This was a very ambitious and memorable WR 'Merrymaker' adex. It started from Ealing Broadway on the Friday evening towards the end of the rush hour behind a class 47, bound for Aberdeen & Inverness. I joined the train at Hayes & Harlington with my mate Brian. The cost of this mega-trip was £9 adult & £5 child (under 16 years). There was even an option to visit Loch Ness! In theory we would return home at 10am on the Sunday morning. It didn't quite work as planned....
At Birmingham New Street the 47 came off and after a short wait 'Roarer' 81020 came on. After passing through Wolverhampton & Stafford there was a major farce just before Crewe. On the down slow line a few miles before Basford Hall we ground to a halt at a red signal, and sat there for many hours. On the down fast an 87 hauled rake of early mk2s heading to Liverpool was also stuck. At roughly 5am our train started to move again and the excursion was routed slowly through Basford Hall yard and the independent lines, avoiding Crewe station altogether. The 81 then flew along the snow covered WCML as the sun rose, albeit running roughly 6-7 hours late! At Mossend yard the roarer came off to be replaced by 27016 leading 25079. At Stirling we were advised that the Inverness option was being abandoned due to adverse weather and delays! 20228 was spotted at this point.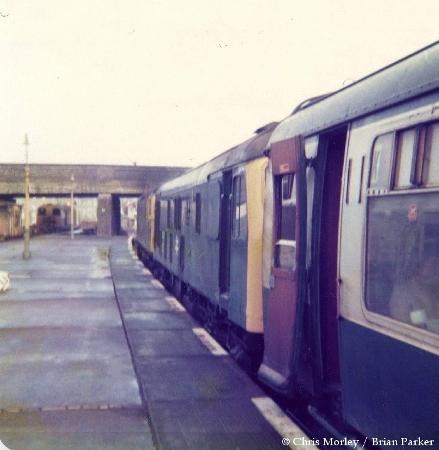 27016, 25079 & 20228 share platforms at Stirling (photo: Chris Morley)
At Dundee the adex halted again & we leapt off. Why? - to sample 27044 back to Perth on a Queen St working. We didn't hang around long at Perth and 26039 was taken back to Dundee. I think we then did 26010 /017 on a move to / from Arbroath before finally catching 26037 from Dundee all the way to Aberdeen, arriving several hours after the adex. Typically it was misty and freezing in Aberdeen, with slushy snow on the platform. I recall spending some of my meagre pocket money on soup from the Travellers Fare buffet to stave off hypothermia.
Some hours later the stock reversed into the platform, and as we clambered onboard we were happy to note that the train was already nice & warm. I walked up to the front to be greeted by the very pleasing sight of 25026 & 25068 spluttering away to themselves, wreathed in steam. On departure (at roughly 21.00 hours) we decided the front windows were the place to be. As the rats climbed the gradient over the clifftops towards Stonehaven I was torn between appreciating the thrash and suffering the pain of sub-zero winds! After a while it got too cold to bear. After nearly 28 hours on the go we retreated back to our seats and fell asleep instantly. The next thing I remember is the clunk of the buffers, followed by the sound of the rats chugging away from the train. Looking out of the window in the early hours I realised we were back at Mossend Yard. After a short while an 86/2 (either 240 or 246 I believe) appeared and buffered up. I didn't feel the need to listen to it and feel asleep again.
Next thing I knew was more clunking at Carlisle as the 86 came off, to be replaced by a steam-heat 47 (possibly 193 but I can't be sure). The train lurched off to the left and I realised I was about to have my first trip on the S&C. Daylight came after an hour or so, and the morning sun shone brightly over a white blanket of snow as the 47 chugged up the hill towards Ais Gill. Soon the train slowed to a crawl as the height of the snow got higher & higher. At one point the train was in a narrow cutting with the snow piled up to the roof of the 47 (10-11 feet deep!) The Northbound line wasn't even visible under the drifts. As we reached Blea Moor sidings I saw another 47 ticking over with a huge snowplough at each end. I guess it had just cleared our running line and looked to be ready to tackle the other line. Once off the moor the train soon picked up speed and quickly reached Hellifield, before turning right. At Clitheroe I was astonished to glimpse a dusty 'Clayton' no. D8568 shunting wagons at the cement works, it's exhaust rising high into the frosty air. At Lostock Hall we came back under the wires and swapped the class 47 for 86036. This loco made a very spirited run up the WCML, the driver totally ignoring the 80mph limit on it's cabside. Arrival back at New Street was around midday. Here yet another 47 appeared & coupled up (the 10th different loco). I can't remember it's identity, but I guess it was dud as we decided to remain at New Street to see what else would produce. For the normal passengers who wanted to get home, I guess they arrived back at Hayes & Ealing sometime after 2pm, over four hours late! Amazing to think that people in those days were willing to do such a long trip, suffering two overnights on their weekend off.
Chris Morley



Timings (Booked & Actual)
(from Nigel Giles)
Location
Booked
Actual
Booked
Actual
Ealing Broadway
?
90mins late
?
Hayes & Harlington
18.??d
?
?
Slough
?
?
??.??a ~ ??.??d
16.20 ~ ??.??
Birmingham New Street
??.??a ~ ??.??d
110mins late arriving
150misn late departing
Crewe (south of)
-
sat approx. 3.5hrs
Mossend Yard
?
approx. 7.5hrs late arriving
Aberdeen
?
13.30 ~ 23.40