3rd March 1979
6000 Locomotive Association Railtours
The Shakespeare Venturer
| | |
| --- | --- |
| Locos Used | 47111 & steam: 5900 'Hinderton Hall' & 7029 'Clun Castle' |
| Stock Used | 10 ex-GW Great Western Society coaches (11 with 5900 & 12 with 7029) |
Route : 1Z18 throughout
| | |
| --- | --- |
| Loco | Route |
| 47111 | Cardiff Central – Newport – Severn Tunnel Junction - Pilning - Bristol Parkway – Wootton Bassett Jn - Swindon – Didcot Parkway |
| 5900 | Didcot Parkway – Oxford – Banbury – Dorridge |
| 7029 | Dorridge – Hatton West Jn - Bearley Jn - Stratford-on-Avon |
| 7029 | Stratford-on-Avon – Bearley Jn - Leamington Spa |
| 5900 | Leamington Spa – (reverse of outward route) – Didcot Parkway |
| 47111 | Didcot Parkway – (reverse of outward route) - Cardiff Central |
Notes :
(1) Brian Basterfield records this tour as having been run by the Great Western Society.
(2) The Didcot - Dorridge and Leamington Spa - Didcot sections were originally booked for haulage by 6000 'King George V'.
(3) Brian Basterfield comments: This was a tour to forget. Quite simply, 5900 Hinderton Hall was not up to the job. Whether there was a problem with the locomotive, or just poor coal, I don't know. Although the locomotive was blowing off most of the way to Oxford, by Wolvercot Junction speed was dropping, and we had to stop for 8 minutes before Kidlington for a blow up. Thereafter we ambled along clearly in trouble. So we were 51 minutes down by Banbury. Another 11 minutes were dropped to Leamington Spa, but then the loco gave us a surprisingly good run up Hatton bank, not falling below 40 mph. But we were 73 minutes late arriving at Dorridge. 7029 Clun Castle backed down on to the rear, and we were heading south again 12 minutes later, a smart piece of work. But we were held at Hatton North, and as a result, were 71 mins late into Stratford. But by cutting an hour off the time allowed at Stratford, we were able to depart only 11 minutes down. A heavy bout of slipping on departure cost us 2 minutes. This was followed by signal checks at Warwick, and so 7029 was 24 late into Leamington, where 5900 was to take over. The big question was, would Hinderton Hall perform any better on the return journey?. The answer was no. 18 minutes late away, we immediately dropped another 17 minutes to Banbury, taking over 42 minutes unchecked for the 19.8 miles. After taking water, things slightly improved on to Oxford and Didcot, there was only another 5 minutes lost. We were 26 minutes late in (having saved 14 minutes taking water at Banbury).
Sources : Ian Monkton (joined/left the train at Bristol Parkway), Brian Basterfield
& Jim Sparks (joined/left the train at Newport)



Photo Review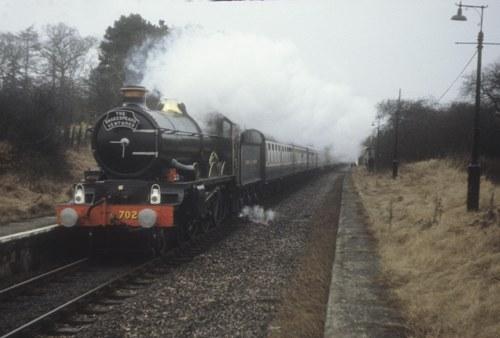 7029 steams through Claverdon (photo: Bernard Mills)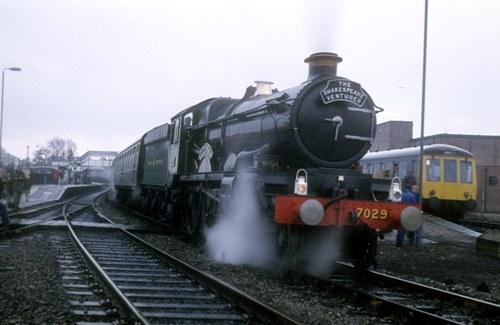 7029 waits to leave Stratford-upon-Avon (photo: Bernard Mills)


Timings (Booked & Actual)
(from Brian Basterfield & Jim Sparks)
Miles
Location
Booked
Actual
Booked
Actual
Miles
0.0
Cardiff Central
09.10d
?
22.10a
?
160.7
11.8
Newport
09.24a ~ 09.26d
??.?? ~ 09.26
21.51a ~ 21.53d
21.59 ~ ??.??
148.9
21.6
Severn Tunnel Junction
09/36
09/36
21/40½
21/49
139.1
22.4
Severn Tunnel West
09/37
09/37
21/39½
21/48
138.3
28.6
Pilning
09/43
09/47
21/34½
21/42
132.1
32.1
Patchway
09/49
09/52
21/32
21/38
128.6
33.4
Bristol Parkway
09.51a ~ 09.53d
09.53 ~ 09.55
21.27a ~ 21.29d
21.33 ~ 21.36
127.3
38.1
Westerleigh Jn
09/59
10/00
21/23
?
122.6
51.1
Hullavington
10/12
10/12
21/13
?
109.6
62.3
Wootton Bassett Jn
10/22
10/20
21/05
?
98.4
67.9
Swindon
10.33a ~ 10.41d
10.30 ~ 10.41
20.55a ~ 20.57d
21.1 ~ 21.04
92.8
81.8
Challow
10/54
10/53
20/39
?
78.9
92.1
Didcot Parkway
11L02a ~ 11L27d
11.03 ~ 11.28
20L00a ~ 20L28d
20.26 ~ 20.37
68.6
102.9
Oxford
11/42
11/58
19/45
20/08
57.8
105.8
Wolvercot Jn
11/47
12/04
19/40
20/02
54.9
114.7
Heyford
11/58
12/36
19/23
19/51
46.0
120.6
Aynho Jn
12/05
12/49
19/16
19/39
40.01
125.7
Banbury
12w12a ~ 12w42d
13.03 ~ 13.35
18w39a ~ 19w09d
19.14 ~ 19.30
35.0
145.5
Leamington Spa
13/05
14.09 ~ 14.10
17L32a ~ 18L14d
17.56 ~ 18.32
15.2
151.7
Hatton
13/1
14/20
17/24
17/37
9.0
158.4
Dorridge
13L22a ~ 13L48d
14.36 ~ 14.48
165.2
Hatton West Jn
13/59
14.58 ~ 15.03
17/22
17/34
8.9
169.8
Bearley Jn
14/06
15/17
17/14
17/27
4.3
174.1
Stratford-upon-Avon
14.12a
15.23
17.06d
17.17
0.0