6th May 1978
Lea Valley Railway Club
The Camel Train
| | |
| --- | --- |
| DMU Used | B803 (51450+59546+51522) + C558 (?51579?+?59264?+51588) |
Route : (two round trips made)
| | |
| --- | --- |
| DMU | Route |
| as listed | Plymouth - Saltash - Liskeard - Bodmin Road - Bodmin General |
| as listed | Bodmin General - Boscarne Jn - Wadebridge |
| as listed | Wadebridge - Boscarne Jn - Bodmin General |
| as listed | Bodmin General - (reverse of outward route) - Plymouth |
Notes :
(1) Originally uploaded as having run on 8th May, in error (confirmed by ticket scan on another Website, showing date clearly as Saturday 6th May).
(2) Two round trips were made. The £2.50 tour ticket entitled the traveller to all day travel between any of the stations.
(3) Confirmation of two vehicles in set C558 shown with ?'s is required - they are taken from an Ian Allan 'Combined Volume' of the time.
Sources : John Broderick, Peter Richards & NickBartlett/Brian King



Photo Review

Two photos showing the train at Wadebridge (photos: Brian King)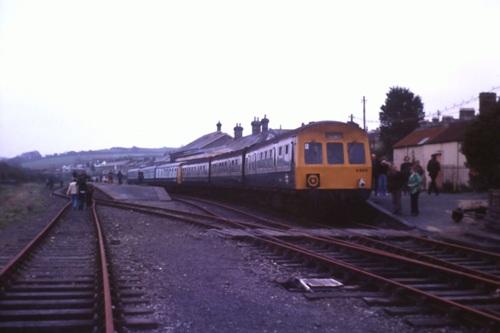 Timings (Booked & Actual)
(from John Broderick, Dave Higson & Bill Lynch)
Morning Run
| | | | | | |
| --- | --- | --- | --- | --- | --- |
| Location | Booked | Actual | | Booked | Actual |
| Plymouth | 08.00d | ? | | 12.15a | 13.18 [P8] |
| Liskeard | ??.??a ~ 08.28d | ??.?? ~ 08.28 | | 11.41a ~ ??.??d | ? |
| Bodmin General | 09.00a ~ 09.05d | ? | | 11.05a ~ 11.10d | ? |
| Wadebridge | 09.40a | 09.46 | | 10.30d | 10.30d |
Afternoon Run
| | | | | | |
| --- | --- | --- | --- | --- | --- |
| Location | Booked | Actual | | Booked | Actual |
| Plymouth | 14.00d | 14.21½ | | 17.55a | 17.56½ |
| Liskeard | 14/28 | 14.46a ~ 14.47½d | | 17/26 | 17.31a ~ 17.31½d |
| Bodmin Road | ? | 15.00a ~ 15.06d | | ? | 17.14a ~ 17.18d |
| Bodmin General | 15.00a ~ 15.05d | 15.20½ ~ 15.27½ | | 16.50a ~ 16.55d | 16.54½ ~ 17.00 |
| Boscarne Jn | ? | 15.39½a ~ 15.42d | | ? | 16.39½ ~ 16.43½ |
| Wadebridge | 15.40a | 16.04½ | | 16.15d | 16.16 |