25th March 1978
S.L.O.A.
The Norfolkman
| | |
| --- | --- |
| Locos Used | 40109, 85021 & 86204 & steam: 4771 'Green Arrow' |
Route : 1Z80 throughout
| | |
| --- | --- |
| Loco | Route |
| 85021 | London Euston - (via WCML, Weedon & Trent Valley) - Crewe - Sandbach - Stockport |
| 40109 | Stockport - Ashton Moss South Jn - OA & GB Jn (2) - Stalybridge - Standedge Tunnel - Huddersfield - Dewsbury - Leeds |
| 4771 | Leeds - Shipley - Keighley - Skipton - (via S&C) - Carlisle |
| 86204 | Carlisle - (via WCML, Trent Valley & Northampton) - London Euston |
Notes :
(1) Organised by the Steam Locomotive Operators Association (S.L.O.A.) to celebrate the return to steam on the Settle & Carlisle line and as a tribute to D.W. 'Bill' Harvey for his contribution to steam preservation.
(2) Originally uploaded as going via Guide Bridge.
Sources : Alex Cunningham (joined the train at Crewe, left at Carlisle), Peter Cooper & Harry Harper



Photo Review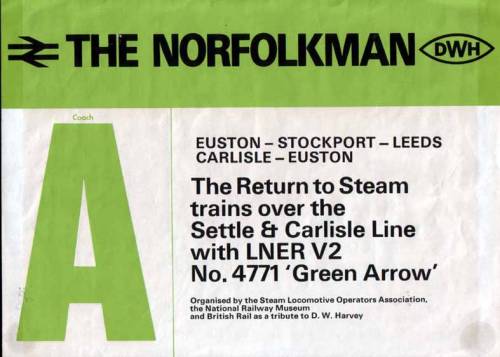 The train route descriptor, from coach A.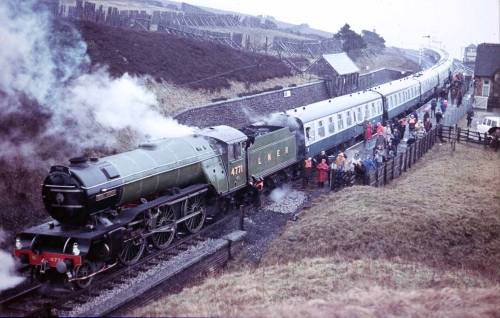 4771 at Dent during a photostop (photo: Peter Cooper)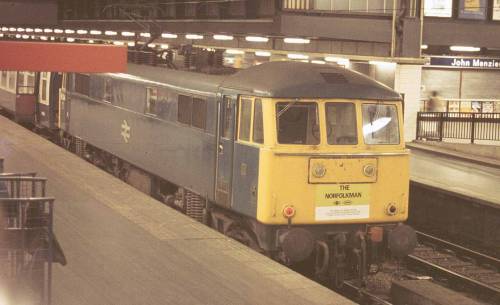 86204 back at Euston at the end of the tour (photo: Peter Cooper)


Timings (Booked & Actual)
(from Peter Cooper)
Miles
Location
Booked
Actual
0.0
Euston
08.07d
08.09
5.3
Willesden Junction
08/13½
?
17.4
Watford Junction
08.23a ~ 08.24d
08.23 ~ 08.25
31.7
Tring
08/35
08/38
46.6
Bletchley
08.46a ~ 08.47d
08.49 ~ 08.50
59.8
Roade
?
09/01
82.5
Rugby
09/14½
09/16
116.3
Lichfield TV
09/39
09/43
133.5
Stafford
09/54
09/56
158.0
Crewe
10.15a ~ 10.17d
10.15 ~ 10.17
162.6
Sandbach
10/24½
10/25
183.0
Stockport
10L48a ~ 10L58d
10.41 ~ 10.55
?
Ashton Moss South Jn
?
11/09
199.4
Diggle Jn
11/31
11/31
210.4
Huddersfield
11/50
11/45
?
Thornhill LNW Jn
?
11/54
?
Dewsbury
?
11/55
222.9
Morley
12/13
11/59
227.5
0.00
Leeds
12L24a ~ 12L46d
12.10 ~ 12.35
0.9
Wortley Jn
12/50
12/39
10.7
Shipley, Leeds Jn
13/04
13/00
13.6
Bingley
?
13/05
17.0
Keighley
13/15
13/10
26.2
Skipton
13c28a ~ 13c29d
13.22 ~ 13.26
29.9
Gargrave
?
13/33
36.0
Hellifield
13w48a ~ 14w08d
13.44 ~ 14.09
37.2
Long Preston
?
?
39.3
Settle Jn
14/15
14/15
?
Settle
?
14/17
?
Ribblehead
?
14/43
53.3
Blea Moor
14/43
14/47
58.2
Dent
14p55a ~ 15p15d
14.57 ~ 15.15
61.4
Garsdale
15w24a ~ 15w54d
15.24 ~ 15.52
64.5
Ais Gill summit
16/01
15/57
?
Kirkby Stephen West
?
16/05
83.0
Appleby
16/22
16/16
103.2
Armathwaite
16.50a ~ 17.10d
16.43 ~ 17.05
111.9
Petteril Bridge Jn
17/25
17/19
112.8
0.00
Carlisle
17L28a ~ 17L45d
17.23 ~ 17.45
17.9
Penrith
18/01½
18/00
37.1
Tebay
18/16
18/14
63.0
Carnforth
18/34
18/34
90.1
Preston
18/56
18/52
117.0
Warrington
19/16½
19/19
124.6
Weaver Jn
19/22
19/26
141.4
Crewe
19c38a ~ 19c40d
19.43 ~ 19.46
165.6
Stafford
20/02½
20/06
182.9
Lichfield TV
20/16½
20/18
216.6
Rugby
20/45
20/45
235.6
Northampton
21/01½
21/03
254.8
Bletchley
21.19½a ~ 21.21½d
21.22 ~ 21.23
268.8
Tring
21/33½
21/36
284.0
Watford Junction
21.44a ~ 21.46d
21.49 ~ 21.51
296.2
Willesden Junction
21/58
22/03
301.5
Euston
22.05a
22.10