19th February 1978
Railway Pictorial Publications Railtours
The Deltic Ranger Railtour
| | |
| --- | --- |
| Loco Used | 55018 'Ballymoss' |
| Stock Used | 4206+4233+4753+21185+13347+13352+4763+4758+4215+25644+5181+1913 |
Route : 1Z15 throughout
| | |
| --- | --- |
| Loco | Route |
| 55018 | London Paddington - Slough - Maidenhead - Reading - Didcot Parkway - Swindon - Westerleigh Jn - Bristol Parkway - Filton Jn - Stapleton Road - Bristol Temple Meads |
| 55018 | Bristol Temple Meads - (reverse of outward route) - London Paddington |
Notes :
(1) This tour was advertised to take a Deltic from Paddington to Paignton for a return trip over the Paignton & Dartmouth Steam Railway using preserved Westerns D1013 and D1062. In the event severe blizzards in the West Country halted the trains progress at Bristol. The tour was turned back, arriving back at Paddington a mere 7 hours early! An attempt was made by the organisers to get the train routed back to via Birmingham to London but this was not possible due to the short notice to secure paths/crews. Original booked route : Paddington - Reading - Didcot - Swindon - Bristol Parkway - Bristol Temple Meads - Bathampton Jn - Westbury - Frome - Castle Cary - Exeter St Davids - Newton Abbot (change to class 46) - Paignton (change to class 52) - Kinsgwear. Return: Kingswear - Paignton (change back to class 46) - Newton Abbot (change back to 55018) the as outward to Taunton then via Bridgwater to Bristol Temple Meads then via Chippenham to Swindon - Didcot - Reading - Paddington.
Sources : Gary Thornton (On the train throughout), Stew Robertson, Nigel Rollings & John Debens



Tour Review
(by Gary Thornton)
My first ever railtour - and what a way to start with a Deltic out of Paddington! Myself and two friends, Bruce and Guy, were dropped off at Paddington by Guys Father. 55018 'Ballymoss' was already in waiting for departure.
All these years later I cannot say I remember that much about the outward journey to Bristol, though I recall seeing many 'Westerns' in the scrapline as we passed Swindon works. Also present was 'the other' 55018 - single car DMU no. W55018. Other numbers recorded included; 03025, 03159, 24052, D818, D821, D7029, D1015 & D1056
I remember us stopping at Bristol Parkway where there was quite a lot of snow - which led to a snowball fight between those on the platform and some on board our train!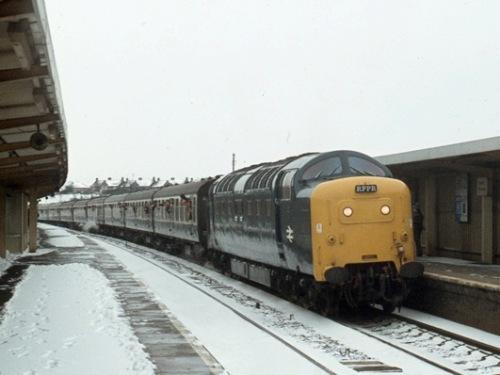 55018 'Ballymoss' pulls into Bristol Parkway station (photo: Peter Lovell)
On arrival at Bristol Temple Meads it became clear that all was not well - very bad weather in the West Country meant all services were severely disrupted. The powers that be decided they would not allow the tour to proceed any further west so 'Ballymoss' was detached and ran round the train. As I was in the cab at the time I was quite pleased as we weren't thrown out!
We headed back to London amidst early rumours of being routed via Birmingham but in the event we simply retraced our steps for a seven-odd hour early arrival back into Paddington (a record for a railtour?). I think there was a repeat of the snowball fight at Bristol Parkway on our way back!
Being in the days before mobile phones we were stuck until our lift home arrived (Guys Father having stayed in London for the day) so we spent the afternoon 'spotting' on Paddington station. Cab rides between platforms in 50022 & 50038 helped relieve the boredom. My records show that we also cabbed HST power cars 43002 & 43018.
All in all not the best start to a railtouring 'career', but at least I have withered a few people when I tell them my first recorded Deltic haulage was between Paddington and Bristol!!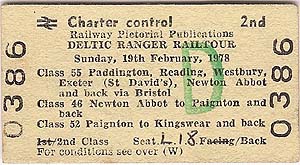 Gary Thornton's ticket.


Timings (Booked & Actual)
(courtesy of John Clifford)
It's interesting to realise that, in those days, the tour booklet (with photos and timings) was actually SOLD onboard the train - for 25p - not included in the tour price like nowadays.
| | | |
| --- | --- | --- |
| Location | Booked | Actual |
| London Paddington | 08.15d | 08.15 |
| Southall | 08/28 | 08/28 |
| Slough | 08/35 | 08/34 |
| Maidenhead | 08/41 | 08/38 |
| Twyford | 08/47 | 08/47 |
| Reading | 08.51a ~ 08.52d | 09.00 ~ 09.02 |
| Didcot | 09/08 | 09/08 |
| Challow | 09/18 | 09/23 |
| Swindon | 09/28 | 09.37a ~ 09.38d |
| Wootton Bassett | 09/33 | 09/46 |
| Hullavington | 09/41 | 09/54 |
| Westerleigh Jn | 09/51 | 10/03 |
| Bristol Parkway | 09.55a ~ 09.56d | 10.10 ~ 10.24 |
| Lawrence Hill | 10.03a ~ 10.05d | 10.33 ~10.36 |
| North Somerset Jn | 10/07 | DIV |
| Bathampton Jn | 10/22 | DIV |
| Bradford Jn | 10/34 | DIV |
| Westbury | 10.42a ~ 40.45d | DIV |
| Fairwood Jn | 10/48 | DIV |
| Clink Road Jn | 10/52 | DIV |
| Frome | 10.55a ~ 11.05d | DIV |
| Blatchbridge Jn | 11/08 | DIV |
| Castle Cary | 11/22 | DIV |
| Taunton | 11.47a ~ 11.49d | DIV |
| Whiteball Jn | 12/01 | DIV |
| Cowley Bridge Jn | 12/18 | DIV |
| Exeter St. Davids | 12/20 | DIV |
| Dawlish Warren | 12/33 | DIV |
| Newton Abbot | 13L05a ~ 13L15d | DIV |
| Paignton | 13L30a ~ 14L00d | DIV |
| Churston | 14.15a ~ 14.35d | DIV |
| Kingswear | 14.50a ~ 15.20d | DIV |
| Paignton | 15L45a ~ 17L00d | DIV |
| Newton Abbot | 17L15a ~ 17L25d | DIV |
| Dawlish Warren | 17/36 | DIV |
| Exeter St. Davids | 17/48 | DIV |
| Cowley Bridge Jn | 17/50 | DIV |
| Whiteball Tunnel | 18/07 | DIV |
| Taunton | 18/15 | DIV |
| Bridgwater | 18/25 | DIV |
| Uphill Jn | 18/35 | DIV |
| Bristol Temple Meads | 18.52a ~ 18.55d | 10.59 ~ 12.28 |
| North Somerset Jn | 18/57 | DIV |
| Bathampton Jn | 19/11 | DIV |
| Chippenham | 19/20 | DIV |
| Lawrence Hill | DIV | 12/31 |
| Bristol Parkway | DIV | 12/37 |
| Westerleigh Jn | DIV | 12/43 |
| Hullavington | DIV | 12/54 |
| Wootton Bassett | 19/30 | 13/03 |
| Swindon | 19/35 | 13/07 |
| Challow | 19/45 | 13/18 |
| Didcot | 19/54 | 13/27 |
| Reading | 20.07a ~ 20.09d | 13.41 ~ 13.44 |
| Twyford | 20/15 | 13/50 |
| Maidenhead | 20/20 | 13/56 |
| Slough | 20/24 | 13/59 |
| Southall | 20/30 | 14/05 |
| Paddington | 20.42a | 14.15 |