29th January 1978
Railway Pictorial Publications Railtours
The Deltic Dragon
| | |
| --- | --- |
| Locos Used | 20030, 20142 & 55018 'Ballymoss' |
| Stock Used | 4430+4206+4233+4753+21185+13347+13352+4763+4758+4215+4764 |
Route : 1Z08 throughout
| | |
| --- | --- |
| Loco(s) | Route |
| 55018 | London Paddington - Reading - (via Didcot avoiding line) - Oxford - Evesham - Worcester Shrub Hill |
| 55018 | Worcester Shrub Hill - Ashchurch - Cheltenham Spa - Gloucester - Chepstow - Severn Tunnel Junction - Newport - Cardiff Central |
| 20030 + 20142 | Cardiff Central - Leckwith Jn - Radyr - Pontypridd - Treherbert |
| 20142 + 20030 | Treherbert - Pontypridd - Radyr - (1) Leckwith Jn - (1) Cardiff Central |
| 55018 | Cardiff Central - Newport - Severn Tunnel Junction (2) - Chepstow - Gloucester - Stroud - Swindon - (via GWML) - London Paddington |
Notes :
(1) Gordon Lacy comments: Although the return was advertised back via Queen Street, the STN showed only the locations/times as above. As a consequence, 'the powers that be' routed the train back via the outward route, to the dismay of the Deltic fans who were expecting to be at the front, both ways!
(2) Train was held at Severn Tunnel Junction due to a points failure in the area.
Sources : John Nelson, Eric Rush, Clive Barlow, Adrian Brown, Gordon Lacy (joined/left the train at Cardiff Central) & John Debens



Photo Review
(all photos: Gordon Lacy)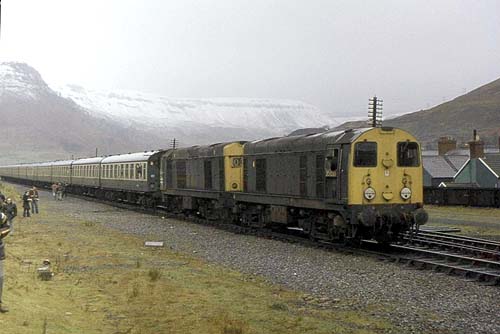 20142+20030 'buffer up' to the stock at chilly Treherbert, ready for the return trip.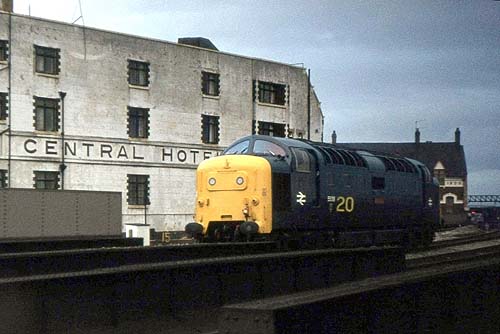 55018 runs past the iconic Central Hotel, Cardiff as it backs onto the stock.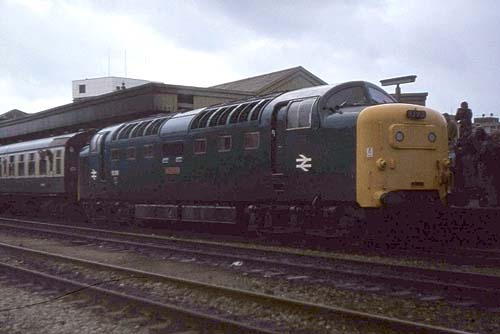 55018, now complete with 'headboard', readies for departure from Cardiff.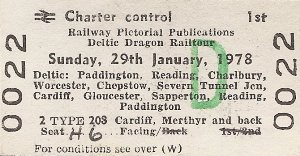 From The John Debens Ticket Collection.


Timings (Booked & Actual)
(from Adrian Brown & Gordon Lacy)
| | | |
| --- | --- | --- |
| Location | Booked | Actual |
| Paddington | 08.25d | 08.25½ |
| Southall | 08/36 | 08/46½ |
| Slough | 08/43 | 08/54 |
| Maidenhead | 08/48 | 08/58 |
| Twyford | 08/54 | 09/04 |
| Reading | 09.00a ~ 19.02d | 09.10½ ~ 09.14 |
| Didcot East Jn | 09/20 | 09/29½ |
| Oxford | 09.33a ~ 09.35d | 09.40 ~ 09.41 |
| Wolvercot Jn | 09/52 | 09/47 |
| Ascott-under-Wychwood | 09/55 | 10/03 |
| Kingham | 10/00 | 10/07 |
| Moreton in Marsh | 10/08 | 10/15½ |
| Honeybourne | 10/20 | 10/26 |
| Evesham | 10p25a ~ 10p45d | 10.33 ~ 10.49 |
| Worcester Shrub Hill | 11.05a ~ 11.20d | 11.06½ ~ 11.22 |
| Ashchurch | 11/37 | 11/40 |
| Cheltenham | 11/50 | 11/52 |
| Barnwood Jn | 12/03 | 12/05 |
| Gloucester | 12.05a ~ 12.07d | 12.07½ ~ 12.09½ |
| Lydney | 12/26 | 12/29 |
| Chepstow | 12/34 | 12/36 |
| Severn Tunnel Junction | 12/42 | 12/43½ |
| Newport | 12/51 | 12/34 |
| Cardiff Central | 13.08a ~ 13.22d | 13.06½ ~ 13.22 |
| Radyr Jn | 13/36 | 13/36 |
| Pontypridd | 13/49 | 13/54½ |
| Tonypandy | 13/57 | 14/07 |
| Treherbert | 14.25a ~ 15.10d | 14.22½ ~ 15.11 |
| Tonypandy | ? | 15/26 |
| Pontypridd | 15p38a ~ 15p48d | 15.40a ~ 15.50d |
| Radyr Jn | 16/02 | 16/05 |
| Cardiff Queen Street | 15.38a ~ 15.48d | DIV |
| Cardiff Central | 16.13a ~ 16.23d | 16.20 ~ 16.37 |
| Newport | 16/36 | 16/50 |
| Severn Tunnel Junction | 16/46 | 17.02a ~ 17.22d |
| Chepstow | 16/52 | 17/29½ |
| Lydney | 17/00 | 17/40 |
| Gloucester | 17.22a ~ 17.24d | 17.55 ~ 17.57 |
| Gloucester T.D. | 17/27 | 17/59 |
| Standish Jn | 17/33 | 18/06 |
| Stroud | 17/38 | 18/10 |
| Kemble | 17/52 | 18/24½ |
| Swindon Loco Yard | 18/04 | 18/33 |
| Swindon | 18.06a ~ 18.08d | 18.37 ~ 18.39 |
| Didcot East Jn | 18/27 | 19/03 |
| Reading | 18.40a ~ 18.50d | 19.20 ~ 19.22 |
| Twyford | 18/57 | 19/26½ |
| Maidenhead | 19/02 | 19/31 |
| Slough | 19/06 | 19/40 |
| Southall | 19/13 | 19/45 |
| Paddington | 19.25a | 19.57½ |