16th October 1977
Railway Pictorial Publications Railtours
Deltic to Devon (and Cromptons to Cornwall) Railtour
| | |
| --- | --- |
| Locos Used | 33017, 33022, 40081 & 40083 |
| Stock Used | 5008+4750+5089+21194+13347+13352+26090+5042+4753+4776+26109+26073 |
Route : 1Z30 throughout
| | |
| --- | --- |
| Locos | Route |
| 40083 + 40081 | London Paddington - Reading - Westbury - Yeovil Pen Mill - Yeovil Junction - Honiton - Exeter St Davids - Dawlish - Newton Abbot |
| 33017 + 33022 | Newton Abbot - Plymouth - Bodmin Road - Par |
| 33017 + 33022 | Par - Bodmin Road - Plymouth - Newton Abbot |
| 40081 + 40083 | Newton Abbot - Exeter St Davids - Taunton - Westbury - Reading - London Paddington |
Notes:
(1) This tour was booked to use a class 55 'Deltic' but an industrial dispute on the E.R. involving fitters meant that none of the class were being refuelled or given maintenance since the Wednesday prior to the tour hence the E.R. CM&EE were not able to supply a class member for the tour. Due to this all happening so close to the tour running date R.P.P.R. elected to run the tour with alternative motive power rather than postpone or cancel. A letter given to passengers on the tour explained the situation and also the fact that this was the first time any R.P.P.R. tour left the originating station without the advertised motive power. A full refund was offered to any passenger not wishing to participate in the tour as a result of the non-availability of the advertised Deltic.
Sources : Alan Costello (information taken from RPPR Railtour Pictorial Booklet),
John Clifford (on the train throughout), Mike Hunt, Colin Marsden & John Debens



Photo Review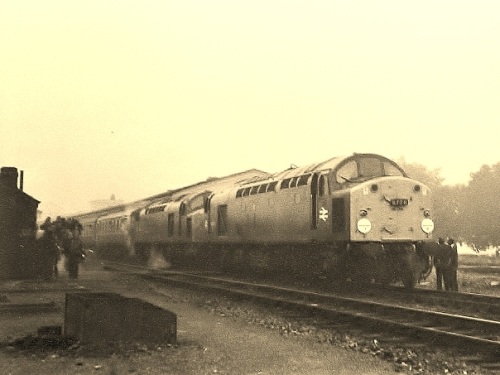 40083 & 40081 at Westbury (photo: Bob Taylor/The Guy Vincent Collection)

33022+33017 at Par (photo: Roger Geach)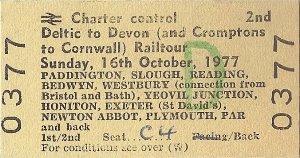 From The John Debens Ticket Collection.


Timings (Booked & Actual)
(from John Clifford)
Location
Booked
Actual
Booked
Actual
Paddington
07.30d
07.32
19.53a
19.53
Southall
07/46
07/49
19/42
19/42
Slough
07.55a ~ 07.57d
07.58 ~ 07.59½
19.28a ~ 19.30d
19.29 ~ 19.31
Maidenhead
08/03
08/06
19/21
19/22
Twyford
08/09
08/19½
19/15
19/16½
Reading General
08.14a ~ 08.16d
08.26½ ~ 08.32
19.06a ~ 19.08d
19.09 ~ 19.10½
Southcote Jn
08/20
08/36
19/03
19/03
Newbury
08/36
08/59½
18/48
18/50
Bedwyn
08/50
09/11½
18/36
18/38
Woodborough
09/01
09/21
18/23
18/27
Lavington
09/08
09/26½
18/16
18/20
Heywood Road Jn
09/13
09.31½a ~ 09.32d
18/09
18/13
Westbury
09.15a ~ 09.18d
09.37 ~ 09.45½
18.05a ~ 18.07d
18.05 ~ 18.10½
Fairwood Jn
09/21
09/49
18/03
18/01½
Clink Road Jn
09/25
09/53
18/00
17/59
Blatchbridge Jn
09/27
09/54½
17/58½
17/57
Castle Cary
09.42a ~ 09.43d
10.09 ~ 10.09½
17/47
17/47
Yeovil Pen Mill
09.58a ~ 09.59d
10.24 ~ 10.25
Yeovil Junction
10.04a ~ 10.05d
10/30½
Chard Jn
10/22
10.49a ~ 11.01d
Honiton
10.37a ~ 11.00d
11.19 ~ 11.26½
Pinhoe
11/15½
11/38½
Exmouth Jn
11/17
11/40
Exeter Central
11/20
11/43
Taunton
17.20a ~ 17.22d
17.23 ~ 17.24
Whiteball Tunnel
17/10
17/13
Cowley Bridge Jn
16/51
16.46a ~ 16.47d
Exeter St Davids
11.25a ~ 11.35d
11.46 ~ 12.01
16/46
16/43
Dawlish Warren
11/47
12/12½
16/33
16/3
Newton Abbot
11.58a ~ 12.06d
12.23 ~ 12.34½
15.55a ~ 16.20d
15.50 ~ 16.20
Aller Jn
12/08
12/37
15/53
15/47
Dainton Tunnel
12/13
12/40½
15/45
15/42
Totnes
12/19
12/46
15/39
15/36
Brent
12/29½
12/54½
15/31
15/28
Hemerdon Sidings
12/47
13/03
15/20
15/18
Lipson Jn
12/52
13/09
15/14
15/12½
Plymouth North Road
12/55
13/14
15/12
15/10
St Budeaux Jn
13/00
13/18½
15/04
15/06
Saltash
13/04
13/22
15/00
15/03
St Germans
13/15
13/27½
14/54
14/57½
Liskeard
13/25
13/36½
14/45
14/49½
St Pinnock Viaduct East
13/30½
13/43
14/39
14/45
Largin
13/31½
13/43½
14/38
14/44
Bodmin Road
13/36
13/48
14/32
14/39
Lostwithiel
13/43
13/51
14/27
14/35½
Par
13.50a
13.57
14.20d
14.28