3rd June 1977
B.R.
(Merrymaker Excursion)
| | |
| --- | --- |
| Loco Used | 47045 |
| Stock Used | ??? (including 4492) |
Route :
| | |
| --- | --- |
| Loco | Route |
| 47045 | Newcastle – Durham – Darlington – York – Church Fenton – Castleford – Normanton – Wakefield Kirkgate – Healey Mills – Huddersfield – Manchester Victoria – Warrington – Chester – Llandudno Junction - Llandudno |
| 47265 | Llandudno - (reverse of outward route) - Newcastle |
Source : Mark Harrington



Tour Review
(from Mark Harrington)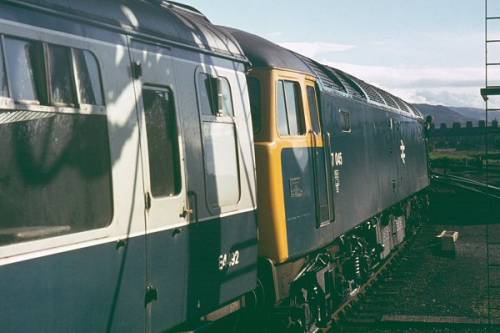 47045 waiting to leave Llandudno (photo: Mark Harrington)
This involved a three mile walk to Darlington Station as no buses were running! The stock was all Mark 1 TSO with a BSK at one end. The excursion ran on the Monday of the Silver Jubilee weekend, and I joined the train with half a dozen friends, who were all 'normals'! A bit of subterfuge was required by the only crank in the carriage…
After an uneventful run down the ECML and through York, we took the interesting route via Castleford and Healey Mills to access the Standedge route. This was to avoid delays in Leeds apparently. I can't recall too much of what I saw en route apart from 40010 stabled at Rhyl on the now lifted south section of the station. Llandudno was reached by lunchtime and I was compelled to become a normal myself for the next few hours!
We departed in early evening. 47045 made a nice sight in the evening sun, even though its position in Platform 2 was not ideal for photos. Other locos included 47199 on what may have been a DMU replacement to Manchester to accommodate the crowds. A pair of 25s was stabled just outside the station as we left. As it got darker, it became apparent that the dynamo belt on our Mk1 was missing, and the bulbs got darker and darker and expired by the time we were thrashing down the ECML between York and Darlington. This allowed for a spectacular view of a flaming beacon on the Hambleton Hills, one of a chain around the country lit to celebrate the Jubilee. Oh, and yes, 47045 was a line in the book…