26th February 1977
British Rail
Western Tribute
| | |
| --- | --- |
| Locos Used | 1013 'Western Ranger' & 1023 'Western Fusilier' |
| Stock Used | 5030+4762+4431+5043+4423+13299+1931+15912+34931+4428+4768+4776 |
Route : 1Z52 throughout
| | |
| --- | --- |
| Locos | Route |
| 1023 + 1013 | London Paddington - (via GWML) - Reading - Didcot - Swindon - Bristol Parkway - Patchway - Severn Tunnel Junction - Newport - Cardiff - Llantrisant - Swansea |
| 1013 + 1023 | Swansea - (reverse of outward route) - Patchway - Filton Jn - Bristol Temple Meads - (via GWML) - Plymouth |
| 1023 + 1013 | Plymouth - Taunton - Westbury - Reading - London Paddington |
Notes :
(1) This railtour was the final farewell to the class 52 'Westerns'.
(2) Ian Prince comments: To guard against delays in the event of a loco failure, 1010+1048 (although the number-plates were lacking odd numbers and letters by this stage) ran behind the tour I believe from Old Oak Common to Bristol and spent part of the day sitting on Bath Road, (where I caught up with them) whilst the main tour went on to Swansea. After the tour had returned to Bristol from Swansea and headed off to Plymouth, 1010+1048 dutifully followed the main train.
Sources : Pete Wilcox (on the train throughout, information courtesy of Jonathan Wilcox)
Martin Aliberti, Clive Barlow, Tony Willmore & John Debens



Photo Review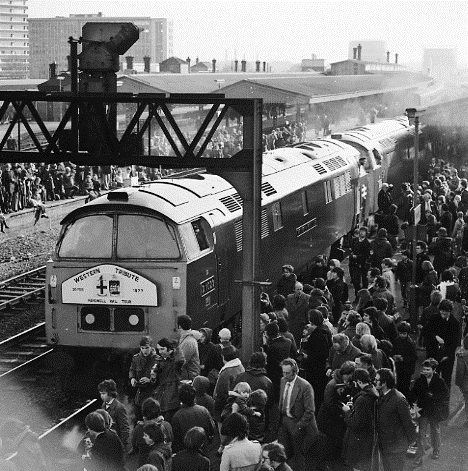 1013 & 1023 at Reading on the outward leg (photo: Adrian Vaughan)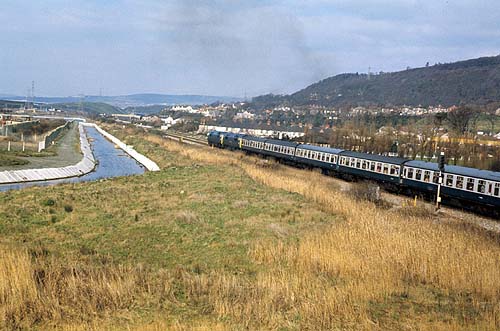 1023 leads 1013 past Britton Ferry (photo: Bernard Mills)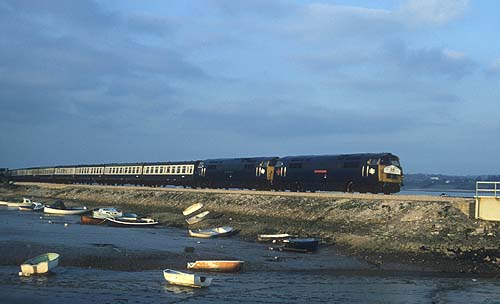 1013 leads 1023 at Cockwood Harbour (photo: Roger Geach)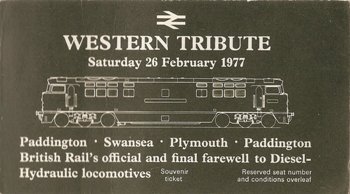 From The John Debens Ticket Collection.


Timings (Booked & Actual)
(by Martin Aliberti)
Miles
Location
Booked
Actual
0.0
London Paddington
09.10d
09.10
9.1
Southall
09/21
09/20
18.5
Slough
09/28
09/27
24.2
Maidenhead
09/33
09/31
31.0
Twyford
09/39
09/36
36.0
Reading
09.44a ~ 09.46d
09.41 ~ 09.46
53.1
Didcot
10/02
10/02
63.4
Challow
10/12
10/11
77.3
Swindon
10.24a ~ 10.26d
10.20 ~ 10.23
83.1
Wootton Bassett
10/33
10/30
94.1
Hullavington
10/43
10/40
107.1
Westerleigh Jn
10/54
10/49
117.7
Bristol Parkway
10/59
10/53
113.1
Patchway
11/01
10.56a ~ 10.58d
116.6
Pilning
11/04
11/01
122.5
Severn Tunnel West
11/9
11/06
123.6
Severn Tunnel Junction
11/10
11/07
133.4
Newport
11/22
11/17
145.2
Cardiff
11.38a ~ 11.40d
11.31 ~ 11.37
165.4
Bridgend
12/01
11/58
177.6
Port Talbot
12/12
12/09
183.1
Neath
12/18
12/17
190.4
Swansea Loop East
12/33
12/33
190.9
0.0
Swansea
12.35a ~ 13.35d
12.35 ~ 13.36
0.5
Swansea Loop East
13/37
13/38
7.8
Neath
13/48
13/51
13.3
Port Talbot
13/54
13/56
25.5
Bridgend
14/05
14/08
45.7
Cardiff
14.30a ~ 14.32d
14.29 ~ 14.33
57.5
Newport
14/45
14/47
67.3
Severn Tunnel Junction
14/55
14/59
68.4
Severn Tunnel West
14/56
15/00
74.3
Pilning
15/02
15/11
77.9
Patchway
15/08
15/16
79.2
Filton Jn
15/10
15/18
83.9
Bristol Temple Meads
15.17a ~ 15.20d
15/31
103.5
Uphill Jn
15/38
15/46
117.0
Bridgwater
15/49
15/57
128.6
Taunton
16/02
16/07
139.5
Whiteball Tunnel
16/14
16/16
159.4
Exeter St Davids
16.32a ~ 16.35d
16/34
169.9
Dawlish Warren
16/47
16/49
179.5
Newton Abbot
17/04
17/03
183.4
Dainton Tunnel
17/11
17/10
188.3
Totnes
17/17
17/16
204.7
Hemerdon
17/37
17/36
211.4
0.0
Plymouth
17.45a ~ 19.40d
17.44 ~ 19.41
6.7
Hemerdon
19/50
19/51
23.1
Totnes
20/09
20/08
28.0
Dainton Tunnel
20/15
20/15
31.9
Newton Abbot
20/21
20/20
41.5
Dawlish Warren
20/32
20/30
52.0
Exeter St Davids
20.43a ~ 20.45d
20/40
71.9
Whiteball Tunnel
21/05
21/01
82.8
Taunton
21.14a ~ 21.16d
21.12 ~ 21.15
109.1
Castle Cary
21/40
21/??
125.2
Clink Road Jn
21/53
21/42
129.9
Westbury
21/59
21.52a ~ 22.02d
130.9
Heywood Road Jn
22/01
22/04
138.6
Lavington
22/09
22/??
147.2
Woodborough
22/16
22/21
159.1
Bedwyn
22/30
22/30
172.4
Newbury
22/41
22/41
187.7
Southcote Jn
22/54
22/57
189.5
Reading
22.58a ~ 23.00d
23.01 ~ 23.04
194.5
Twyford
23/07
23/10
201.3
Maidenhead
23/12
23/15
207.0
Slough
23/16
23/19
216.4
Southall
23/23
23/27
225.5
Paddington
23.35a
23.41