20th November 1976
Western Locomotive Association
Western Talisman
| | |
| --- | --- |
| Loco Used | 1023 'Western Fusilier' |
| Stock Used | 9470+5360+5276+5369+5376+13508+1751+35090+5436+5323+5368 |
Route : 1G30 throughout
| | |
| --- | --- |
| Loco | Route |
| 1023 | London Kings Cross - (via ECML) - York |
| 1023 | York - (via ECML) - London Kings Cross |
Notes :
(1) Although run with the tour name 'Western Talisman' the tour ticket bore the name 'Western Goes Eastern'.
Sources : Pete Wilcox (on the train throughout/information courtesy of Jonathan Wilcox), Mark Alden & John Debens



Photo Review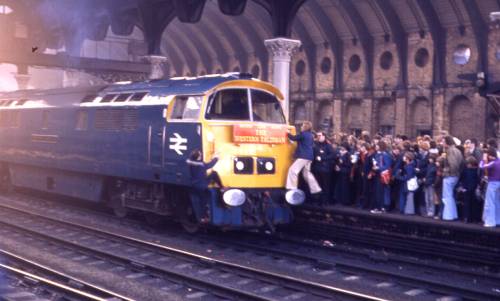 A Western at York! (photo: Robert Frise). 1023 was the only class 52 to
receive a black two-dot headcode, as it was an Eastern Region operating
requirement at the time.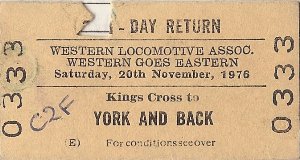 From The John Debens Ticket Collection.


Timings (Booked & Actual)
(from Robert Frise & John Debens)
| | | | | | |
| --- | --- | --- | --- | --- | --- |
| Location | Booked | Actual | | Booked | Actual |
| Kings Cross | 09.25d | 09.25 | | 19.43a | 19.44 |
| Wood Green | 09/33 | 09/35 | | 19/36 | 19/30 |
| Potters Bar | 09/40 | 09/42 | | 19/26 | 19/25 |
| Welwyn Garden City | 09/47 | 09/48 | | ? | ? |
| Woolmer Green | ? | ? | | 19/18 | 19/17 |
| Hitchin | 09/58 | 09/56 | | 19/06 | 19/06 |
| Sandy | 10/06 | 10/05 | | 18/57 | 18/59 |
| Huntingdon | 10/16 | 10/15 | | 18/46 | 18/45 |
| Peterborough | 10/28 | 10/30 | | 18/33 | 18/31 |
| Tallington | 10/34 | 10/43 | | 18/27 | 18/27 |
| Stoke Summit | 10/46 | 10/49 | | 18/16 | 18/16 |
| Grantham | 10/50 | 10/56 | | 18/06 | 18/06 |
| Barkston South Jn | 10/53 | 10/59 | | 18/02 | 17/59 |
| Newark | 11/00 | 11/08 | | 17/54 | 17/52 |
| Retford | 11/13 | 11/22½ | | 17/40 | 17/36 |
| Doncaster | 11/36 | 11/38 | | 17/25 | 17/21 |
| Shaftholme Jn | 11/40 | 11/45 | | 17/21 | 17/16 |
| Selby | 11/51 | 11/54 | | 17/05 | 17/01 |
| York | 12.09a | 12.12 | | 16.45d | 16.45 |