18th September 1976
B.R.
Speyside Express
Locos Used
47037 & steam: [4]5025 & 60009 'Union of South Africa'
Stock Used
9 mark 1 coaches vb90mph
(10 coaches Aviemore to Boat of Garten only)
Route :
1Z76 : Edinburgh to Boat of Garten
1Z27 : Boat of Garten to Edinburgh
| | |
| --- | --- |
| Loco | Route |
| 60009 | Edinburgh Waverley - Haymarket - Linlithgow - Polmont - Falkirk Grahamston - Larbert - Stirling - Dunblane - Perth |
| 47037 | Perth - Pitlochry - Aviemore |
| 5025 | Aviemore - Boat of Garten |
| 5025 | Boat of Garten - Aviemore |
| 47037 | Aviemore - (reverse of outward route) - Perth |
| 60009 | Perth - (reverse of outward route) - Edinburgh Waverley |
Notes :
(1) Gordon Lacy comments: Signal stops, checks & pw slowings meant that 60009 had to work far harder that the actual times suggest. Northbound, speed recovered from 10mph at Dunblane to a phenomenal 45mph at Kinbuck - performance of the highest order. A 10mph restriction (both ways) around mp 143½ gave us no opportunity to 'storm the bank' to Gleneagles on the return, either. In the event 36mph at the summit was a fine achievement! In contrast, the oldest surviving "Black 5" struggled somewhat with load 10 'up the hill' to Boat of Garten!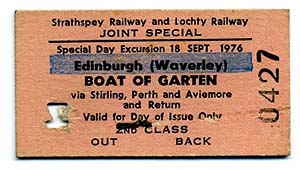 From Gordon Lacy's ticket collection.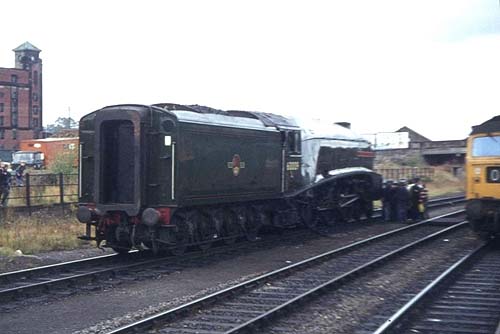 Perth - 60009 hands over to 47037, on the right (photo: Gordon Lacy)
The tender used by 60009 is the unique example from 1000/60700.
Sources : David Hills (from contemporary sources) & Gordon Lacy (on the train throughout)



Timings (Booked & Actual)
(from Gordon Lacy)
| | | | | | |
| --- | --- | --- | --- | --- | --- |
| Location | Booked | Actual | | Booked | Actual |
| Edinburgh Waverley | 10.05d | 10.06 | | 21.06a | 21.17 |
| Haymarket | ? | 10/09½ | | ? | 21/12 |
| Winchburgh Jn | ? | 10/23 | | ? | 20/59 |
| Linlithgow | ? | 10/28½ | | ? | 20/50½ |
| Polmont | ? | 10/33½ | | ? | 20/43½ |
| Falkirk Grahamston | ? | 10/39 | | ? | 20/36½ |
| Larbert | ? | 10/50½ | | ? | 20/31 |
| Stirling | 10.51a ~ 20.53d | 11.02 ~ 11.05 | | 20.14a ~ 20.17d | 20.17 ~ 20.19 |
| Dunblane | ? | 11/13½ | | ? | 19/59½ |
| Gleneagles | ? | 11/31 | | ? | 19/55 |
| Hilton Jn | ? | 11/46 | | ? | 19/33 |
| Perth | 11L48a ~ 12L00d | 11.50½ ~ 12.04 | | 19L00a ~ 19L27d | 18.59½ ~ 19.27 |
| Dunkeld & Birnam | ? | 12/22½ | | ? | 18/38 |
| Pitlochry | 12x28 ~ 12x49½ | 12.32½ ~ 12.55 | | ? | 18/25 |
| Blair Atholl | ? | 13/05 | | ? | 18/16 |
| Dalnacardoch | ? | 13/19½ | | 17x58 ~ 18x01½ | 17.56½ ~ 18.03 |
| Druimuachdar | ? | 13/31 | | ? | 17/44 |
| Dalwhinnie | 13x40 ~ 13x42 | 13.40 ~ 13.43½ | | ? | 17/37 |
| Kingussie | ? | 13/59 | | ? | 17/23 |
| Aviemore | 14L11a ~ 14L22d | 14.10 ~ 14.28 | | 16L20a ~ 17L04d | 16.50 ~ 17.06 |
| Boat of Garten | 14.42a | 14.55½ | | 16.00d | 16.34 |