5th June 1976
British Rail
(Day Excursion)
| | |
| --- | --- |
| Locos Used | 40053. 45113, 45126, 47320 & 47540 |
| Stock Used | +3980+25342+25451+25420+25346+35122+16108+4441+4437+3737+25334 |
Route : 1Z94 throughout
| | |
| --- | --- |
| Loco | Route |
| 47320 | Wellingborough - (via MML) - Trent South Jn - Trent East Jn - Beeston - Nottingham |
| 45113 | Nottingham - Mansfield Jn - ??? - Trowell Jn - Alfreton & Mansfield Parkway - Clay Cross South Jn - Chesterfield - Tapton Jn - Barrow Hill Jn - Beighton Jn - Rotherham Masborough - Aldwarke Jn - Swinton - Moorthorpe - Pontefract Baghill - Gascoigne Wood Jn - Sherburn-in-Elmet - Church Fenton - Colton Jn - York - (via ECML) - Newcastle |
| 40053 | Newcastle - (via ECML) - Edinburgh Waverley |
| 40053 | Edinburgh Waverley - (via ECML) - York |
| 47540 | York - ??? - Normanton - ??? - Rotherham - (reverse of outward route) - Nottingham |
| 47540 (3) | Nottingham - (reverse of outward route) - Wellingborough |
Route : Connecting service;
| | |
| --- | --- |
| Loco | Route |
| 45126? | ?Burton-on-Trent - Stenson Jn - Derby? |
| 45126 | Derby - Long Eaton - Sheet Stores Jn - Trent East Jn - Beeston - Nottingham |
| ????? (3) | Nottingham - (reverse of outward route) - Derby |
| ????? | ?Derby - Stenson Jn - Burton-on-Trent? |
Notes :
(1) Howard Parker comments: It is assumed that a connecting service ran from Burton on Trent calling at Derby and Long Eaton to Nottingham (Webmaster note: this seems confirmed by David Hills who started/finished at Derby). When the train arrived at Leicester in the morning, a note in the window of the brake coach stated it had run as 5Z94 04:08 empty stock from Derby to Wellingborough to begin the day. Alnmouth and Berwick were advertised as alternative destinations. After photographing the class 40 at Edinburgh, it was off to Haymarket with 27111 & 27203 where 55007 was noted along with a considerable number of other locos of classes 24, 25, 26,27, 40 & 47. Back to Waverley with 27102 & 27204.
(2) David Hills comments: Yet another jaunt was forecast for north of the border, again to Edinburgh but being well & truly in the summer season warm days and longer daylight hours made the prospect much more enjoyable. With tickets in hand and the early morning dash to Derby Midland done it was left for 45126 to take us to Nottingham passing green liveried 20167 & 20175 en route. The reversal at Nottingham found 45113 now in charge of the train, another green machine, 20150 was noted. The first Class 40 of the day, 40078 was seen near Chesterfield. Not even the many DMU's at Sheffield Midland could save the place so we hurried on through Rotherham and into York with its usual delights. So noted were 03090, 08062 (green), 31123, 40070/75/77, 40162 & 46013 amongst many others. After a good thrash to Newcastle a change of locomotive took place to 40053, there was no indication of any trouble with the Peak so presumably this was a planned event. A few of Gateshead's 03's were about the station, 03079, 03105/107, as was 55010. At Berwick 03094 was stabled. Greeting us on arrival at Edinburgh was 25238, 27202 & 40054. The usual dash to the ticket window, followed by the search for the first westbound led to 27111 & 27203 hurrying us off in the Glasgow direction. Eastfield was this day a veritable feast of locomotives including 08566 (green, fire damaged and withdrawn), 06001, 20002, 20149 (green), 24006, 24110/116 25004/023. After a taxi ride back to Queen Street it was left for 27106 & 27205 to haul us back east to Haymarket for the enforced hike to the depot. Again more Class 24's were recorded, 24069, 24120/129, for some withdrawal was only days away. A review of the 'numbers book' reveals this was a good day for copping Scottish DMU's. And so back to Haymarket for a local DMU into Waverley. After a restocking of supplies it was good to see that 40053 was heading up our set of excursion stock. With longer lighter evenings more attention was paid on the return journey, 37001/005 noted at Darlington and 40122/148 at York. It was here that 40053 was declared a failure with 47540 being quickly substituted to complete our return to Derby. For 40053 the end was near, within a month she would be at Crewe Works, never to turn a wheel again.
(3) David Hills records 47540 back to Derby however Howard Parker records 47540 on the main train to Wellingborough. As Webmaster I have assumed (rightly or wrongly) Howard Parker's notes to be correct, thus confirmation is required if my assumption is correct and, if so, which loco took the connecting service back to Derby (and, also assumed, onwards to Burton-on-Trent).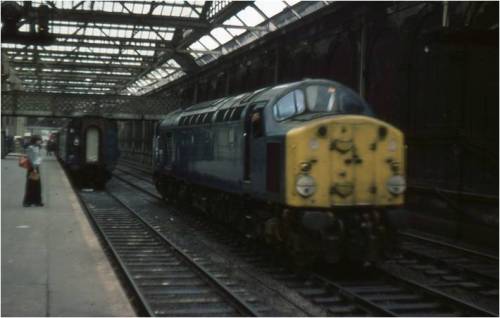 40053 running round after arrival in Edinburgh (photo: Howard Parker)
Sources : David Hills (joined/left the train at Derby) & Howard Parker (joined/left the train at Leicester)



Timings (Booked & Actual)
(from Howard Parker)
Location
Booked
Actual
Booked
Actual
Wellingborough
??.??d
?
??.??a
?
Kettering
?
?
?
?
Leicester
??.??a ~ 07.16d
??.?? ~ 07.16
00.27a ~ ??.??d
00.57 ~ ??.??
Loughborough
??.??a ~ ??.??d
07.28 ~ 07.31
??.??a ~ ??.??d
00.42 ~ 00.43
Nottingham
??c??a ~ ??c??d
07.43 ~ 08.15
??.??a ~ ??.??d
00.12 ~ 00.24
Alfreton & Mansfield Parkway
??.??a ~ ??.??d
08.41 ~ 08.43
??.??a ~ ??.??d
2.46 ~ 23.47
Chesterfield
?
08/58
?
23/30
Barrow Hill
?
?
?
?
Rotherham Masborough
?
09/23
?
23/06
Moorthorpe
?
09/41
Normanton
?
22/37
York
?
10/43
?
?
Thirsk
?
10/43
?
?
Northallerton
?
10/49
?
?
Darlington
?
11-02 ~ 11-04
?
21/06
Durham
?
11/24
?
20/48
Newcastle
??c?? ~ ??c??
11.42 ~ 11.52
??c?? ~ ??c??
20.26 ~ 20.28
Morpeth
?
12/16
?
20/06
Alnmouth
12.21a ~ ??.??d
12.32 ~ 12.33
??.??a ~ 19.46d
19.46 ~ 19.47
Berwick-upon-Tweed
12.50a ~ ??.??d
13.00 ~ 13.05
??.??a ~ 19.16d
19.11 ~ 19.16
Dunbar
?
13/36
?
18/36
Edinburgh Waverley
14.00a
14.02
18.10d
18.10